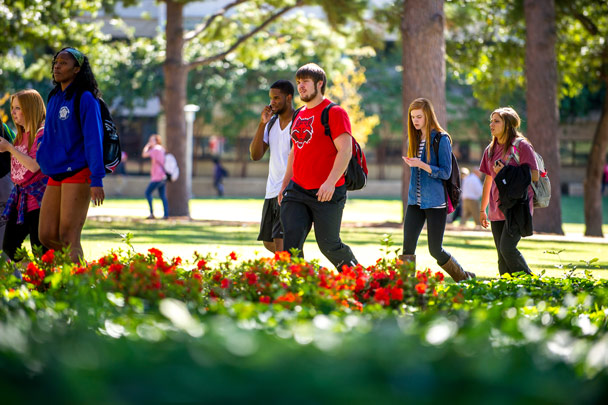 Safety is a shared responsibility at Arkansas State University, which is reflected in an organizational structure with multiple departments responsible for often interconnected pieces of campus safety. From protecting the public to protecting your rights, members of the campus community can use this page to find information on each of these essential functions.
The links below will take you to the department's webpage for more details.
Safety 101
Before you get started: Are you signed up to receive emergency alerts from A-State? Could you provide a 911 dispatcher with your physical address on campus? Do you know university's emergency procedures?
University Police
870-972-2093
Report crimes anonymously, train on topics like active shooter and rape defense with sworn law enforcement officers, get tips to help avoid becoming a victim of crime, or report suspicious activity.
Environmental Health & Safety
870-972-2862
Report environmental or public health issues in your workplace, contact campus workers' compensation liaison, and train on topics like hazardous material handling and environmental compliance.
Office of Title IX & Institutional Equity
870-972-2015
File a sexual harassment report, report discrimination or harassment of any kind whether student or employee, or self-disclose a disability that might restrict your actions in an emergency.
Safety & Emergency Management
870-680-4705
Report general safety concerns, train on topics like forklift and utility cart safety, find emergency procedures, tailor university emergency plans to your building, or schedule an exercise to test your plan.
Counseling Center
870-972-2318
Find crisis intervention resources, get access to licensed mental health practitioners, or request an outreach program for your campus organization on topics like stress management and grief resolution.
Student Conduct
870-972-2034
Report a student conduct issue, read the Annual Security Report, or find guidelines for student conduct in institutional settings.
Student Health Center
870-972-2054
Located at 333B Red Wolf Blvd. Get treatment for minor illnesses and injuries, schedule a physical, immunization, or female exam, or receive health education and pre/post-test HIV Counseling.
Facilities Management
870-972-2066
Report leaks, electrical hazards, and utility outages through your building liaison, learn your physical address on campus and find emergency access and egress routes to and from the campus core.
Wellness & Health Promotion (Red Wolf Wellness)
870-972-3974
Obtain American Red Cross certifications (All-Level First Aid/CPR & AED), get free education and support on topics like cardiovascular health, tobacco cessation, ergonomics or diabetes self-management.
Risk Management
870-972-2309
Report non-emergency, non-employee injuries, find facilities use agreement, voluntary participant and various other release forms, or begin the authorization process to drive university vehicles.