As a graduate of Arkansas State, you're an integral part of a vibrant international network that encompasses more than 100,000 alumni.
Pride. Loyalty. Relationships.

The pride, loyalty, and relationships formed during your time on campus will last forever. Stay connected to your alma mater by keeping up with university news, events, or giving back as a member of the A-State Alumni Association.
We welcome your ongoing relationship with the University, and offer a variety of ways for you to get involved.
RedwolvesGear.com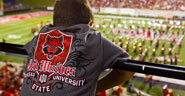 Looking to buy A-State gear online?

RedWolvesGear.com has clothing for men, women, and children as well as collectibles, license plates, tailgate gear and more!
Visit their website >>