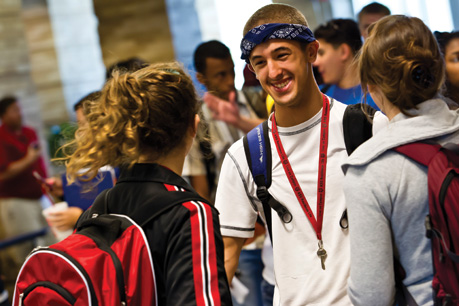 The Counseling Center is committed to helping you benefit as much as possible from your experience at A-State. This support may include helping you to perform better academically, to cope with your emotions, or to be more effective in your relationships with others.
The University environment can be exciting and challenging. It also can be highly stressful since you may face academic pressures as well as demands from family, friends, and loved ones at the same time. While we work with students who may be experiencing a crisis, our goal is to help you deal with your concerns before they develop into more serious problems.
To enroll in counseling, please contact our office at 870-972-2318, drop by the office, or email us at counseling@astate.edu to schedule an initial intake. During the intake, you will consult with a counselor who will help determine the best way to meet your goals. The Counseling Center provides multiple options for care including group counseling, online self-help through TAO, workshops, and short-term individual counseling.
Intakes are typically scheduled Monday through Thursday from 12:00 pm to 3:00 pm, and Friday 9:00am to 12:00pm. If you are unable to meet during these times, please let us know so that we can make arrangements for a time suitable to your schedule. Intakes are usually completed in 15-30 minutes. We are offering services in-person or virtually. Licensure restrictions only enable our counselors to work within the state of Arkansas. In order to meet online, you must be in the state of Arkansas at the time of service.
Therapy Assisted On-Line (TAO) Treatment
Therapist Assisted Online (TAO) is an interactive, dynamic, and easy-to-access online program. It was designed for addressing issues related to anxiety and depression, which are the problems most commonly faced by students at A-State. TAO can provide resources and tools to promote healthy coping skills and help you bounce back from life's disappointments and frustrations. For more information see the TAO page.
TAO Self-Help
TAO Self-Help is a platform of tools and information to help you learn about struggles common to college students and to develop helpful strategies for navigating these challenges. TAO Self-Help is available to be completed as a stand-alone resource for preventative care. For more information see the TAO Self-Help page.
PLEASE NOTE: TAO Self-Help Modules are informational and intended as an aid in understanding the topics presented, but are not intended as treatment or substitute for assistance from a qualified mental health professional.
Mental Health Screenings
Mental health is a key part of your overall health. Brief screenings are the quickest way to determine if you or someone you care about should connect with a mental health professional - they are a checkup from your neck up. This program is completely anonymous and confidential, and immediately following the brief questionnaire you will see your results, recommendations, and key resources. Follow the link to select your screening:
http://screening.mentalhealthscreening.org/arkansasstate
Accreditation
The Arkansas State University Counseling Center is fully accredited by the International Accreditation of Counseling Services (IACS). The Counseling Center was evaluated by IACS against high standards of counseling practice and was found to offer competent and reliable professional services to its clientele. Approval by IACS is also dependent upon evidence of continued professional development as well as demonstration of excellence of counseling performance.