A-State ABI Faculty and Students attend Renowned Professional Meeting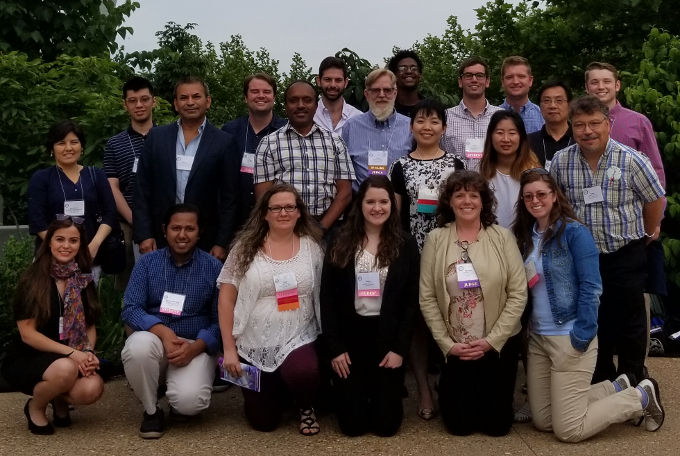 The Society for In Vitro Biology (SIVB) recently held its annual meeting in St. Louis June 2-6, 2018. A number of A-State Faculty from two colleges and ABI were in attendance (see photo above). The SIVB is the premiere professional society for plant and animal biotechnology and cell sciences.
A-State faculty in attendance were Drs. Maureen Dolan (Biological Sciences), Fabricio Medina-Bolivar (Biological Sciences), Gregory Phillips (Agriculture), Brett Savary (Agriculture), and Jianfeng Xu (Agriculture), all of whom have their research labs in the Arkansas Biosciences Institute (ABI).
Students, post-doctoral scientists, and research technicians from A-State-ABI included:
Graduate students: Xiaoting Wang, Neha Verma, Cristofer Calvo, Kelin Key, Lana Elkins, Martina Garda, Hong Fang, Mohammad Fazle Azim, Abbas Karouni, Rokib Hasan, Patrick Roberto, Sepideh Mohammadhosseinpour
Undergraduate students: Tristen Wright, Colton Batten, Kiera O'Keefe, Oliver Dozier
Postdoc/Research associates: Maria Elena Gonzalez, Tianhong Yang (former postdoc)
Research technician: Lingling Fang
Our students and postdocs represented A-State and ABI very well, picking up several of the top awards!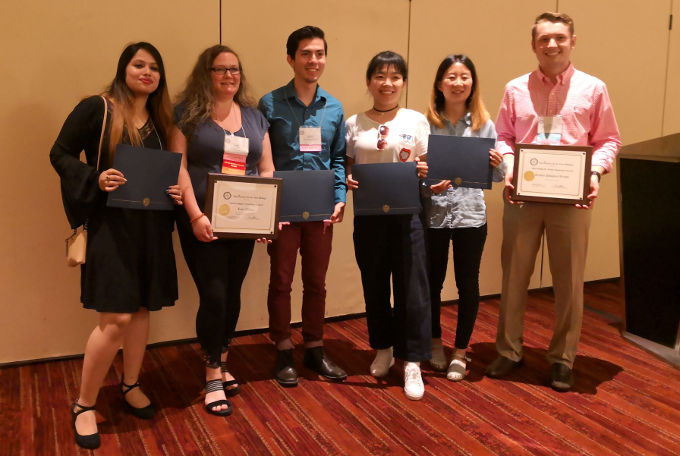 Student awards received (left to right in photo):
Neha Verma: Second Place, Plant Biotechnology Student Poster Presentation Competition
Lana Elkins: Recipient of The Cellular Toxicology Award; also won First Place, In Vitro Animal Cell Sciences Student and Postdoctoral Oral Presentation Competition
Cristofer Calvo: First Place, Plant Biotechnology Student Poster Presentation Competition
Dr. Ningning Zhang: Second Place, Plant Biotechnology Postdoc Oral Presentation Competition. Ningning recently received her Ph.D. in Molecular Biosciences at A-State and is currently a postdoc at Donald Danforth Plant Science Center at St. Louis, a prestigious plant science research center.
Xiaoting Wang: First Place, Plant Biotechnology Student Oral Presentation Competition
Tristen Wright: Recipient of The Philip R. White Memorial Award; served as a student Co-chair of the meeting; also won Third Place, Plant Biotechnology Student Poster Presentation Competition