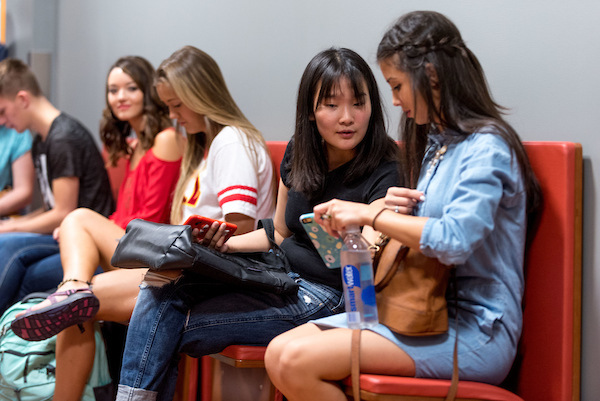 Student Life
Your college experience will be one of the most inspiring, engaging and rewarding times of your life. A-State facilitates a wide array of campus involvement opportunities through Leadership Center, Multicultural Center and International Programs such as Leadership programs, various Student Organizations, Volunteer A-State, Minority Welcome week, Hispanic Heritage month, International Education Week etc. We encourage you to get INVOLVED and add to your learning experience.
Leadership Center
Multicultural Center
Volunteer A-State
International Student Organization
AFRICAN STUDENTS ASSOCIATION (ASA)
Contact: Nennina Etafelle / Advisor: Dr. Rejoice Addae
Purpose: to promote cultural diversity by attracting more African students to A-State. Our goal is to facilitate the social integration of African students in the A-State and Jonesboro communities. We aspire to support each other to become active members of the Jonesboro community while sharing our cultural treasures. Any African or sympathizer of Africa can be a member of the organization.
ARAB STUDENT ASSOCIATION
Purpose: To create a sense of community amongst Arab students. Whether you come from the Middle-East, or from Africa, you are welcome to join. We want to be a form of support, whether it would be moral, educational or anything.
BANGLADESHI STUDENT ORGANIZATION
Facebook: Bangladeshi Students Organization BSO at Arkansas State University
Purpose: to unite all students from Bangladesh and of Bangladeshi origin at A-State and promote friendship and understanding among the students and community members, to keep the culture and arts of Bangladesh alive in our hearts by organizing various events, and to extend all possible assistance to the prospective Bangladeshi students coming to the university.
CHINESE STUDENT ORGANIZATION
Purpose: to provide a good social platform for international students so that students can adapt to American culture and environment more easily.
INDIAN STUDENT ORGANIZATION (ISO)
Purpose: Educating students on Indian culture and educating Indian students on American culture.
INTERNATIONAL STUDENT ASSOCIATION (ISA)
Purpose: To support international students, promote cultural awareness and enrich the A-State experience through campus activities and events.
JAPANESE STUDENT ORGANIZATION (JSO)
Purpose: Cross-cultural activities to provide all students with opportunities to experience Japanese culture and language.
KOREAN STUDENT ASSOCIATION
Purpose: To bring together Korean students on campus and welcomes any students who are interested in Korean culture and language.
MUSLIM STUDENT ORGANIZATION
Purpose: To help the Muslim community for all the new students or even not Muslim students as well. And, we will involve for any celebrations at the AUS in the future.
NEPALESE STUDENT ORGANIZATION
Purpose: To establish better relationships among Nepalese and other students at A-State and at the same time promote the Nepalese culture and traditions.
VIETNAMESE STUDENT ASSOCIATION
Purpose: To bring Vietnamese and other students together and promote the Vietnamese culture and traditions.
Academic Life
Maintaining good academic standing for international students is important not only for the academic success but also to maintain immigration status in United States. Failure to maintain good academic standing could jeopardize student's immigration status.
Faculties and Staff at A-state are committed to assist students succeed in their academic journey. Need additional guidance to succeed, contact:
Academic Departments: Faculties and Staff at your major department will have resources to assist you.
The English Learning Academy: Need additional free help with writing, listening and speaking skills, contact our ESL program.