Museum Studies Students Exhibit Pardew Collection Online
06/15/2020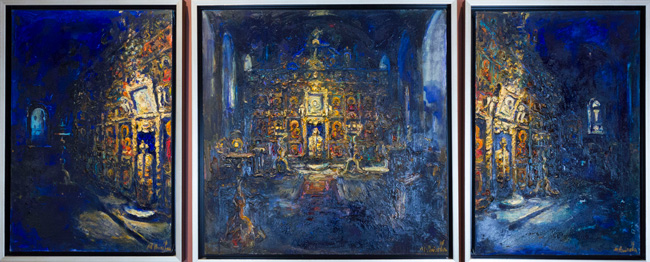 Iconostasis, Maria Raycheva, 2016, James W. and Kathy H. Pardew Collection,
planned gift to the Bradbury Art Museum.

JONESBORO – "Bulgarian Spirit: A Preview of the Pardew Art Collection" was created as part of the Museum Exhibits course in the Department of Art + Design during the spring 2020 semester.
This online exhibit previews the art collection of former U.S. Ambassador James W. Pardew and his wife Kathy H. Pardew, who are natives of Jonesboro. They plan to give the collection to the Bradbury Art Museum.
In exploring Bulgarian contemporary art and artists, key themes of cultural heritage and appropriation, nationalism and identity emerged as the focal points for student research. Originally intended to be an in-person exhibit, students collaborated on all aspects of research, writing and website design. Their work can be seen at bulgarianspirit.AState.edu.
As part of the Lecture-Concert Series, Ambassador Pardew spoke at Arkansas State in February 2018. An A-State Distinguished Alumnus, he discussed his professional experiences in Bulgaria and his book, "Peacemakers: American Leadership and the End of Genocide in the Balkans," published by the University Press of Kentucky.
# # #