Pardew Discusses American Leadership in Lecture Series
02/07/2018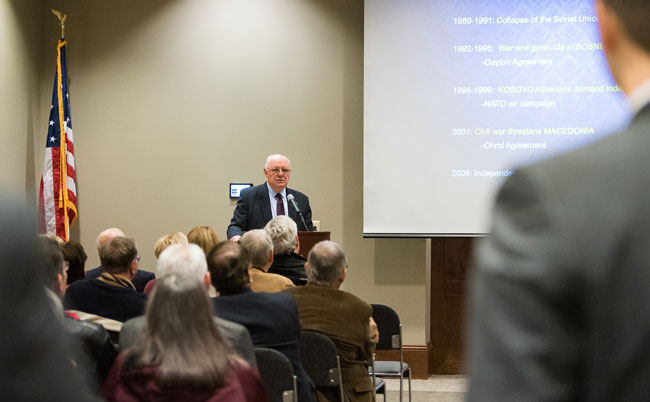 Jim Pardew speaks during a Lecture-Concert Series presentation at Cooper Alumni Center

JONESBORO – Faculty, students, family and friends packed a room at Cooper Alumni Center Monday evening to hear former U.S. Ambassador James W. Pardew talk about the state of American leadership in the world during the university's Lecture-Concert Series.
A Jonesboro native and Arkansas State graduate, he gave an hour-long address about his experiences helping to restore peace in the Balkan region of Europe while working in the State Department.
Pardew is the author of "Peacemakers: American Leadership and the End of Genocide in the Balkans," recently published by the University Press of Kentucky. He signed copies of the book following the lecture.
Ambassador Pardew was at the heart of U.S. national policymaking throughout the humanitarian crises in the Balkans, from Richard Holbrooke's negotiations on Bosnia in 1995 until the independence of Kosovo in 2008.
"It was American leadership, the commitment of Holbrooke and the decision of the United States to get involved, that suddenly focused the attention of the international community and mobilized the nations of the world," Pardew said, " . . . and that American leadership is what focused the attention of the world and solved the problem. American values were at the core of American policy during this period.
"Americans' democratic values are a source of inspiration and influence from around the world and they should always be a priority component of our foreign and national security policy," he continued. "If the United States does not stand behind the democratic values of this country . . . freedom of speech, freedom of the press, rule of law . . . all of those thing that you studied in civics . . . then who will? Democracy is much more than a lecture . . . it is the values ingrained in our institutions that are also a major part of our democracy."
Ambassador Pardew was the primary U.S. negotiator of the Ohrid Agreement in Macedonia. He also led Balkan task forces for the secretaries of defense and state and served as a policy advisor at NATO.
A graduate of Nettleton High School, Pardew earned a Bachelor of Science degree in journalism and a commission in the U.S. Army from A‑State in 1966. He left the Army with the rank of colonel after 27 years as an intelligence officer. The university recognized him as a Distinguished Alumnus in 1996, and the Department of Military Science later inducted him into its Hall of Heroes.
Following his service as U.S. Ambassador to Bulgaria, Pardew was deputy assistant secretary general for operations on the NATO International staff.
He has received the Department of State Distinguished Honor Award, the Department of Defense Medal for Distinguished Civilian Service, and the National Intelligence Distinguished Service Medal.
# # #