'Living Legends' Celebrated During Black History Month
03/06/2020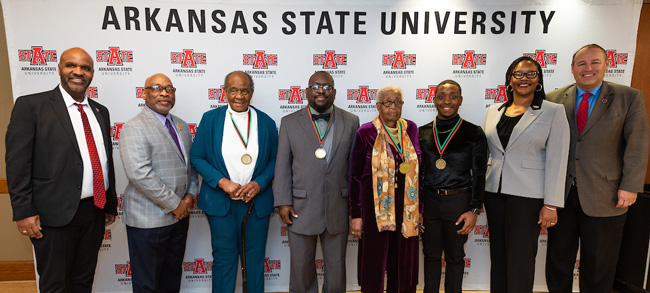 Honorees and participants in the Living Legends recognition ceremony included (from left) Bryan Terry, Lonnie Williams, Harriet Hyatt, LaGanzie Kale, Carolyn Sheppard, JaeKur Lockhart, Cherisse Jones-Branch, and Kelly Damphousse.
JONESBORO – The Black History Month planning committee at Arkansas State University conducted its annual celebration recognizing "Living Legends" at a breakfast and awards presentation Saturday at the Reng Student Union.
This year's Living Legends celebration honored five individuals who have been both inspirational and influential within their communities. They were recognized for their efforts and connections to the Black History Month 2020 theme, "Pan-Africanism and the Pan-African Movement."
Carolyn Sheppard exemplifies the idea of unity from her contributions in education and her golden years. As a graduate of Booker T. Washington High School in Jonesboro, Sheppard went on to attend and earn a degree in early childhood education from Arkansas State University-Beebe. During her career, she worked with the Head Start Program, East Elementary School, the Jonesboro School District Administration Office, and DuPont, Inc., where she worked retired.
She holds the esteemed honor of having the "Oldest Church Membership," and being the "Oldest Member in Age" at Saint Paul Baptist Church. She is a lifetime member of Saint Paul and the only surviving member with her name on the church's cornerstone. In all, she has been in inspiration for all and his highly respected for her wisdom and witty personality.
David Mitchell exemplifies the idea of pride from his achievements at Arkansas State University and in sports. He is known as the first black football player to receive a scholarship at Arkansas State. He played on the A-State 1970 football team, which was undefeated and went on to the Pecan Bowl game in the Division II championship. He was an All-Conference player in 1973 and became the first black graduate assistant with football in 1974.
In 1975, he became the first black coach at Arkansas State University and helped coach the undefeated 1975 team. During his career, he coached in 10 bowl games and assisted in the recruitment or coaching at least 30 football players who went on to play in the National Football League. Dr. Lonnie Williams accepted his award.
Harriet Jannice Hyatt exemplifies the idea of strength from her accomplishments and overall lifetime walk. A native of Jonesboro, she has lived here more than 70 years. She is a breast cancer survivor and has shown strength and determination in whatever endeavor she has chosen. She is a member of Eastern Star and the Progressive Black Women.
She worked as a licensed psychiatric technician nurse with the State of Arkansas and was appointed to the State Board of Nurses by then-Governor Bill Clinton. She went on to join the Governor's Review Board. For fun, a few of her hobbies include gardening and cooking.
LaGanzie Kale exemplifies the idea of community for his work within the community as the founder and general manager of the first and only minority-owned and operated radio station in Jonesboro, KLEK 102.5. KLEK was made possible under the federal Local Community Radio Act of 2010, giving low-power stations a place on the FM dial.
Kale saw an opportunity and worked to build a station from the ground up. After obtaining the required permits from the Federal Communications Commission, raising funds, and putting the necessary equipment in place, the 100-watt station launched on January 1, 2015. The L-E-K in the station's call letters are in honor of his mother, Lovie Edmond Kale, who died from complications of breast cancer on March 20, 2012. In 2016, Kale was presented with an Arkansas Community Service Award by Gov. Asa Hutchinson, and also was recognized by Congressman Rick Crawford and U.S. Senators Tom Cotton and John Boozman.
He was nominated for the award by Emma Agnew, Jonesboro's community services manager, who wrote: "He loves people, loves entertaining, loves music, and loves being involved in the community. This radio station has given a direct connection to the greater community and to a lot of citizens who did not have it." In addition to managing the day-to-day operations of the station, Kale is active in various community organizations in Jonesboro and at A-State.
Vickie Newton, a December 1987 summa cum laude graduate of Arkansas State University, worked for two years at KASU radio on campus before KAIT-TV hired her to anchor its weekend newscasts. While at A-State, Newton also served in the Student Government Association and was selected for the Homecoming Court.
After moving to Little Rock, she worked as a reporter for KATV-TV, Channel 7. Within six months, she was hired as a reporter for KMBC-TV in Kansas City, where she worked for five years and was the recipient of an Emmy award. She joined WDAF-TV in Kansas City to co-anchor the daily 6 p.m. newscast.
Her next stop was Detroit, where she was morning news anchor in the top 10 market. At night, she attend University of Detroit-Mercy to earn a master's degree. She moved to Atlanta and anchored the weekend news at WSB-TV and worked for CNN. St. Louis welcomed her in 2002 as primetime weekday co-anchor at the CBS affiliate, KMOV-TV.
Newton is founder and chief executive officer of The Village Celebration, an online magazine that specializes in African American content. She is a 25-year member of The Links, Inc., and was recently named to the board of directors for the Arkansas Urban League. Accepting the award in her honor was Jae Lockhart.
For more details, one may contact the Multicultural Center, (870) 680-4052 or AStateMC@AState.edu. Information about other Black History Month activities at A-State is available online.
# # #