Homecoming Week 2019 Theme is 'Strength of the Pack'
10/18/2019
JONESBORO – Homecoming Week 2019, with a theme of "Strength of the Pack," begins Sunday, Oct. 20, with a schedule full of activities for Arkansas State University students, alumni and friends.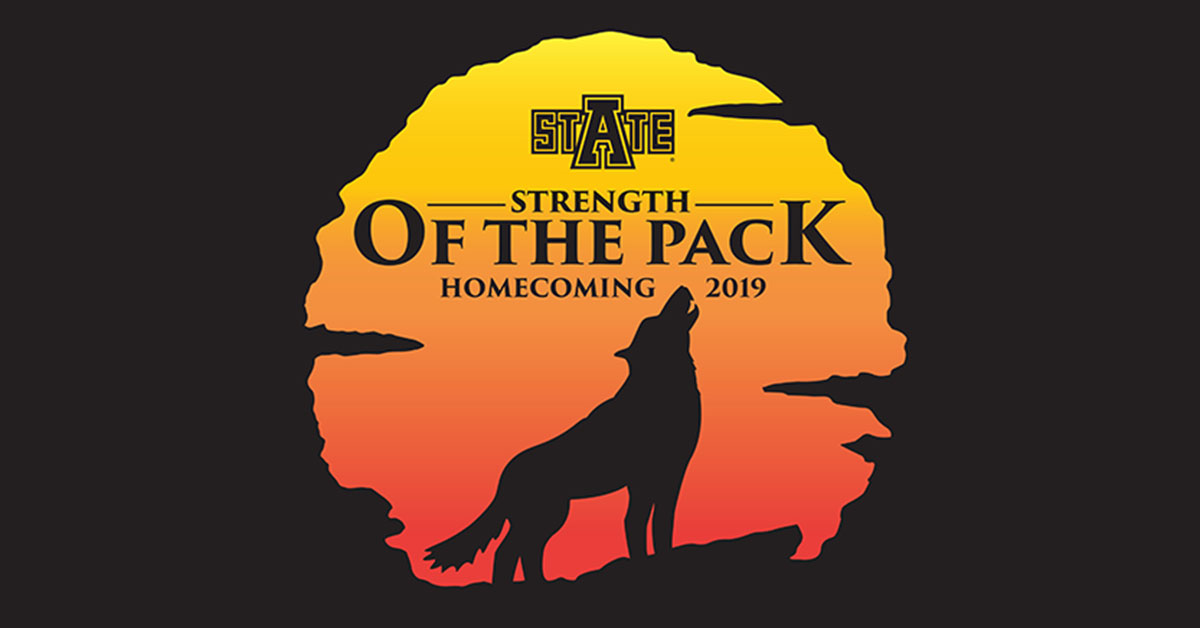 The week culminates Saturday, Oct. 26, with game day, reunions and tailgating hosted by various colleges, student organizations, alumni chapters and other Red Wolf fans. The Red Wolves will take on the Texas State Bobcats, with kickoff set for 6 p.m. in Centennial Bank Stadium.
The coronation of the Homecoming King and Queen, along with presentation of Little Mister and Miss A-State and the Court, will take place during the pre-game ceremony.
Alumni Association and university officials will recognize the Distinguished Alumni of 2019 -- Alec Farmer, Judge Tommy Fowler, and Don Harmon, all of Jonesboro -- at a breakfast and again at halftime of the Homecoming game. The 36th annual Distinguished Alumni recognition will be the most recent in a program that began in 1984.
With leadership from the Student Activities Board (SAB) and the A-State Alumni Association, highlights of the week include:
Members of the Homecoming Court will be announced Monday evening, Oct. 21, following the magic show by Peter Boie at 8 p.m. in Centennial Hall of the Reng Student Union. Voting for Homecoming Court members is underway today for students.
The Class of 1969 campus tour starts at 10 a.m. followed by the 50-Year Reunion luncheon, Friday, Oct. 25, at Cooper Alumni Center.
The A-State Homecoming Parade with university and community participants starts at 6:30 p.m. Thursday, Oct. 24, in Downtown Jonesboro. The Downtown Block Party, sponsored by SAB and Downtown Jonesboro Association, follows from 8 until 11 p.m.
The All-Alumni Homecoming Tailgate is 3-5 p.m. Saturday at Cooper Alumni Center.
The Red Wolf Walk through the tailgating area at Mike Watson Park begins at 3:45 p.m. on Homecoming Day.
Other student and alumni events on the Homecoming Week calendar include:
Tuesday, Oct. 22: Movie night, with a showing of "Lion King," 7 p.m., at Centennial Bank Stadium.
Wednesday, Oct. 23: A-State ROTC will host a blood drive, 12-6 p.m. at the Military Science Building.
Thursday, Oct. 24: The Arkansas Science Festival presents innovative juggler Greg Kennedy in "Science, Engineering and Art: A Juggler's Perspective," at 7:30 p.m. in Riceland Hall of Fowler Center.
Jonesboro native Zach Williams will perform in concert at 7 p.m. in First National Bank Arena.
Friday, Oct. 25: The College of Education and Behavioral Science will recognize its 2019 outstanding alumni and faculty at 4 p.m. in the Spring River Room of the Reng Student Union.
The Strong-Turner Alumni Chapter will have its scholarship and alumni awards reception at 6 p.m. in the Mockingbird Room of the Student Union.
Student Activities Board (SAB) is sponsoring the Yell Like Hell bonfire and spirit competition, 7 p.m., at University Loop and Honors Ave.
The Fowler Center Series will present ukulele artist Jake Shimabukuro in concert at 7:30 p.m.
Saturday, Oct. 26: The GameDay 5K begins at 8 a.m. at the Red Wolf statue on Aggie Circle.
Pack Preview Day activities for future Red Wolves will run from 11 a.m. to 3:30 p.m. at the Welcome Center and the Reng Student Union.
The annual Homecoming Greek Show, sponsored by Alpha Kappa Alpha Inc., starts at noon at Nettleton Performing Arts Center.
The rugby alumni Homecoming match starts at 1 p.m. at Curt Huckaby Field.
The College of Nursing and Health Professions recognizes its outstanding alumni at 3 p.m. in the Donald W. Reynolds Center for Health Sciences.
The colleges of Agriculture and Sciences and Mathematics and the ROTC program will host tailgates in Mike Watson Park next to the stadium. Liberal Arts and Communication will host a tailgate at Fowler Center. All start at 3 p.m.
The Strong-Turner chapter will host its Homecoming party, Groove Convergence by DJ Icetre, starting at 10 p.m. at Sue's Kitchen Express.
Tickets and More Information
Game tickets are available through the Central Box Office at (870) 972-2781 or online at AState.edu/tickets.
For more details about these and other events and activities during the week, visit the Homecoming website, AState.edu/Homecoming, contact Alumni Relations, (870) 972-2586 or alumni@AState.edu, or the Student Activities Board, (870) 972-2055 or sab@smail.AState.edu.
# # #