Arkansas Science Festival Runs Oct. 24-26 at A-State
10/17/2019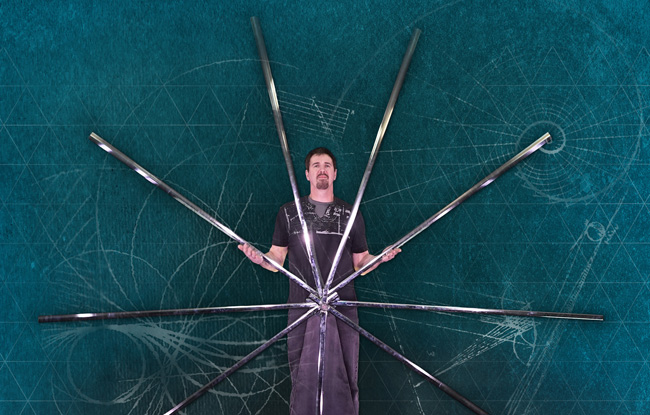 Greg Kennedy
JONESBORO – Arkansas Science Festival returns to Arkansas State University for three days of special events and activities, Thursday through Saturday, Oct. 24-26.
Three of the main events will be a performance by innovative juggler Greg Kennedy, as part of the university's Lecture-Concert Series; STEM Fest, to encourage more participation in science, technology, engineering and mathematics (STEM) education; and a science tailgate tent prior to A-State's Homecoming game.
Kennedy will perform his show, "Science, Engineering & Art: A Juggler's Perspective," Thursday, Oct. 24, at 7:30 p.m. at Fowler Center. Originally trained as an engineer, Kennedy uses the principles of geometry and physics to create groundbreaking work with original apparatus.
"Science, Engineering & Art" gracefully transitions between inspirational, real-world anecdotes, and kinetic creations, while providing the audience with perspective on how science and art unite, according to the festival organizers.
This program, for which admission is free, is offered through A-State's Lecture-Concert Series with funding support from the honor society of Phi Kappa Phi and the Arkansas Science Festival. Kennedy also will perform at the Nettleton STEAM School earlier that day.
STEM Fest, on Friday, Oct. 25, from 8:30 a.m.-1:30 p.m., will be a celebration of science through hands-on discovery and learning around the A-State campus. More than 700 students in grades K-12 are already registered for this event, an indicator of youth interest. More than 100 volunteers will assist.
Participants will engage in activities hosted by numerous campus and off-campus entities, including Arkansas State University Museum, Arkansas Biosciences Institute, College of Engineering and Computer Science, NYIT College of Osteopathic Medicine, College of Sciences and Mathematics, STEAM Builders LEGO User Group, and KP Exotics Outreach and Education.
Arkansas Science Festival and the College of Sciences and Mathematics will host its science tailgate tent from 3 to 5:30 p.m. before the A-State Homecoming Football game on Saturday, Oct. 26, at the First Community Bank Tailgate Community. Organizers will showcase more hands-on STEM fun, and visitors will enjoy food and drink. Admission is free.
Additional information about Arkansas Science Festival is available by contacting Kari Harris, kharris@AState.edu, or Dr. Amy Pearce, apearce@AState.edu, or checking the STEM Fest Facebook page or the Juggler's Perspective Facebook page.
# # #