Ceremony Marks Naming of Lt. Col. Frederick C. Turner, Jr. Military Science Building
11/11/2021
JONESBORO – Family and friends joined military and university representatives to celebrate the naming of the Lt. Col. Frederick C. Turner, Jr. Military Science Building, with the retired Army officer present to participate in the historic ceremony.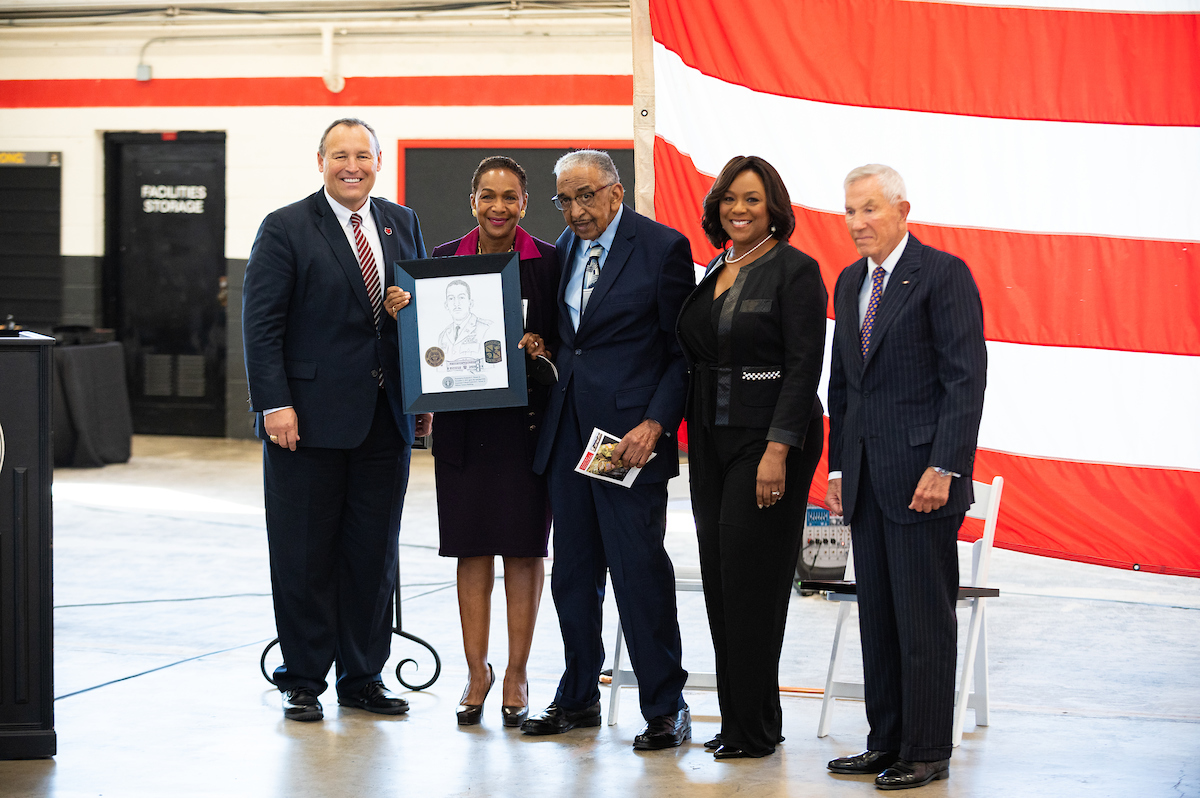 Retired Lt. Col. Turner (center) is joined by his daughters, Suzette Turner Caldwell (left) and Debbye Turner Bell (right), along with Chancellor Damphousse (far left) and retired Maj. Gen. George Barker (far right).
"We're so proud to have his name on this building," Chancellor Kelly Damphousse noted in his opening remarks. "Three times in his lifetime, Frederick C. Turner Jr. was a trailblazer for Arkansas State. A graduate of Jonesboro's Booker T. Washington High School, Turner, Walter Strong and Larry Williams were the first Black students to enroll in A-State in 1955."
Turner and Strong became the first two Black graduates of Arkansas State in 1960 and later became the namesakes for the Strong-Turner Alumni Chapter, Damphousse continued.
"After three tours in Vietnam, Turner returned to his alma mater to become the first Black professor and the first Black military science professor in 1969. For three years, he mentored future Army officers in our ROTC program."
With Veterans Day coming up less than a week after the dedication ceremony, Damphousse asked those gathered under the huge U.S. flag to reflect on the sacrifices of those who have come through the ROTC program during its first 85 years, another milestone the Department of Military Science celebrated during Homecoming weekend.
Former Student Government Association President Rashad Kirksey said he wanted to personally thank Turner, "for being a pioneer who paved the way for Black women and men like myself to receive a higher quality education. I also want to thank the many individuals who worked alongside me in a push for this building's renaming," especially fellow student Nathan Wheaton, who brought the idea to the SGA.
Naming several individuals who have helped pave the way for students like himself, Kirksey added, "We now live in a more perfect union. All are able to receive a quality education, and we can recognize the hard work of African Americans and name the first-ever academic building on this campus after one of the first students to set foot on this campus. This institution has made a huge step towards progress in honoring those who have helped make Arkansas State University what it is today."
Keynote speaker George Barker, a retired major general who, like Turner, received his officer commission through A-State's Army ROTC program, brought a message of congratulations to the honoree.
"Lieutenant Colonel . . . Fred . . . welcome home," he said. "Your many accomplishments are recognized with the invitation from our chancellor to return to your alma mater, where it all began, to witness this building being designated in perpetuity in your honor. Over the years I've had the opportunity to review military records of many soldiers to determine promotions, assignments, and so on, and I say here today, loud and clear, that Lt. Col. Turner's military career is exceptional."
Commending his military commitment, Barker emphasized Turner had served a remarkable "three separate tours on the battlefields of Vietnam as an infantry soldier . . . very, very few would go the third time," as he listed the honoree's Army commendation medals.
"We thank you for your service and we extend our thanks to the Turner family. Your success was, no doubt, in part, a measure of their ongoing support, particularly during those years when you were deployed in Vietnam."
Barker said records show close to 2,000 ROTC students have earned commissions through A-State's military science program and served active duty in the Army, the Army Reserve, or National Guard.
"Today will be remembered, fondly, by all," Barker continued, asserting references to Turner as a warrior were richly deserved. "We have a building named in honor of a true American hero. That was our mission; together, we have accomplished it. I want to thank you, on behalf of all us, for your service to Arkansas State University, the U.S. Army, and the United States of America. We are, and will always, be grateful."
Daughters Suzette Turner Caldwell and Debbye Turner Bell, were among numerous family members who came from around the country, and Bell brought remarks on behalf of the family.
"I remember the way he carried himself, always with dignity. My father is one of the most kind, compassionate, funny, loving people I've ever met," she said in her introduction. "I want to thank all of you for doing this recognition while my father could sit here and be on this earth to see it happen. I thank you so much for that. We're deeply grateful . . . we're grateful to Arkansas State University for keeping us as family."
Turner stepped to the lectern as the crowd welcomed him with a standing ovation.
"I stand before you with a heart full of honor and gratitude," Turner said, then he briefly recounted how he arrived as a student at Arkansas State during unsettled times in the summer of 1955 with the support of then-President Carl R. Reng. Later, after Turner graduated and was well into his military career, Reng asked the Army to assign Turner to the military science faculty.
"During this time as a professor, I served not only as a teacher of military science, but also as a counselor, not only to students, but to our great dean of students, Robert Moore, who frequently called upon me to help resolve problems that involved the Black students," he said.
"Thank you so much for this honor," he concluded. "I really appreciate it. God bless all of you."
Lt. Col. J. Morgan Weatherly, the current professor of military science, brought the program to a close by thanking Turner and leading everyone in singing "The Army Song."
"On behalf of Arkansas State University, the men and women of the Red Wolf Battalion, and U.S. Army Cadet Command, thank you for your stalwart example, thank you for your leadership, and thank you for your embodiment and resolute commitment to leading a life of service, a life guided by the Army values, compassion and understanding."
# # #
Scholarship Established in Honor of Retired Lt. Col. Frederick C. Turner, Jr.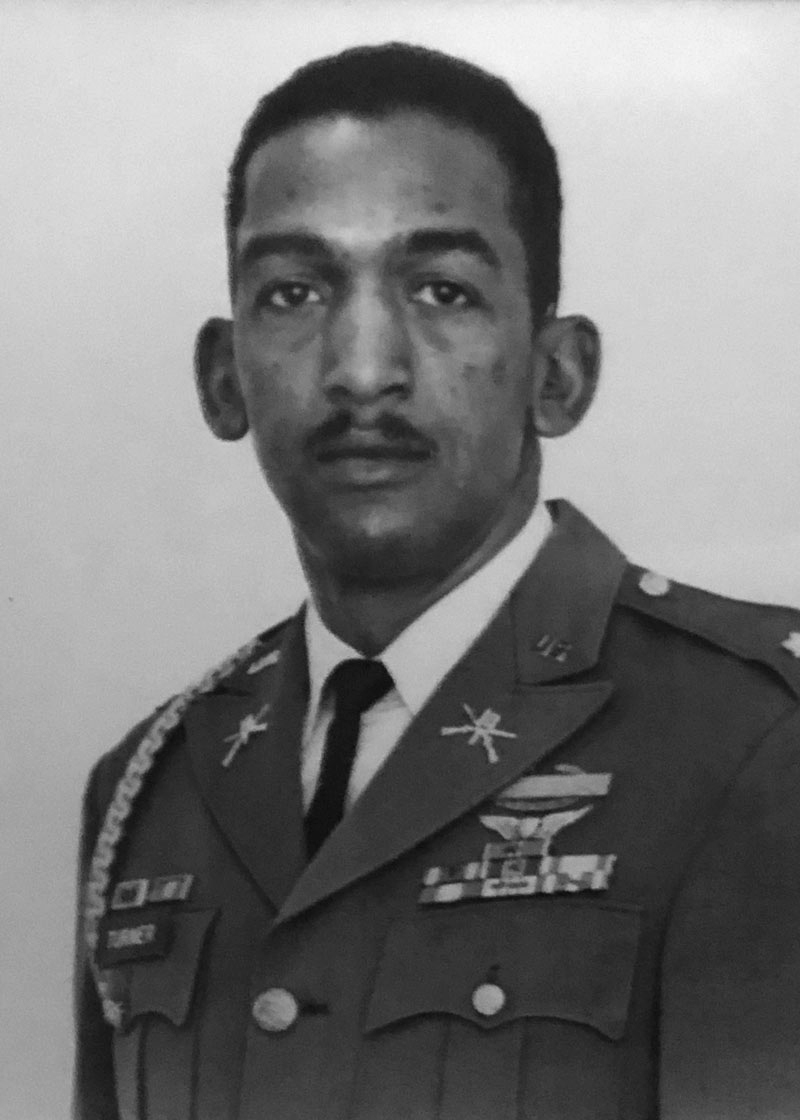 Frederick C. Turner
In celebration of a momentous day in Arkansas State University history on Friday, Nov. 5, when the Military Science Building was officially dedicated as the Lt. Col. Frederick C. Turner, Jr. Military Science Building, a scholarship in Turner's name has been initiated.
The first gift to the Lt. Col. Frederick C. Turner Jr. Military Science Scholarship came from Chancellor Kelly Damphousse.
Read more >>