Arkansas State Develops Enhanced Learning Environment, Dynamic Curriculum With Major Digital Initiative Using iPad
05/31/2013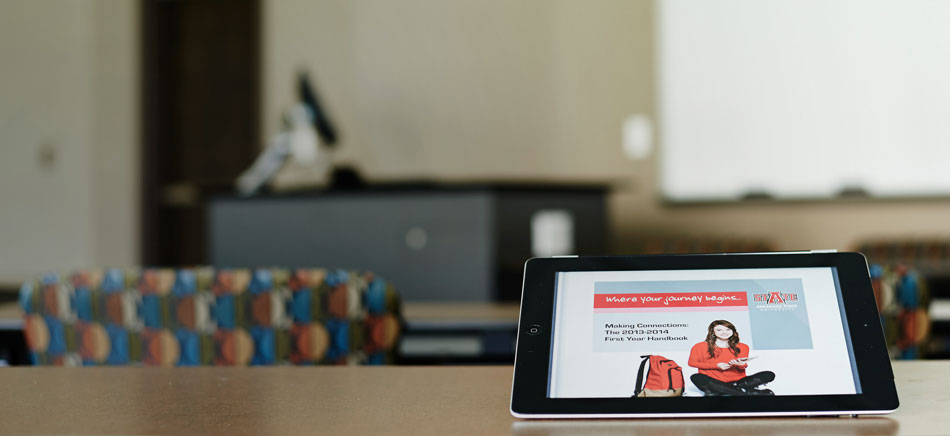 JONESBORO, Ark. — Arkansas State University today announced that incoming freshmen this fall will use iPads to enhance their higher education learning experience as faculty implement a dynamic, multimedia curriculum.
Every freshman will be enrolled in ASU's "Making Connections" first-year experience course, which is specifically designed to help students transition into higher education and gain skills that will lead to success in the classroom. Last fall Arkansas State reported over 1,700 freshmen enrolled in "Making Connections."
"Through the use of iPad and a multi-dimensional curriculum generated by our faculty, students will benefit from a digital environment that leads to improved educational performance," said Arkansas State Chancellor Tim Hudson. "We're committed to innovating and responding to the way our students learn and engage. That's an important reason why we are a destination university."
Dr. Lynita Cooksey, executive vice chancellor and provost, said the university is transforming how students learn through the new Connect initiative as part of its mission to educate leaders, enhance intellectual growth, and enrich lives.
"Our faculty are developing multimedia content that will be available for students to access anytime and anywhere they want," Cooksey said. "We're confident this will enhance the traditional classroom experience."
Arkansas State is the first public university in the state and among the first in the country to require every freshman to use iPad technology. ASU is also a national front-runner to implement a required freshman course that is exclusively digital.
Students will be able to download and use e-textbooks and apps with iPad, Cooksey said, and the ASU Connect initiative focuses on an immersive experience in which technology is embedded in the curriculum.
"ASU understands the way I learn," said Chandler Winningham, an incoming freshman from Jonesboro. "A-State Connect and Making Connections will definitely enhance my experience as a student and help me get started in the right direction."
The Connect initiative coincides with Arkansas State becoming the first university in the country to acquire the complete online resource of 14,000 scholarly e-books collected by JSTOR, a non-profit digital library that supports higher education institutions. The ASU Dean B. Ellis Library will provide full access through its website to the entire collection of titles from 34 major publishers, including highly respected sources such as the Modern Humanities Research Association, RAND Corporation, and university presses at Princeton, Kentucky, Illinois, North Carolina, and Texas.
The Making Connections course focuses on transitioning students into college-level learners by introducing critical academic skills and campus resources. Faculty and students will explore study skills, personal organization, and research using iPad apps, and students will also access the course text and other books using digital text.
Additionally, as a "Common Reader" part of the course, freshmen will receive at no cost the national best-selling novel "Zeitoun" by Dave Eggers as an e-book download via iBooks. The book is the true story of a New Orleans family's riveting account of being caught between the U.S. war on terror and Hurricane Katrina.
"A Common Reader is a book assigned to all first-year students to read during the fall semester," said Jill Simons, dean of ASU University College. "The purpose is to promote a shared intellectual experience to engage students socially and academically both inside and outside of the classroom. Themes from Zeitoun will be incorporated into discussions, activities and experiences of first-year students."
Arkansas State faculty are using iTunes U and iBooks Author to develop interactive curriculum. iTunes U is the world's largest online catalog of free educational content available to iOS users around the world. iBooks Author is a free authoring tool which anyone with a Mac can use to create stunning iBooks textbooks.
In addition to the "Making Connections" course, some of the other projects under way to support student engagement and learning with iPad include the below iTunes U courses:
"Energy & the Environment," a course that satisfies the general education physical science requirement at ASU, developed by Dr. John M. Pratte, professor of physics and dean of the College of Sciences and Mathematics. The digital content includes an e-book, a lab workbook, links to required apps, and a link to relevant graphics.

"Fine Arts Musical," developed by Carolyn Ponce, adjunct instructor of music and a course builder and trainer in the ASU Interactive Teaching and Technology Center. The content includes video and audio clips and incorporates apps such as "The Orchestra" and "Discover Musical Instruments."

"Methods and Materials for Teaching Social Studies," developed by Dr. Gina Hogue, associate professor of history and associate vice chancellor for academic affairs. Hogue has also initiated work on an Arkansas history textbook project that she hopes will become a collaborative effort to update textbooks used in the state.
Training is being provided to faculty who want to participate in the Connect initiative and develop content using iBooks Author, said Cooksey, adding that she's encouraged by the number of faculty who want to embrace the technology. At least 25 faculty members are enrolled in training classes this summer.
"I think this freshman class will see more and more courses that include digital curriculum during their time at Arkansas State," she said. "Also, textbooks in e-book format are growing as a less expensive alternative with expanded multimedia content."
A recent cost comparison of traditional textbooks used in five general education courses showed that purchasing e-book versions would result in total savings of $317 per student, Cooksey said.
Arkansas State is optimizing its new website, www.astate.edu, for mobile device use, and expanding classroom wireless Internet capacity specifically where first-year experience students will have classes in key academic areas and student gathering locations, according to Henry Torres, ASU's interim chief information officer.
"We will be monitoring high-traffic areas and buildings on campus, and we'll continue to expand coverage in areas of need as they arise," Torres said.
Students can buy iPads at the ASU IT Store on campus, bring their own iPad, or rent an iPad, Simons said. Purchasing the iPad and "Connect Kit" at the ASU IT Store means incoming freshmen can get everything needed for the Making Connections class in one stop in the center of campus. More information is available at www.astate.edu/connect.
# # #
For more information:
Jeff Hankins
Vice President for Strategic Communications & Economic Development
Arkansas State University System
jhankins@asusystem.edu ~ (501) 660-1004