How Tutoring Works
We believe in not just making better writing, but making better writers. Curious how we do this? Take a peek into the process you can expect at the Writing Center.
You make an appointment... You can do this via Penji, either through the app or a web browser.
...or you can walk in. If you choose to walk-in for an in-person session, you will have to wait for the next available tutor to finish with their session. All walk-ins function on a first-come-first-serve basis, so without an appointment, you're not

guaranteed

a session.
Make sure you have what you need for the session. Not sure what to bring? Here's a handy list: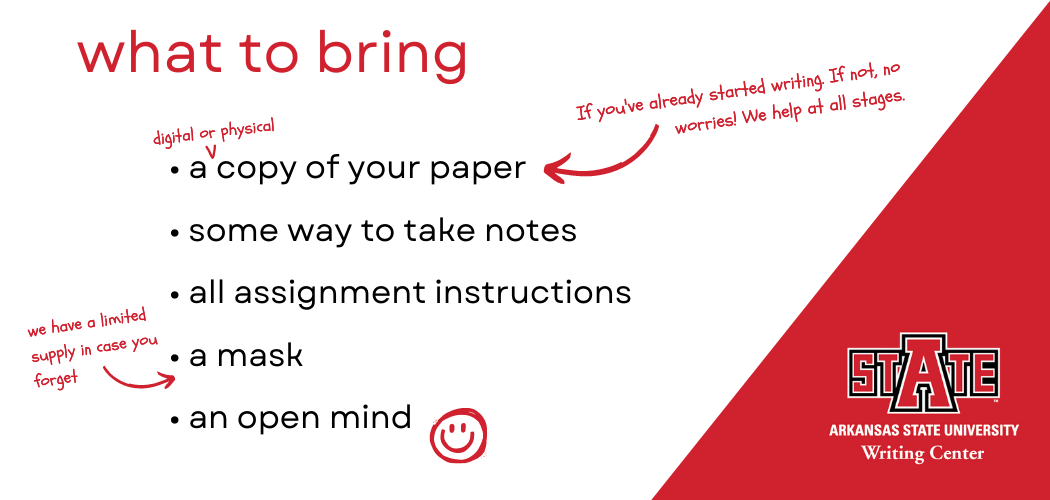 Meet your tutor. The Writing Center is a safe, study-conducive environment for all students who walk through our doors. We are here to help you succeed, so don't hesitate to let your tutor know where you're struggling!
Discuss your writing or assignment. At the Writing Center, we focus on big picture issues first. Don't understand the assignment? That's okay. Bring your notes, assignment sheets, prompts, and/or research materials, and we'll talk it out with you!
Expect a dialogue. We can't comment on your writing without you present, and we can't edit your paper for you. However, we certainly can coach and cheerlead you to writing victory!

Beyond helping you recognize common errors, we will help you organize your ideas, maintain a consistent tone, and develop your voice and style.

Tell us about your goals, and we will do our best to help get you there.
Develop your writing process. Come back for more sessions as necessary! We would love to see you again.