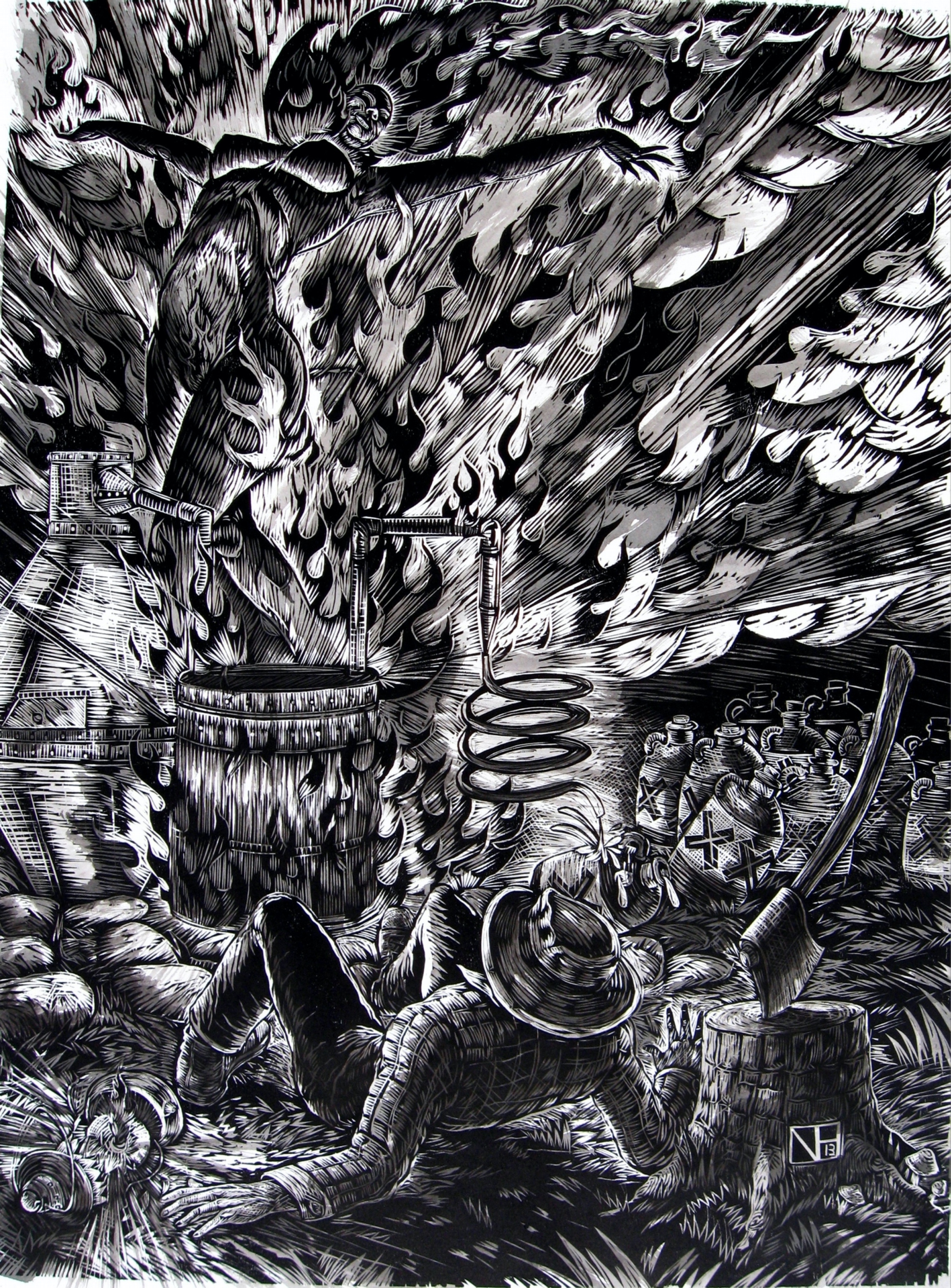 Title of Show: Delta Oracle
Dates: Oct 24 – Nov 18, 2022
Featured Artist: Neal Harrington
Artist Statement
Even before moving south I was interested in the myth/Americana of Southern Music. My gateway to this culture was the Blues, then Folk, Bluegrass, and the classic Country that my parents played constantly while I was growing up.

Printmaking, in particular relief, is my primary means of exploration in the visual arts. The content of my work fuses the rich tradition of Greek/Roman mythologies with an American Roots Music perspective. These visual ballads sing out in their symbolism, narrative, and energetic atmospheres. My work balances a multifaceted investigation of independence and mystical narratives. These themes can be found in The Bootlegger's Ballad series. The bold and graphic marks of the woodcut/relief technique reiterate the tension and energy of the figures in these works. I create an intensified atmosphere and an amplified dramatic sense of light with the addition of India ink washes. The shades of gray either softens the focus or strengthens the focal point and contributes to the dreamlike quality of the piece.
Biography
Neal Harrington, originally from Rapid City, SD, earned his BFA in Painting from the University of South Dakota (1998) and his MFA in Printmaking from Wichita State University (2001). Harrington's prints have been extensively exhibited all over the nation. He is a two-time recipient of the Arkansas Art Center's Delta Award for the Annual Delta Juried Exhibition as well as multiple other awards from prestigious exhibitions like the Boston Printmakers Biennial, 2016 Pacific States Biennial North American Printmaking Exhibition, Prints U.S.A, Annual National Print Exhibition at Artlink, and the Arkansas Art Council's Small Works on Paper (annual statewide traveling exhibition). He was also awarded the 2017 Beaux Arts Award from the River Valley Arts Center and the Faculty Award for Excellence for Scholarship/ Creative Activity in 2018. Neal is a Professor of Art at Arkansas Tech University and serves on the board of the Arkansas Society of Printmakers. Currently Neal, his wife, Tammy, and his two children (Jake and Olive) live in Russellville, Arkansas.