Astate Care
The ASU Community Action Reinforcing Empowerment (ASU CARE) is located off campus at the corner of 911 Magnolia Road and Patrick Street. The center is a "One Stop Shop" for residents of the community who are needing to be linked to social and economic services including mental health, medical, educational, social welfare, and employment opportunities.
Contact: 870-932-0080
Beck Center for Veterans
The Beck Center for Veterans is a non-profit program within the Arkansas State University College of Nursing and Health Professions that provides combat wounded veterans with first class educational programs and services at Arkansas State University.
Contact: 870-972-2624, Open the Website
Diabetes Self-Management Program
This free outpatient clinic provides services to ASU faculty, families and students. The program offers education and management for Type 1 and Type 2 diabetes mellitus, gestational diabetes, impaired glucose tolerance (pre-diabetes), and metabolic syndrome. Providers, including registered nurses, physical therapists, registered dietitians, laboratory technicians and social workers, assist patients as they make psychological and social adjustments to living with a chronic disease and help patients and their loved ones sustain the lifestyle changes necessary for diabetes management throughout life.
Contact: 870-972-2815, Open the Website
Geriatric Research Education Center
The Arkansas Geriatric Education Center (AGEC) was established in 1999 by a grant from the Health Resources and Services Administration. The AGEC improves training opportunities and continuing education in geriatrics for clinical health professionals and faculty who teach in health professions programs, and to students in the health professions in Arkansas.
Contact: 870-972-3112, Open the Website
Head and Neck Cancer Program
The goal of the A-State Head and Neck Cancer Program is to provide patients and families of those diagnosed with all types of head or neck cancer with the education, their oncology treatments. The program is conducted by a team of professionals and students from Nursing, Nutrition, Physical Therapy, Social Work, Speech Therapy, and Radiation Therapy.
Services provided include:
Speech Therapy – Swallowing, voice, and communication evaluation & treatment
Nutrition – Screening/assessment of nutrition and hydration needs; education and counseling to improve nutritional status
Physical Therapy – Evaluation and treatment stretches, range of motion, strengthening
Nursing – Skin integrity
Social Work – Resources for support services and funding sources for medical supplies
Radiation Therapy – Education on radiation treatment process and radiation effects
Contact: (870) 972-3301 or Shanon Brantley
Open their web site.
Healthy Ager Program
The Healthy Ager project is an interdisciplinary service-learning project for health professions students. The College of Nursing and Health Professions works in conjunction with the Center on Aging-Northeast to facilitate this endeavor. Each Health Ager (adults >65 years) is matched with an interdisciplinary team that includes students in physical therapy, nursing, clinical lab science, social work, communication disorders and nutrition.
Contact: 870-972-3074 or Dr. Shawn Drake
Hippo Therapy Program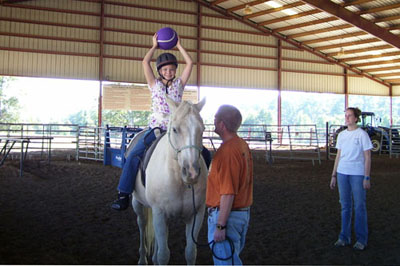 Hippotherapy is a physical therapy treatment strategy used at Arkansas State University that utilizes equine movement as part of an integrated intervention program to achieve functional outcomes. All hippotherapy sessions occur on the campus of Arkansas State University at the Equine Center. Students who are currently in the Physical Therapy or Physical Therapist Assistant programs have the opportunity to interact and participate in actual hippotherapy sessions on patients currently involved in research endeavors with trained faculty members.
Hippotherapy also provides a rich environment for ASU students completing practicum in Communication Disorders to practice a variety of speech/language diagnostic and treatment techniques. Interactions with horses offers practicum students and their clients wonderful opportunities to expand vocabulary, receptive, and expressive language skills in a natural environment in which the consequences of word and language usage rewards the learning. With increases in posture, respiratory efficiency can be used to increase vocal intensity, coordination, and sequencing of a number of physiological aspects of speech.
Contact: Farley Schweighart, 870-972-3591
Regional Center for Disaster Preparedness Education
The Regional Center for Disaster Preparedness Education is the only provider of the Core, Basic and Advanced Disaster Life Support courses in the state of Arkansas. These courses provide education and training in natural disasters as well as biological, chemical, radiological, nuclear and explosive events. The advanced course includes hands on experiences in which students learn to administer smallpox vaccine, auto-injectors for nerve agents, how to triage a mass casualty field, put on and take off Level C HAZMAT gear and practice treating victims (computerized patient mannequins) for a variety of biological or chemical exposures. The Regional Center is also home to the Disaster Preparedness & Emergency Management program that offers a Multi-disciplinary Minor in Homeland Security and Emergency Preparedness, an Associate of Applied Science and Master of Science in Disaster Preparedness and a Graduate Certificate in Disaster Health. A Bachelor of Science recently passed the Arkansas Department of Higher Education Coordinating Board. A cohort of expert faculty in the field teach in all degree programs and have a multi-disciplinary background in disaster preparedness that includes healthcare (hospital, public health, primary care), law enforcement, education, Non-Government Organizations and emergency management.
Contact: Disaster Preparedness and Emergency Management Department, 870-680-8286 or dpem@astate.edu, Open the website
The STAR House (Simulation Training and Research House)
STAR House is the newest addition to the College of Nursing and Health Professions. The house is located at 2511 Qupaw, Jonesboro, AR on the campus of Arkansas State University. This new innovative program will provide students with an opportunity to participate in real-world scenarios where they can apply skills learned in the classroom and garner knowledge while dealing with realistic problems in a controlled collaborative learning situation. This new tool will no doubt add an essential component of professional practice through case studies and examples that present challenges that arise in everyday professional practice.
The STAR House will allow for the creation of a wide range of realistic experiences, as it can be set up to resemble different units of choice. The STAR House will utilize approaches that correspond with the way most adults learn: inductively, from specific to general, and through practice and feedback. This environment will provide an opportunity for students and professionals to improve their current skill set. STAR House will be used by a variety of students including, social workers, child advocacy, counseling, psychology, sociology, criminology and education. Other healthcare professional students such as OT, PT, Nursing, Disaster Preparedness and many more will utilize the STAR house as well as the Division of Children and Family Services (DCFS) workers and law enforcement officials. Participants will have the opportunity to develop skills for gathering and evaluating data, environmental assessment, effective interviewing and problem solving.
Contact: Dr. Patricia Walls, 870-972-3984
Speech and Hearing Center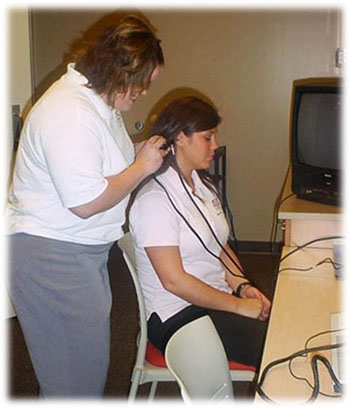 The Speech and Hearing Center is a clinical laboratory where speech-language pathology students gain practicum experience through the supervised delivery of speech, language, and hearing services to individuals with communication disorders. The Speech and Hearing Center also contracts with schools and agencies for the provision of services away from the campus.
The Speech and Hearing Center also offers an Assistive Listening Device Trial Center. Assistive listening devices (ALDs) or assistive listening systems (ALSs) are instruments that are designed to improve a person's ability to hear in specific listening situations. ALDs differ from conventional personal hearing aids in their application. Some ALDs amplify a sound signal, but the primary purpose of an ALD is to make the targeted sound easier to hear by isolating the sound source from surrounding noise. ALDs fall into several categories with those being alert/warning, telephone/telecommunications, radio/television, and personal communications (individual and group). Often, ALDs are employed to meet certain provisions of the Americans with Disability Act. Open the Assistive Listening Device Trial Center website.
The ALD Trial Center was made possible through support by the College of Nursing and Health Professions Office of the Dean and by support from the Telecommunication Access Program of the Arkansas Department of Career Education, Arkansas Rehabilitation Services Division. Several devices from each category are on display and are available for trial. Although the devices are not for sale from the ASU Speech and Hearing Center, a member of clinical staff can assist in the procurement of an ALD if recommended. For eligible individuals, some devices can be obtained free of charge from the Telecommunication Access Program of the Arkansas Department of Career Education, Arkansas Rehabilitation Services Division.
Contact: Open the Website, 870-972-3301
Title IV-E Program
The Arkansas Academic Partnership in Public Child Welfare is a statewide collaboration among nine Arkansas universities and the Division of Children and Family Services (DCFS). The goals of the partnership focus on the professional development of students and child welfare workers to improve child welfare practice.
Contact: Open the Website, 870-972-3116