Writers Participate in HPMEC Summer Retreat
06/13/2018
PIGGOTT, Ark. — Eight talented writers from four states came together June 4-8 to hone their skills and build friendships at the annual Hemingway-Pfeiffer Museum & Educational Center (HPMEC) Summer Writers' Retreat. The retreat is held at the site where acclaimed author Ernest Hemingway penned much of his iconic novel A Farewell to Arms.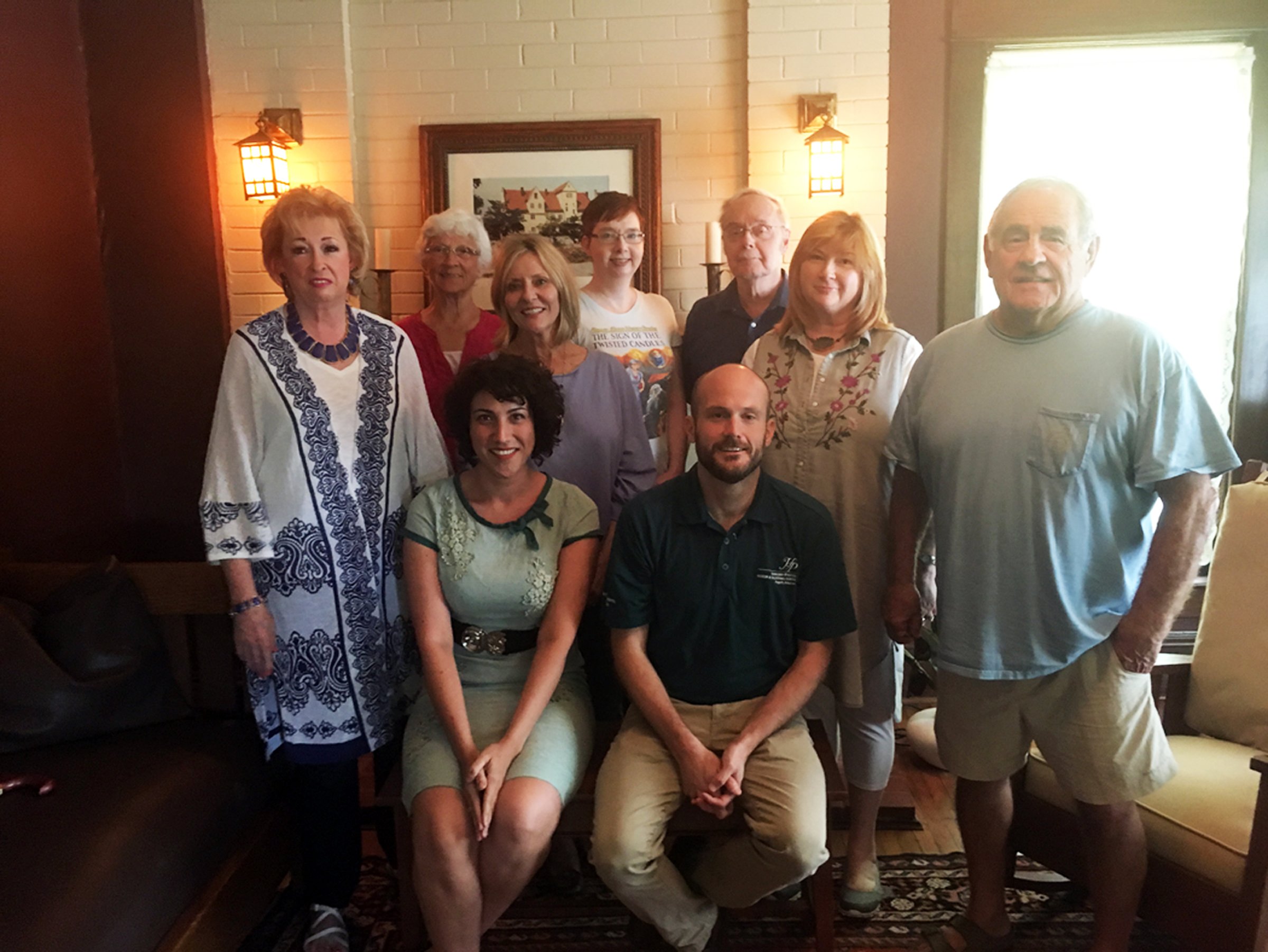 2018 Summer Writers' Retreat Participants — Front Row: (Left to right) Kate Osana Simonian (HPMEC Writer-in-Residence), Dr. Adam Long (HPMEC Director). Back Row: Fay Guinn (Jonesboro), Linda Wyss (Piggott), Talya Tate Boerner (Fayetteville), Beth Walker (Martin, Tenn.), Fr. Ed Graves (Little Rock), Debbie Archer (Walnut Ridge), Don Gean (Sarasota, Fla.)


Writers began each day with a workshop, looking at samples of writings from Hemingway and his contemporaries as models for their own work, followed by time to write on the grounds, including in Hemingway's Barn-Studio. They enjoyed lunch together at the educational center and ended the afternoon with a group meeting to reflect, share and discuss the processes used by each writer. The format allowed writers time to focus on their own creative interests, to receive feedback on their work and to form relationships with other writers.
The writers had a special opportunity to work with mentor and the museum's first writer-in-residence, Kate Osana Simonian. Simonian was selected from a group of highly qualified applicants from across the country to spend the month of June living and working in the community of Piggott. This residency was made possible by an underwriting sponsorship from Piggott State Bank.
Cody Knight, president and CEO of PSB, said the bank welcomed the opportunity to sponsor the residency. "This is a great opportunity to bring a talented writer to our community," he said. "The residents of Piggott and the patrons of the museum will have a wonderful resource for the month, and Kate will be able to share our community with others around the world."
Simonian is an Armenian-Australian essayist, short story writer and novelist from Sydney, Australia. She is on a Presidential Fellowship at Texas Tech, where she is completing a creative writing PhD. Her work has been published by, or is forthcoming in, Kenyon Review Online, Colorado Review, Ninth Letter, Passages North, Post Road, The Chicago Tribuneand Best Australian Stories.
She has won various honors, including the Nelson Algren Award, a Truman Capote Fellowship and a Tennessee Williams Scholarship to Sewanee Writers' Conference. Along with acting as an associate editor for Iron Horse, she is the fiction editor for Opossum: A Literary Marsupial, a journal on the intersection of literature and music.

Writers' retreats are held twice annually at the Hemingway-Pfeiffer Museum & Educational Center in Piggott. The next retreat is scheduled for Friday through Sunday, Nov. 9-11, with Rob Lamm, professor of English at A-State, serving as mentor. For more information, contact the museum at hemingway.AState.edu or contact HPMEC director Dr. Adam Long at 870-598-3487 or by email at adamlong@AState.edu.