Weiler Woods Scholarship Will Assist Conservation Students
01/16/2020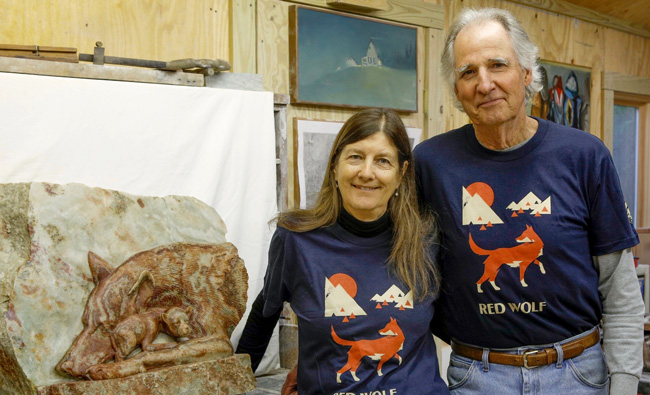 Loti Woods and Dale Weiler
JONESBORO – Because of their ongoing commitment to wildlife conservation, Dale Weiler and Loti [Low-tee] Woods of Tryon, N.C., have presented a gift of $25,000 for student scholarships at Arkansas State University.
Their endowment contribution is establishing the Weiler Woods Red Wolf Conservation Scholarship, for which A-State students majoring in biological sciences, environmental sciences, or wildlife, fisheries and conservation will be eligible to apply.
"We are thrilled to be partnering with Arkansas State University, home of the Red Wolves," the donors announced. "Spreading the word about the critical need to have red wolves in the wild to maintain balance in our biodiversity has been a top priority for Weiler Woods for Wildlife."
The scholarship, they said, "is our way of thanking A-State for their role in protecting endangered species and offering assistance to students pursuing this cause."
Active environmentalists and conservationists, the couple started the organization that bears their names, "Weiler Woods for Wildlife." On their website, they offer a wealth of information about how everyone can help protect endangered and misunderstood species.
Dr. Tom Risch, vice provost for research and technology transfer, stated "We are so pleased that we have connected with Dale and Loti through our shared passion for red wolf conservation. We are grateful that they are supporting our wildlife, fisheries and conservation program by providing this scholarship. The support students receive through programs such as the Weiler Woods Red Wolf Conservation Scholarship make a huge difference in the pursuit of their professional development."
Weiler, who is a sculptor, uses his artwork as a means to raise awareness for environmental issues. He is the artist who sculpted "Just Settling In," which was unveiled earlier this year at the Bradbury Art Museum in A-State's Fowler Center.
Dr. Lynn Boyd, dean of the College of Sciences and Mathematics, emphasized how students interested in wildlife conservation will benefit.
"We are so happy to partner with Dale and Loti, who share our interests in wildlife conservation," she said. "It is important to continue to train students who will go on to make a difference for the wildlife in our region and our planet. The establishment of an endowed scholarship means that their donation will continue to support students indefinitely."
Jeff Hankins, vice president for communications and strategic initiatives for the ASU System, added, "Dale and Loti's support of American red wolf conservation initiatives at Arkansas State has been an unexpected yet much appreciated surprise. They share and embrace our enthusiasm, and we're grateful for their gifts of extraordinary artwork and financial resources to benefit our students and the critically endangered red wolves. We value their partnership and friendship."
# # #