Vaughn Estate Gift Establishes Three Endowed Professorships
09/19/2017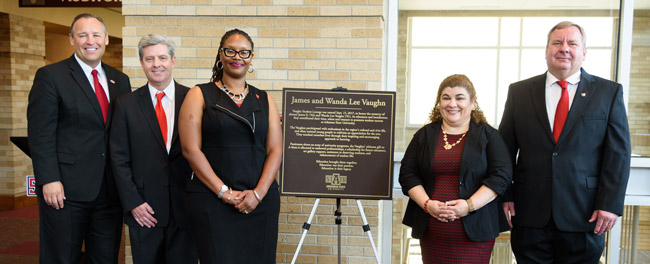 Chancellor Kelly Damphousse (from left) and Vaughn estate executor Steve May congratulated Dr. Cherisse Jones-Branch, Dr. Argelia Lorence and Dr. John D. Hall, who were announced today as the first three holders of the Vaughn Endowed Professorships at A-State.
JONESBORO – Three veteran faculty members are the first recipients of Vaughn Endowed Professorships at Arkansas State University.
The professorships have been created through the generosity of an estate gift from James E. and Wanda Lee Vaughn of Jonesboro, formerly of Delaplaine.
Inducted in 1999 into the university's Legacy Society for donors of planned gifts, the Vaughns strongly believed in the importance of higher education and its potential to positively impact young peoples' lives.
Both A-State alumni, Mr. Vaughn earned a master's degree in education and Mrs. Vaughn earned her degree in elementary education.
Among the initiatives their legacy will provide at A-State will be three endowed professorships. Earnings from each endowment will be available to the selected professors to conduct research, create special learning opportunities for students, and support other facets of their academic pursuits.
Dr. John D. Hall
A gift of $250,000 establishes the Vaughn Professorship in the College of Education & Behavioral Science, where the first recipient is Dr. John D. Hall, professor of psychology and counseling.
Hall, who joined the A-State faculty in 1991, completed his bachelor's and master's degrees at A-State, then another master's and Ph.D. at the University of Cincinnati. He is coordinator of the nationally approved school psychology track of the educational specialist degree program in psychology and counseling.
"I have such an appreciation for the Vaughns, even though I never knew them, that they would provide this type of support. What an unbelievable act of kindness to this institution," Hall said. "It is true when they say, 'learning never ends,' even for professors. I think the professorship will be very supportive in terms of research. The impact will carry through to students in our program who go to professional conferences and present their research. Being an endowed professor is the highest honor a professor can receive, and I am grateful to all my colleagues in the college and my department."
Dr. Cherisse Jones-Branch
A gift of $250,000 establishes the Vaughn Professorship in the College of Liberal Arts and Communication. The first recipient is Dr. Cherisse Jones-Branch, professor of history.
Branch, a faculty member at A-State since 2003, was named Research Professor of the Month at A-State in February. She completed her master's at the University of Charleston and Ph.D. at Ohio State University. She wrote Crossing the Line: Women's Interracial Activism in South Carolina during and after World War II, which was published by University Press of Florida.
"I look at this as an opportunity to increase research into understudied subjects in Arkansas history, namely women's history, rural history and Arkansas in general," Jones-Branch commented. "I also want to make sure I am involved with producing the next generation of historians. That's a critical part of what I do and I take it very seriously. I want students to know this is a very valuable career. I want to be one of these people who help students realize all that's possible about being a historian, about valuing history, about unearthing and mining resources to tell these wonderful stories."
Dr. Argelia Lorence
A gift of $250,000 establishes the Vaughn Professorship in the College of Sciences and Mathematics. The first recipient is Dr. Argelia Lorence, professor of metabolic engineering.
Lorence, who came to A-State in 2005, completed her master's and Ph.D. at National Autonomous University of Mexico. She also conducts research at the Arkansas Biosciences Institute. Recently, she and the research team with which she is associated at two other universities received a major grant from the National Science Foundation to study how heat stress affects rice yields. She is co-principal investigator.
"I am honored and very humbled with this opportunity. The Vaughns had a passion for education, for history, and for rice, for agriculture, and I share those passions," Lorence said. "Like the Vaughns, I also have a passion for changing the lives of young people. My intention is to use the resources that will be available through the professorship to enhance the experiences of my students, both in the laboratory and in the classroom."
# # #