'Up 'til Dawn' Students Earn 'Signature Status' for A-State
04/21/2016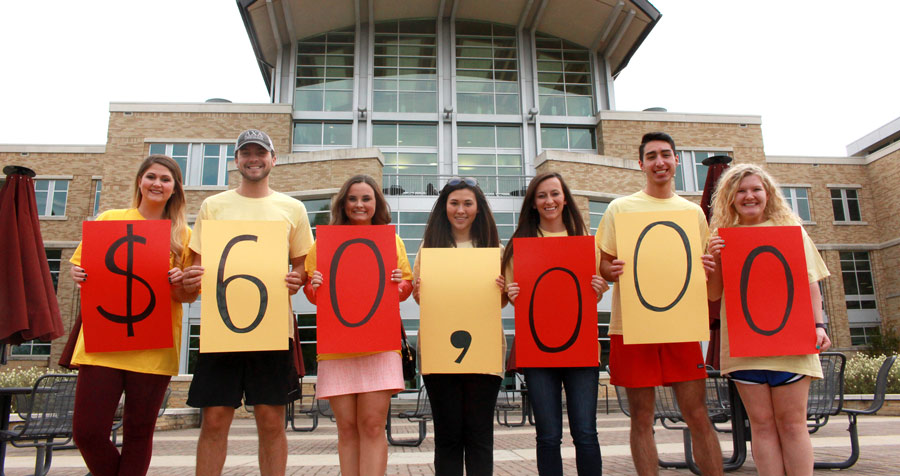 Members of the "Up 'til Dawn" 2015-16 executive board display the goal they attained to earn "signature-school status" for A-State. They are (from left) Ashley Burrows of Little Rock, Caleb Strain of Bryant, Tori Bell of Des Arc, Christina Chen of Jonesboro, Darah Merritt of Jonesboro, Dakota Galban of Searcy and Hannah Aldridge of Jonesboro.

JONESBORO – Arkansas State University's "Up 'til Dawn" program, organized and conducted by student leaders, achieved "signature-school status" with St. Jude Children's Research Hospital, one of only 10 schools in the country to make the list.
A-State students earned the signature school status by meeting the fundraising goal of $60,000 at this year's Up 'til Dawn event on March 11. They join Memphis, Illinois State, Texas Tech, Iowa State and five others on the prestigious list of most successful fundraisers for St. Jude in 2015-16.
"We had set this goal nearly a year ago and we knew it wouldn't come easy. I was blown away by the dedication and worth ethic of our executive board," commented Ashley Burrows of Little Rock, who serves as director of the board at A-State. "I was so humbled to see the work and fundraising efforts of the students across campus."
In addition to raising money for a worthy cause, participants in Up 'til Dawn benefit in many ways. With signature school status, students get access to even more services and training from St. Jude.
"The Collegiate Leadership Seminar (CLS) provides student development and leadership opportunities that are implemented on each Up 'til Dawn campus," explained Katey Provence, coordinator of student services in A-State's Leadership Center. "During these seminars, signature schools are provided in-depth learning sessions to share best practices and make new connections with the nine other signature schools."
Most schools are allowed to send two participants to CLS, but because of signature school status A‑State has been invited to send an additional student this summer.
Burrows added, "There is nothing more rewarding than knowing all your hard work paid off and seeing your goal met. But even better than that is knowing you have helped contribute to saving the life of a child! I am so thankful and honored to be a part of this organization in all of my college career."
# # #