University Singers and Vocal Jazz in Concert, Nov. 4
10/30/2014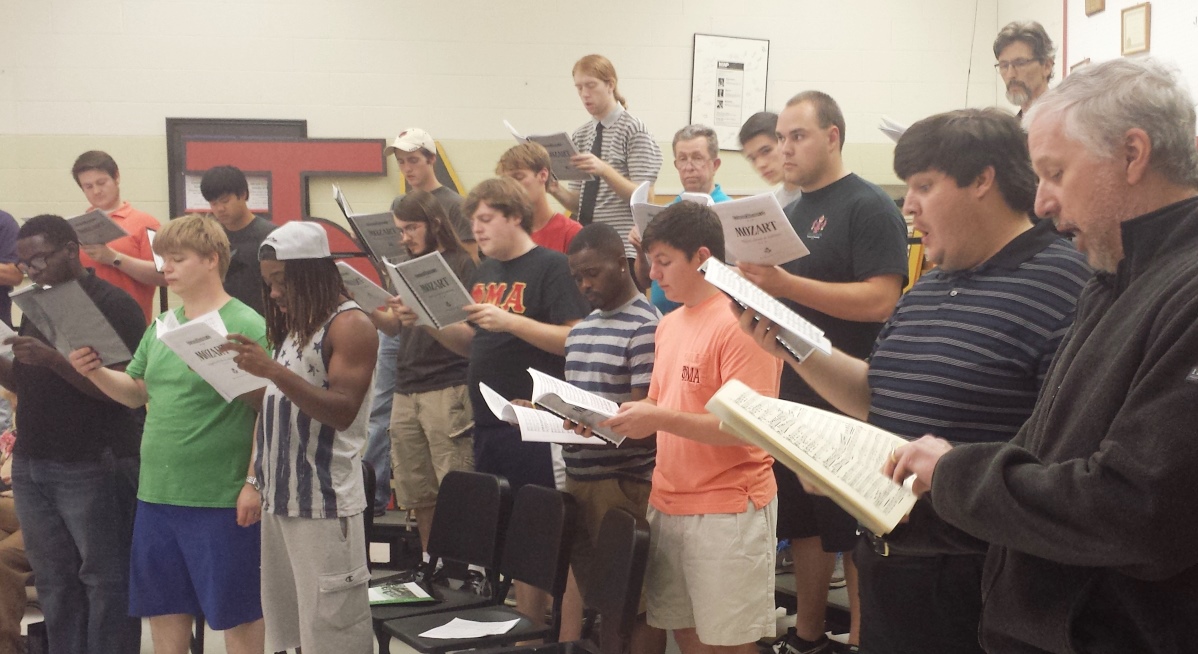 Members of the bass section work during a recent rehearsal session.
JONESBORO – The Department of Music at Arkansas State University in Jonesboro will present the University Singers and Delta Vox in their fall concert on Tuesday, Nov. 4, at 7:30 p.m. in Fowler Center, Riceland Hall, 201 Olympic Dr. Admission is free.
Delta Vox, under the direction of Dr. Kyle Chandler, aims to provide an eclectic mix of vocal jazz and contemporary a cappella songs. Selections for this concert include "I've Got the World on a String" arranged by Paul Langford, "Right Here Waiting" arranged by Kirby Shaw, "Settle Down" by Kimbra Johnson, and "Viva la Vida" arranged by Deke Sharon.
The Women's Choir, directed by adjunct professor Cherie Robison Collins and graduate conducting assistant Kane Bradley, will provide a program including "Psalm 8" by Dan Forrest, "Eatnemen Vuelie" by Frode Fjellheim, "Five Hebrew Love Songs" by Eric Whitacre, "Tundra" by Ola Gjeilo, and "Lauliku Lapsepõli" by Veljo Tormis.
The Men's Choir, also directed by Collins and Bradley, will perform "Shenandoah" arranged by Philip Serino, "Tonight" by Leonard Bernstein, "Loch Lomond" arranged by Jonathan Quick, "Salvation Belongeth to Our God" by Pavel Grigorevich Tchesnokov, and "Non Nobis, Domine" by Rosephanye Powell.
Following intermission, the A-State Women's, Men's and Community Choirs will join the singers of Arkansas Northeastern College and Community Chorus to present several selections. Dr. Keith Hearnsberger of ANC will conduct "Cantus in Harmonia" by Mack Wilberg and Mozart's "Vesperae Solennes de Confessore." Soloists for the Mozart piece will be Grace Culbreath and Misti M. Rhine of Blytheville, Jacob Bushong of Paragould and Matthew Carey of Jonesboro.
This performance is in partial fulfillment of the master of music in performance-conducting degree for Dr. Hearnsberger.
Dr. Dale Miller, director of choirs at A-State, will conduct "I'm Gonna Sing 'til the Spirit Moves in My Heart" by Moses Hogan, and Lutkin's "The Lord Bless you and Keep You."
For more information about A-State Choirs or other Department of Music events, one may call (870) 972-2094.
# # #
University/Community Choir
| | | |
| --- | --- | --- |
| Adkins, Dennese | Cabot | Soprano |
| Aronson, Crystal | Paragould | Soprano |
| Baldwin, Amanda | Paragould | Soprano |
| Bradberry, Ashley | Paragould | Soprano |
| Ward Cooper, Sharon | Jonesboro | Soprano |
| Darnell, Emily | Jonesboro | Soprano |
| Garren, Emily | Blytheville | Soprano |
| Holder, Jesse | Advance, Mo. | Soprano |
| Knudsen, Birgit | Jonesboro | Soprano |
| Lindley, Emily | Jonesboro | Soprano |
| Pulliam, Victoria | Searcy | Soprano |
| Richardson, Bailey | White Hall | Soprano |
| Summers, Samantha | Jonesboro | Soprano |
| Bushong, Suzanne | Paragould | Alto |
| Davis, Linda | Paragould | Alto |
| Holmes, Allie | Jonesboro | Alto |
| Honnell, Heather | Jonesboro | Alto |
| Lindley, Monica | Jonesboro | Alto |
| Martin, Emily | Aloha, OR | Alto |
| Ponce, Carolyn | Jonesboro | Alto |
| Simmons, Sloane | Jonesboro | Alto |
| Smith, Kyle | Forrest City | Alto |
| Woodson, Sarah | Harrisburg | Alto |
| Bradley, Kane | Russellville | Tenor |
| Bushong, Jake | Paragould | Tenor |
| Davis, Danny | Paragould | Tenor |
| Hancock, Joyce | Jonesboro | Tenor |
| Liouh, Nathan | Jonesboro | Tenor |
| McClellan, Ben | Corning | Tenor |
| Roach, Joe | Marked Tree | Tenor |
| Threadgill, Adrian | Jonesboro | Tenor |
| Forehand, John | Conway | Bass |
| Hampton, Edmond | Little Rock | Bass |
| Hoover, C.J. | Jonesboro | Bass |
| Kelly, Jacob | Jonesboro | Bass |
| Kibbons, Vance | Jonesboro | Bass |
| Long, Alex | Walnut Ridge | Bass |
| Persell, Dave | Jonesboro | Bass |
| Smith, Matt | Gosnell | Bass |