Undergraduate Students Present Research at Capitol Event
02/16/2017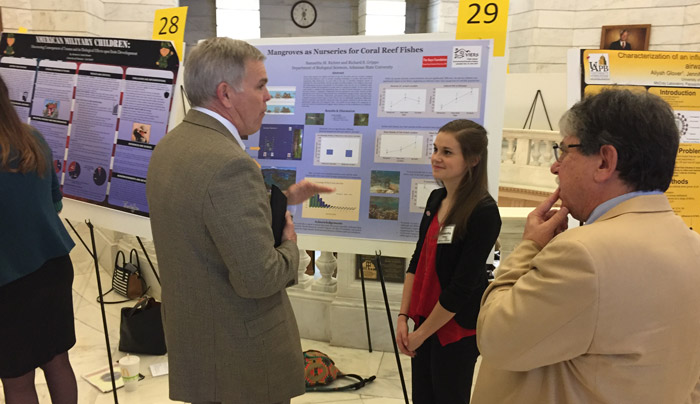 Ania C. Welman of Jonesboro explains her research poster to State Rep. Dan Sullivan (left) of Jonesboro, as faculty adviser Dr. Rich Grippo (right) observes.
LITTLE ROCK – Eleven students from Arkansas State University presented their recent work Wednesday during the 2017 "Undergraduate Research Posters at the Arkansas State Capitol" event.
More than 110 students from 15 institutions throughout the state participated, according to Emily Devereux, director of research development and coordinator of A-State's participation. The purpose is to promote understanding and participation in the STEM disciplines (science, technology, engineering and mathematics).
Posters were set up in the rotunda of the Arkansas State Capitol. Legislators, constitutional officers and other state officials were invited, along with several high schools and the public. Visitors had opportunities to interact with the students.
Arkansas State students who presented posters, along with their hometown, academic department and poster title, were:
Devin Allison of Poplar Bluff, Mo., chemistry, "Synthesis and antimicrobial studies of pyrazole-derived hydrazones against Acinetobacter baumannii."
Justin Barnes of Cabot, physics, "Evaluation and Development of Secondary BalloonSAT Payloads."
Carson Day of Cave City, Christine Matei of Hot Springs, and Alexis Philippe of St. Louis, biological sciences, "Peanut: A Source of Bioactive Compounds for the Prevention and Treatment of Obesity."
Dylan Howell of Piggott, engineering, "Design and Development of a Safety System with Bluetooth Capability to Alert the Parent for Unattended Child in Car Seat."
Hannah Kling of Monticello, biological sciences, "Regeneration in the Nervous System: Possible Cure for Paralysis?"
Erin Langley of Beebe, biological sciences, "Uses and Benefits of the MultispeQ to Better Understand the Physiology of Arabidopsis Plants Grown under Abiotic Stress Conditions."
Samantha M. Richter of Berryville, biological sciences, "Mangroves as Nurseries for Caribbean Coral Reef Fish?"
Christopher Saldivar of Marion, computer science, "The Adoption Rate of Lambda Expressions in Java Open Source Projects."
Ania C. Welman of Jonesboro, biological sciences, "Analysis of the Acute Toxicity of Shark Defense Repellent."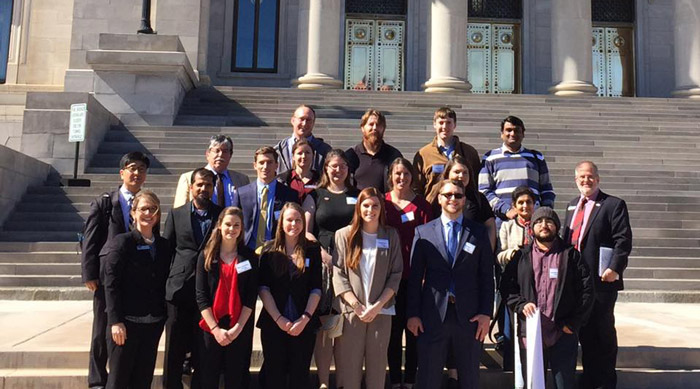 A-State students who presented their work during Undergraduate Research Posters at the Capitol" pose with faculty advisers on the State Capitol steps.