Undergraduate Students Present Research at Capitol
03/05/2018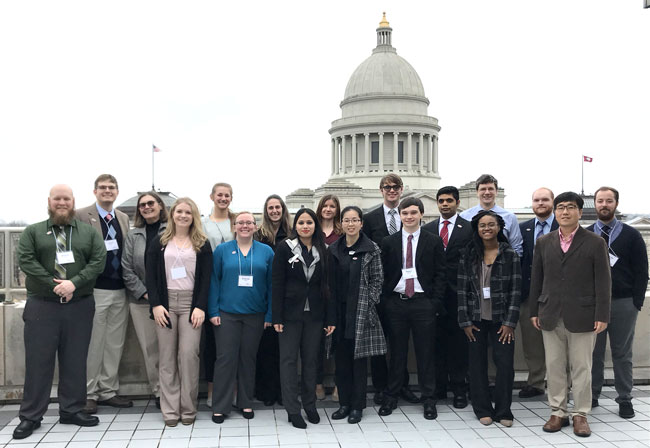 A-State's participants in "Undergraduate Research Posters at the Arkansas State Capitol" pose outside the Arkansas State University System Office, with the State Capitol dome in the background.
JONESBORO – Fourteen Arkansas State University students presented their recent work during the 2018 "Undergraduate Research Posters at the Arkansas State Capitol" event in Little Rock.
More than 110 students from 15 institutions throughout the state participated, according to Emily Devereux, executive director of research development and coordinator of A-State's participation. The purpose is to promote understanding and participation in the STEM disciplines (science, technology, engineering and mathematics).
Posters were set up in the rotunda of the Arkansas State Capitol. Legislators, constitutional officers and other state officials were invited, along with several high schools and the public. Visitors had opportunities to interact with the student researchers.
A-State students who presented posters, along with their hometowns, academic departments and poster titles, were:
Parker Knapp of Hot Springs, biological sciences, "Improving the Health Benefits of Muscadine Grapes through Genetic Engineering."


Madalyn Weiner of Bryant, biological sciences, "Improving Aquaculture Catfish Health with a Novel Plant-Produced Therapeutic Protein."


Haylee Campbell of Bryant, environmental science, "Validation of Insect Control Termination Timing in Arkansas Cotton."


Kristiana Watson of Conway, chemistry, "Removal of an Endocrine Disrupting Contaminant by Clay-Like Oxides."


Robert Rogers of Little Rock, chemistry, "Applying Nano Sensors Using Reduced Graphene Oxide to Detection Phosphate."


Anna Anders of Beebe, physics, "Microlens Array Laser-Ablation Spectroscopy for Measuring Elemental Composition of Solid Samples."


Amanda Trusty of Jonesboro, biological sciences, "Does Frequently Visiting a Bluebird Nest Increase Predation Risk?"


Michael Trusty of Jonesboro, biological sciences, "Does Axle Grease Effectively Protect Bluebird Nests from Predators?"


Kyoosik Kim of South Korea, Jordan Freier of Jonesboro and Phat Nguyen of Vietnam, computer science, "The Analysis of Try-Catch Block Usages in Java Open Source Projects."


Patrick Tribbett of Kingman, Ariz., physics, "Observing the 2017 Total Solar Eclipse from the Stratosphere."


Krishna Vellanki of Jonesboro and Kennith Swafford of Beebe, biological sciences, "Peanut Hairy Roots: A Sustainable Production Platform of Bioactive Compounds for Agriculture and Human Health."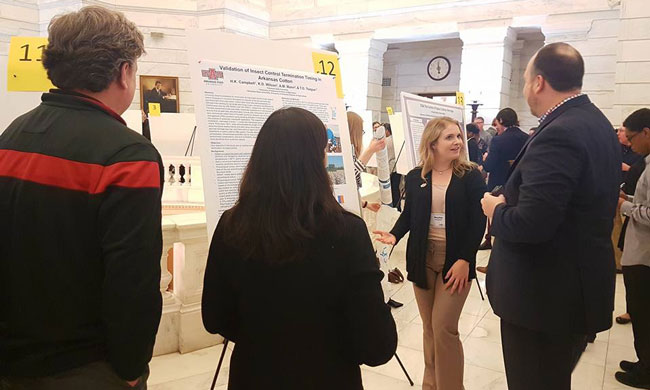 Haylee Campbell of Bryant (center) discusses her research poster at the Capitol.