Undergrad Students Present Research during Capitol Event
02/22/2019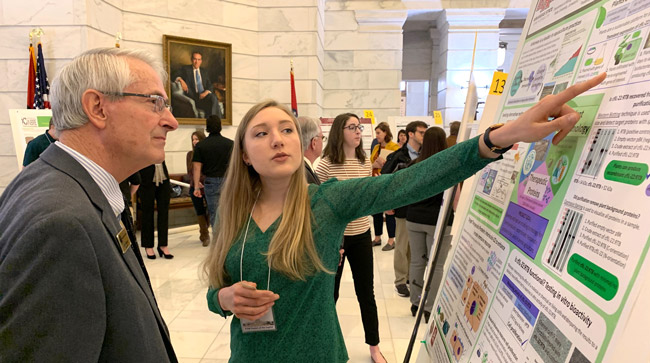 Madalyn Weiner of Little Rock explains her research poster on aquaculture catfish health to State Sen. John Cooper of Jonesboro at the State Capitol Wednesday.
LITTLE ROCK – Seven Arkansas State University students presented their recent work during the 2019 "Undergraduate Research Posters at the Arkansas State Capitol" event Wednesday in Little Rock.
More than 100 undergraduate students presenting 70 different posters of original work from 18 institutions throughout the state participated, according to Emily Devereux, executive director of research and technology transfer and coordinator of A-State's participation. The purpose is to promote understanding and participation in the STEM disciplines (science, technology, engineering and mathematics).
A-State students who presented posters, along with their hometown, academic department, poster title, and faculty mentor(s) were:
Brooks Propst of Dexter, Mo., School of Nursing, "Sexual Assault and Emergency Department Nurses," Dr. Susi Snellgrove, professor of nursing.


Madalyn Weiner of Little Rock, Department of Biological Sciences and Arkansas Biosciences Institute, "Improving Aquaculture Catfish Health with a Novel Plant-Produced Therapeutic Protein," Dr. Maureen Dolan, associate professor of molecular biology.


Jessica Krob of Leachville, Department of Agriculture, "Within Field Spatial Variability of Cotton Productivity Associated with Soil Texture, Irrigation, and Pest Management Practices in a Northeast Arkansas Field," Dr. Tina Teague and Dr. John Nowlin.


Kyler Dickey of Jonesboro, Department of Engineering, "Variable Analog Filter," Dr. Shubhalaxmi Kher, associate professor of electrical engineering.


Takeru Koiwa of Japan and John Davis of Beebe, Department of Computer Science, "Usage of Try-with-Resources Language Feature in Java SE 7+: A Case Study," Dr. Donghoon Kim, assistant professor of computer science.


Enoch Richardson of Piggott, Department of Engineering, "Silent Metronome Circuit," Dr. Shubhalaxmi Kher.
Posters were set up in the rotunda of the Arkansas State Capitol. Legislators, constitutional officers and other state officials were invited, along with several high schools and the public. Visitors had opportunities to interact with the student researchers.
# # #