"Titans of Filmmaking" Highlights Day Two of Cash Festival
10/18/2019
DYESS, Ark. — A trio of presenters thrilled a large crowd of country music fans during the "Titans of Filmmaking" special presentations Friday afternoon in the Dyess Community Center the second day of the Johnny Cash Heritage Festival in Dyess. The group spent an hour apiece showing clips from their documentaries and discussing Johnny Cash's rise from the son of poor sharecroppers to a legendary singer and songwriter.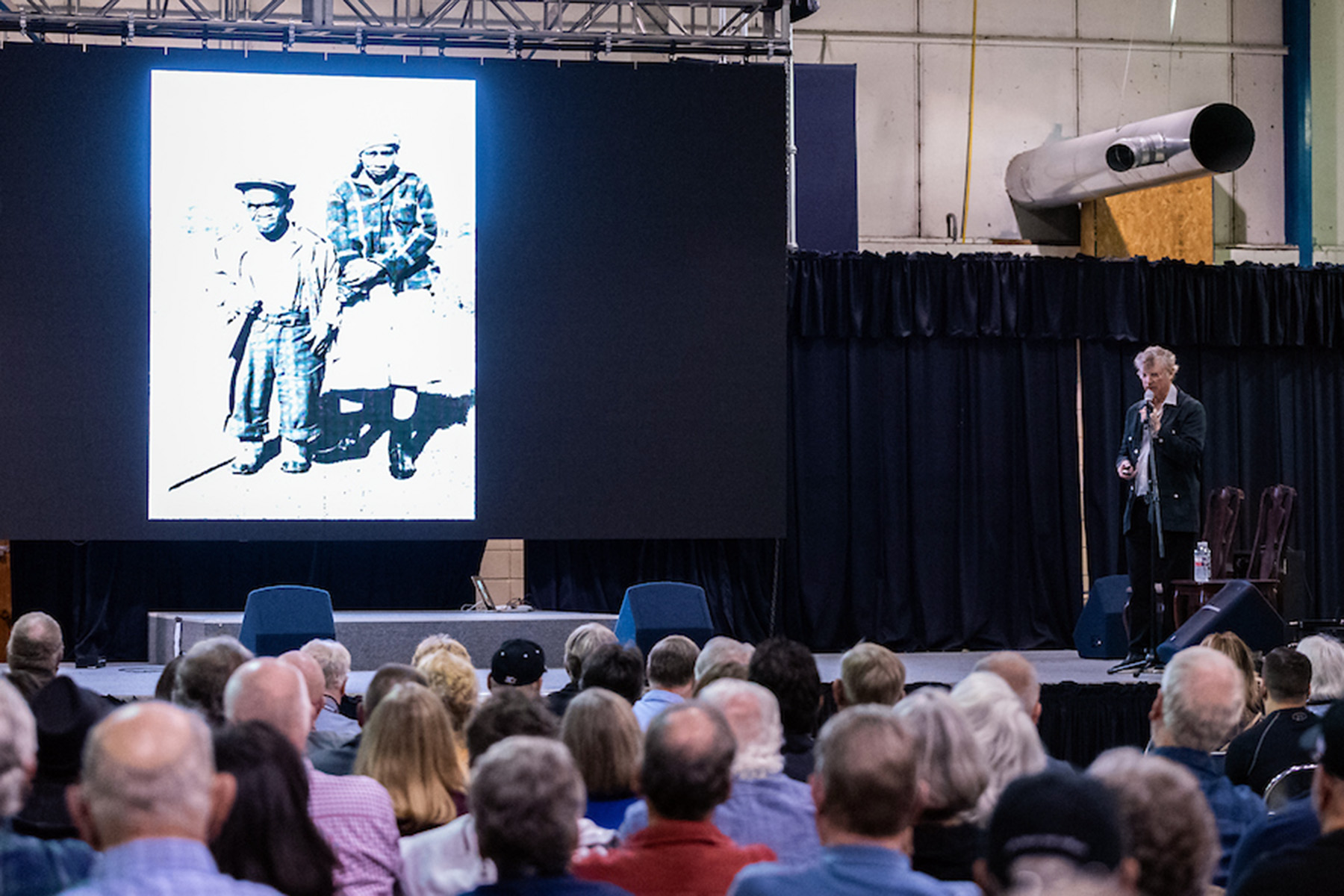 Dr. William Ferris (far right) makes a presentation at the "Titans of Filmmaking" event Friday at the 2019 Johnny Cash Heritage Festival.

The presenters were Dr. William Ferris, former chairman of the National Endowments for the Humanities and double Grammy winner; Thom Zimny, a Grammy and Emmy Award-winner and director of the recently-released "Springsteen on Broadway" and the critically-acclaimed film "Elvis Presley: The Searcher;" and Pam Baucom, a co-producer with Ken Burns of "Country Music," an eight-part, 16-hour series aired on PBS.
Cash's daughter Rosanne Cash hosted the speakers after being introduced by Arkansas State University Chancellor Kelly Damphousse. "It is my great fortune to be a part of this great event," said Damphousse. He also announced the start of a new tradition where the Johnny Cash song "Ring of Fire" will now be played between the third and fourth quarters of A-State's home football games.
Ferris, who said he has spent his life studying the American South, compared Johnny Cash to other artists, including author William Faulkner in literature and B.B. King in blues music. He discussed his introduction to music during his life journey along Highway 61 and showed photos of people he met along the way who taught him their music and way of life.
Zimny displayed several clips of his latest documentary, "The Gift: The Legend of Johnny Cash," made in collaboration with the Cash estate. He told the crowd he always remembered archival footage he had seen of Dyess and thanked Rosanne Cash for trusting him to do the back story on her father.
The documentary explores the evolution of Cash through memories told in Cash's own voice. Zimny had said he wasn't pleased with the documentary's progress until he received a box of recordings in Cash's own voice. He said," This brought Johnny's voice to the documentary and I wanted to honor that."
In one of the voice recordings, Cash told of his mother's comment about his voice being a "gift," the death of his older brother Jack in a sawing accident and how it affected Johnny throughout his life, his strained relationship with his father and the role of religion in Johnny's life.
Baucom represented a "team of people who relied on so many people who provided primary source material" for the "Country Music" film. It took the Ken Burns crew over eight years to collect and catalog over 100,000 photographs and whittle down the photos and information for the documentary.
The film displays Johnny's beginnings, including his time in the U.S. Air Force, his first marriage, and his personal and professional relationship with Elvis Presley.
The 2019 festival concludes Saturday afternoon at noon with a cotton field benefit concert at the field adjacent to the Johnny Cash Boyhood Home. Headliners are Grammy Award winners Rosanne Cash and Marty Stuart, along with Johnny Cash's sister Joanne Cash, members of the Cash family and Cory Jackson, the 2018 Arkansas Country Music Awards' Country Artist of the Year and a current contestant on "The Voice.
Tickets are $100 for reserved seats and $35 for general admission and may be purchased at the concert. General admission ticket buyers should bring their own chairs.