Theatre Students to Present Radio Play Adaptation of 'A Christmas Carol'
11/18/2021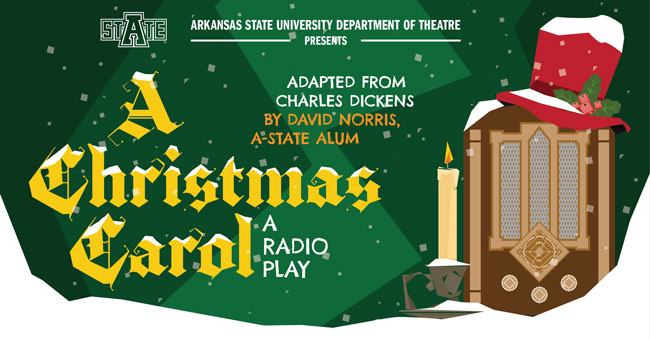 JONESBORO — Arkansas State University's Department of Theatre will continue its 2021-2022 season with "A Christmas Carol: A Radio Play," adapted from Charles Dickens' famous story by David Norris, an A-State alumnus.
Performances are at 7:30 p.m. Friday and Saturday, Dec. 3-4, and a matinee performance at 2 p.m. Sunday, Dec. 5. Performances will take place in the Drama Theatre in Fowler Center, 201 Olympic Dr.
"A Christmas Carol: A Radio Play" is an optimistic and fun adaptation of a holiday classic. Guests will enjoy the magic, comedy, music and holiday cheer as everyone's favorite greedy misanthrope, Ebenezer Scrooge, meets three Christmas spirits that raise questions about his choices.
The cast includes theatre majors Jon Clark of Batesville, as Ebenezer Scrooge; Kylah Hood of Jonesboro, as Bob Cratchet; Emma Bryant of Siloam Springs, as Belle; Jericho Smith of McCrory, as Jacob Marley/Edgar/Topper/Peter; Michael Joseph of Van Buren, Mo., as Young Scrooge/Fred; Fernanda Posadas of Sherwood, as Fezziwig/Martha/Ghost of Christmas Yet to Come/Vendor; Kori Denison of Batesville, as Ghost of Christmas Past/Clara/Ida/Worker #2; Hayden Boles of Jonesboro, as Ghost of Christmas Present/Passerby/Urchin 2; Alexander Jones of Russellville, as Clergy/Mr. Fezziwig/Ernest Cratchit; Kit Vincent of Poplar Bluff, Mo., as Fan/Tiny Tim; and Hayley Reed of Bay, as Worker 1/Urchin 1/Customer.
The show is directed by Virginia Hirsch, instructor of theatre in acting and directing. Jeff McLaughlin, associate professor of theatre, serves as the scenic designer and technical director. Associate professor of theatre, Claire Abernathy, serves as costume designer. Caisa Sanburg, assistant professor of theatre, serves as the lighting and sound designer with Trey Moore, a theatre major from Cave City, as assistant sound designer. The properties manager is Alec Lazarini, a theatre major from Memphis.
The stage manager is theatre major Alli Peavy of Memphis. Theatre majors Julie Barnett of Crossett and Nariah Wilborn of Jonesboro serve as the assistant stage managers.
The sound board operator is theatre major Hitomi Naoi of Chiba, Japan. The light board operator is Benjamin Whitfield, an engineering major from Little Rock. Theatre majors Tyler Jones of Beebe, and Robyne Richards of Beebe, serve as dressers.
The house manager is Marie B. Kazyak, a theatre minor from Manila. Theatre major Grace Dial of Paragould serves as the publicity manager. Hayley Murry, a theatre major from Beebe, serves as the documentarian.
The closed-captioning team includes Miraya Gerardo-Mungia, a theatre major from Fairfield, Calif., and Joe Jackson, a general studies major from Holland, Mo.
Tickets for "A Christmas Carol: A Radio Play" can be purchased 8:30 a.m. - 5 p.m. Monday-Friday at the First National Bank Arena box office or by calling (870) 972-2781. Tickets can also be purchased online at AState.edu/tickets. Prices are $10 for seniors, children, and A-State staff/faculty and $15 for the general public. A-State student tickets are free at the box office with a student ID.