Theatre Student Headed for Top Actor Training Program
02/06/2019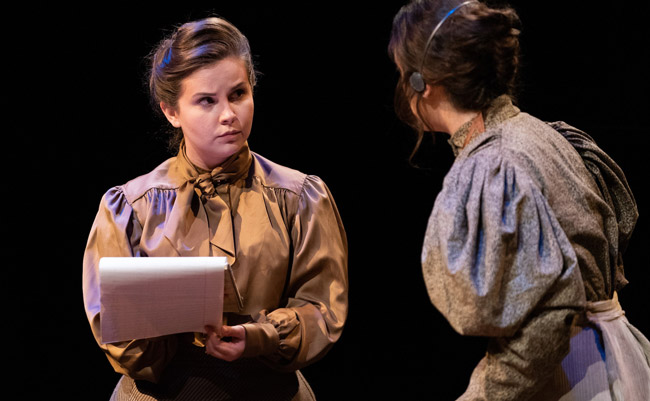 Courtney Light in a scene from "Silent Sky"
JONESBORO – Building on her theatre experience at Arkansas State University, Courtney Light is preparing to take her educational pursuit to the fast lane of New York City.
Light, a senior from Alicia, has been accepted for Neighborhood Playhouse's prestigious Professional Actor Training Program.
"I'm very excited and fortunate to be accepted into the Playhouse," Light said. "I visited while in NYC over the summer. I plan to move up to the city by the end of August."
Neighborhood Playhouse School of Theatre has been turning out top talent for decades. Opening in 1928, its original faculty included Agnes DeMille and Martha Graham.
"The Professional Actor Training Program at Neighborhood Playhouse is among the most prestigious conservatories in the world," explained Marc Williams, co-chair and assistant professor in A-State's Department of Theatre, who nudged Light to consider the option. "Neighborhood Playhouse has been a leader in American actor training for decades, and Courtney's admission to the program is a major accomplishment."
It was at Neighborhood Playhouse that Sanford Meisner developed and taught the Meisner Technique, now part of acting curricula across the world, Williams added.
"Courtney might be the hardest-working student I've encountered anywhere. Her dedication to excellence was evident right away when she took my Acting I class in her sophomore year and she has continued pursuing excellence every day since," Williams continued. "She prepares like a professional and treats every opportunity to practice with a professional's commitment."
Light also is the first-ever recipient of the Theatre Guild Scholarship, which is a new annual award offered to a student who exemplifies excellence in the classroom and in the Department of Theatre's production program, according to Rebecca and John Mixon of Jonesboro, who are leading the Guild this year.
Most recently Light designed hair and makeup for A-State Theatre's production of "Animal Farm." Her acting experience includes roles in "All in the Timing," "In the Next Room (or the Vibrator Play)," and "Silent Sky."
"I changed my theatre minor into my major last fall. Marc Williams has been my adviser since my sophomore year and has taken a lot of care to ensure that I graduate on time, but still have the variety of classes I desire within the department," Light added. "I've worked on multiple shows behind the scenes and onstage."
She belongs to the theatre honor society Alpha Psi Omega and is an artistic board member of the student theatre organization Lunchbox Originals. This spring she will serve as dramaturg for "Soft Animals" and will be acting in Lunchbox's play, "Ushers."
The program at Neighborhood Playhouse covers the art of acting, voice, movement, stage combat, theatre history and much more. Light credited Edwin Alexander for helping her through the application process and audition, and Pamela Moller Kareman, a former Meisner student who conducted her artistic review.
Nearing graduation, the senior is ready to take her A-State experience to the city, and she is committed to the experience.
"It is a two-year conservatory, and I will audition for the second year if I am invited by the school to do so," she continued. "After finishing the program, I intend to audition for anything and everything within the NYC area and hope to find work as a stage actress."
# # #