The Kays Foundation Awards Grants to Two Faculty Members
02/20/2018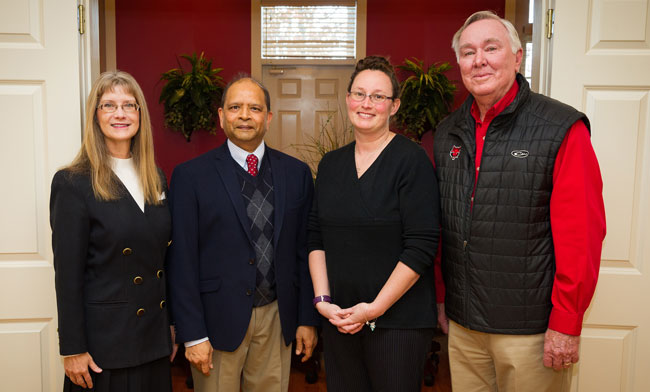 Lucinda McDaniel (left), president of The Kays Foundation Board, and Dr. Tom Bishop (right), vice president of the board and grant committee chair, congratulate Dr. Shivan Haran and Dr. Amanda Lambertus, recipients of grants from The Kays Foundation for 2018.
JONESBORO – The Kays Foundation is announcing its award of two grants to Arkansas State University faculty members.
The board of directors of the foundation awarded $6,163.60 to Dr. Amanda Lambertus, associate professor of mathematics education. She plans to use the grant to support a conference, "Nurturing Young Women Interested in Launching STEM Careers." Lambertus, who joined the mathematics faculty in 2000, earned her Ph.D. at North Carolina State University.
The foundation board also awarded a $5,278 grant to Dr. Shivan Haran, associate professor of mechanical engineering. He plans to use the grant to support his project, "Robotics Initiative for Elementary Schools." Haran, who came to A-State in 2002, completed his Ph.D. at the University of Houston.
Terry Carty, executive vice president of The Kays Foundation, said the grants are part of the foundation's ongoing commitment to assist the university through grants in support of projects that advance its academic, service and research missions. The foundation board reviews grant requests annually.
The Arkansas State College Foundation for the Advancement of Higher Education, which does business as Kays Foundation, traces its beginnings to 1911 and the administration of V.C. Kays, the founding president of the institution that evolved into Arkansas State University.
# # #