Tennessee Mafia Jug To Perform At KASU Bluegrass Monday, March 23
03/09/2015
JONESBORO — The Tennessee Mafia Jug Band will perform a concert on Monday, March 23, at 7 p.m. at the Collins Theatre, 120 West Emerson Street, in downtown Paragould. The concert is part of the Bluegrass Monday concert series presented by KASU 91.9 FM, the 100,000-watt public broadcasting service of Arkansas State University. KASU will literally "pass the hat" to collect money to pay the group. The suggested donation is $5 per person.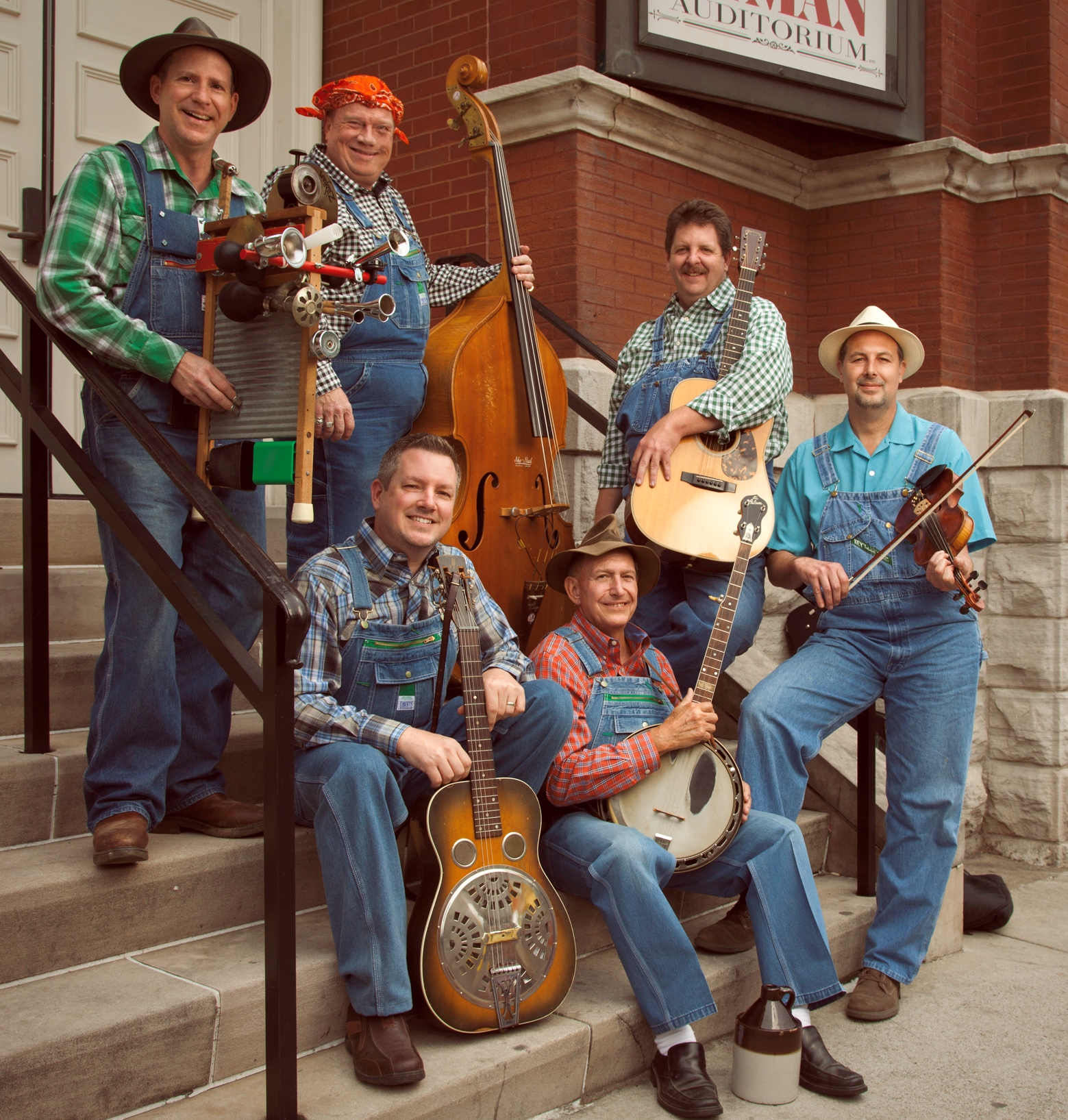 Tennessee Mafia Jug Band: (Clockwise from top left) Leroy Troy, Ernie Evans,Mike Armistead, Dan Kelly, "Lonesome" Lester Armistead, Mike Webb.
Because of the large crowd expected for this concert, KASU will distribute tickets beginning at 5 p.m. on the evening of the concert at the Collins Theatre. Concertgoers must be present in order to receive a ticket that will guarantee a seat in the theatre. Specific seating will then be first-come, first-served for those holding tickets.
The Tennessee Mafia Jug Band presents "a blast from the past," a style of music and comedy that recalls old-time country musicians and television programs like Hee Haw. The musicians in the band wear costumes, incorporate props into their shows, tell corny jokes and present slapstick, family-friendly comedy. The band's stage show is inspired by a comic-relief feature from the Roy Acuff show called "Pap and the Jug Band."
Musically, the Tennessee Mafia Jug Band is influenced by Stringbean, Grandpa Jones, Roy Acuff, and Uncle Dave Macon. The band has appeared numerous times on the Grand Ole Opry and on the Marty Stuart Show on RFD-TV. The group also has produced four CDs.
In the band, Leroy Troy plays banjo and a variety of unique accessories including washboard, duck call and bicycle bell. As a youngster, Troy was mentored in old-time country music and entertaining by Roy Acuff and Cordell Kemp. He was a regular on Hee Haw for two years, appearing as the character "Billy Bob." Troy also appears each week on the Marty Stuart Show on RFD-TV. He has been given numerous awards and commendations for his efforts in preserving old-time country music.
Dan Kelly plays fiddle for the Tennessee Mafia Jug Band. Kelly has won numerous fiddle contests, including the Grand Masters Fiddle Championship in Nashville. He has played fiddle in the bands of Roy Acuff, Pam Tillis, Alan Jackson, Faith Hill and Clint Black.
Ernie Sykes plays upright bass for the band. Sykes played bass in Bill Monroe's Blue Grass Boys as well as in the Lonesome River Band and the Bluegrass Cardinals.
Mike Armistead sings and plays guitar in the group. Along with Troy, Armistead was featured on the Outsiders Inn, a comedy series broadcast on the Country Music Television (CMT) cable channel. Armistead serves as the band's booking agent, and he also serves the city of Nashville as a member of the fire department.
Mike Webb plays Dobro steel guitar in the Tennessee Mafia Jug Band. Webb was a student of long-time Roy Acuff collaborator Bashful Brother Oswald. Oswald's widow gave Webb her husband's Dobro and banjo, both of which Webb continues to play. Webb has also appeared regularly on the Cumberland Highlanders program on RFD-TV.
More information about the band is available at www.tennesseemafiajugband.com.
In addition to the concert, Terry's Café, 201 South Pruett Street in Paragould, opens on Bluegrass Monday nights to welcome bluegrass music fans. The café serves a catfish buffet meal beginning at 4:30 p.m. on the evenings of Bluegrass Monday concerts. Concessions will also be available at the Collins Theatre.
Bluegrass Monday concerts are held on the fourth Monday night of each month. These concerts are presented with support from Bibb Chiropractic, the Posey Peddler, Holiday Inn Express and Suites of Paragould, the Northeast Arkansas Bluegrass Association and KASU.
For more information, contact KASU program director Marty Scarbrough at mscarbro@astate.edu or 870-972-2367. Bluegrass Monday is also on Facebook (search "Bluegrass Monday").
# # #