Tennessee couple makes major gift to College of Business
02/24/2014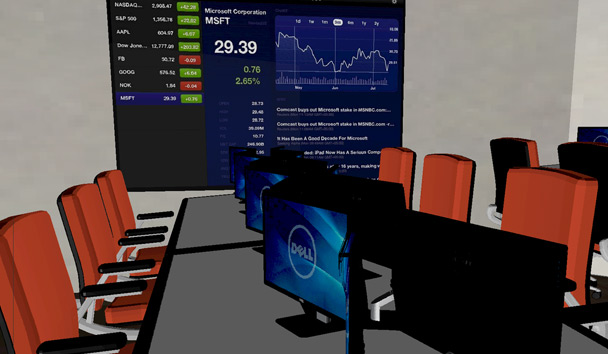 JONESBORO – A major gift from Scott and Kay Keasler Dawson of Germantown, Tenn., will create an advanced technology classroom for an innovative program in the College of Business at Arkansas State University.
The couple, both A-State accounting alumni from the Class of 1978, has made a gift to establish the Dawson Capital Markets Lab in the College of Business.
The lab will be configured with technology that includes 39 computer stations and six televisions to monitor world markets.
"This gives students the ability to step out of a classroom and into a job in the global marketplace," Arkansas State Chancellor Dr. Tim Hudson said. "Students will benefit from the real-world experience of bond and stock trading, similar to that of being on one of the major trading floors. This gift will transform the way in which students will experience learning in this state-of-the-art classroom."
"This program will provide College of Business students with the tools to compete in today's economy," Scott Dawson said. "We hope this will inspire the next generation of students to achieve the goals they've set for themselves."
"The education we earned at Arkansas State resulted in a lifetime of opportunities for our family, and we wanted to give back to the university," said Kay Dawson. "Our wish is for students who use this lab to receive a meaningful educational experience and generate ideas that will change their future in ways no one can imagine today."
David McClain, director of University Development, noted the Dawsons have a history of generous support to Arkansas State––to academics, athletics and the university as a whole.
"We are grateful to Scott and Kay Dawson, who have made an investment in the future by investing in tomorrow's business leaders," McClain said.
For more information on giving to Arkansas State, visit the website, AState.edu/give.