Taylor Named Arthur Ashe Jr. Male Sports Scholar of the Year
03/08/2018
JONESBORO — Blaise Taylor, a four-year football letterman from 2014-17 holding both his bachelor's and master's degrees from Arkansas State University, was announced Thursday by Diverse: Issues in Higher Education magazine as the prestigious 2018 Arthur Ashe Jr. Male Sports Scholar of the Year.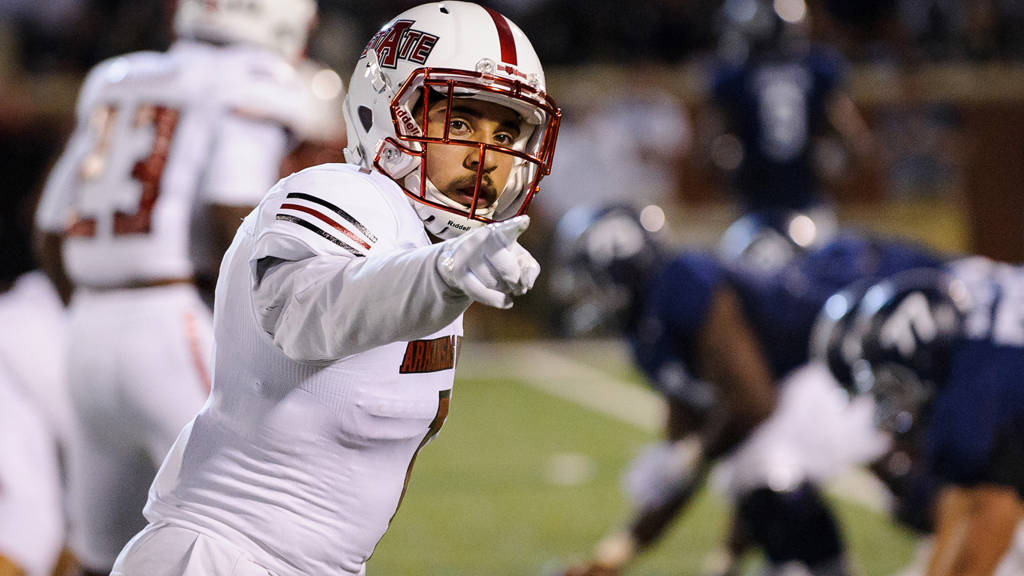 Blaise Taylor — 2018 Arthur Ashe Jr. Male Sports Scholar of the Year. Photo courtesy of A-State Sports Information.


"I am honored and humbled to receive the Arthur Ashe Jr. Sports Scholar award," said Taylor. "He was a great leader that used his athletic ability to help overcome obstacles, allowing him to establish a platform that would open doors for many student-athletes like myself. Without the hardship, sacrifice and perseverance by Mr. Ashe Jr., the opportunities for myself and other minority student-athletes may not be available today."
Not only does Taylor join a distinguished list of previous Arthur Ashe Jr. Sports Scholar of the Year award winners, he is the first male or female A-State representative to earn the recognition that is one of the nation's top achievements for an NCAA student-athlete. He also becomes just the second Sun Belt Conference student-athlete to receive the honor, joining Kareem Abdul-Jabbar Jr. of the Western Kentucky University men's basketball team in 1999.
"This great honor for Blaise is a testament to him as a humanitarian, student and athlete, and I believe there is no one more deserving of this distinction," said A-State Director of Athletics Terry Mohajir. "Blaise has been a leader on and off the field since he stepped on our campus four years ago. He'll serve as an outstanding example of our great alumni at Arkansas State University."
Taylor was selected as the top Sports Scholar in the nation after being named a finalist March 1 alongside West Virginia basketball player Jevon Carter and UC San Diego tennis player Justin Zhang. The three finalists were chosen from 40 semifinalists, who were selected from more than 1,000 nominees.
Taylor and the female Sports Scholar of the Year, Haley Clark of the University of Georgia basketball team, as well as the entire class of 2018 Arthur Ashe Jr. Sports Scholars, will be featured in the April 5, 2018, edition of Diverse.
Diverse sponsors the Arthur Ashe Jr. Sports Scholar Awards to honor students who have excelled in the classroom as well as on the athletic field. In addition to their athletic ability and academic performance, Arthur Ashe Jr. Sports Scholars demonstrate a commitment to community service and student leadership.
"This is a well-deserved and extraordinary honor for Blaise, and we couldn't be more proud of him for what he has achieved to earn this kind of recognition," said A-State head football coach Blake Anderson. "This is a direct reflection of him as a person and student-athlete and what he has brought to our football program, which I'm excited to say will now forever be linked to the Arthur Ashe Jr. Sports Scholar of the Year award."
Taylor was a 2017 William V. Campbell Trophy and Wuerrfel Trophy finalist, as well as a semifinalist for the inaugural Jason Witten Collegiate Man of the Year Award. He completed his career with the Red Wolves as a three-time All-Sun Belt Conference selection and was also a 2017 Allstate AFCA Good Works Team nominee, Senior CLASS Award candidate, and member of the Hornung Award Watch List.
Taylor was the only 2017 FBS player in the nation to earn both his bachelor's and master's degrees before the start of his true senior season. He earned his Master of Business Administration in August 2017 with a 3.82 GPA, and he also graduated Magna Cum Laude in August 2016 with his bachelor's degree in business administration. A member of the Arkansas State University Chancellor's List, Dean's List, Athletics Director's Honor Roll and Sun Belt Conference Commissioner's List, Taylor earned both degrees in less than four years.
The Waco, Texas, native is heavily involved in community service and created a non-profit organization with his sister, sophomore A-State women's basketball guard Starr Taylor, titled "The Power of 1 or 2." He is highly invested in working with at-risk youth, including participation at a local alternative school called Success Academy. During his time at A-State, he served on the Student-Athlete Advisory Committee while working with multiple community service initiatives.
His football career at Arkansas State saw him pile up 102 tackles, 8.5 tackles for loss, six interceptions, 30 pass break-ups, two forced fumbles, one fumble recovery and a blocked kick while earning all-conference recognition in 2014, 2016 and 2017.
He is the Sun Belt Conference's second all-time leader in career punt return yards (1,151) and holds the league record for passes defended (36). The standout holds four of the top-10 marks in school history for punt return yards in a game, as well as in a season. He is the second all-time leader in Sun Belt history for punt returns for a touchdown (4).