Summer Children's Theatre Season Opens Thursday
06/14/2018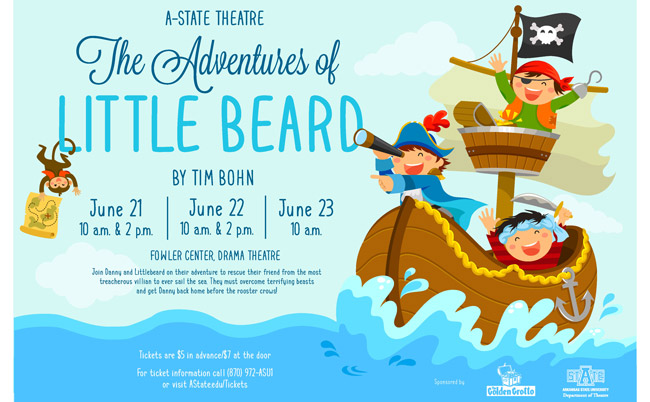 JONESBORO – The opening production of the 2018 A-State Summer Children's Theatre season starts Thursday, June 21.
The 25th season of children's theatre at A-State will open with "The Adventures of Littlebeard" by Tim Bohn.
Danny is a kid that loves to read so much her mother can't get her to stop. Danny gets to do more than read about science and adventures when Littlebeard the Pirate enlists her to go on a rescue mission to save his beloved chicken, Polly. Along the way they face monsters, wild animals and Littlebeard's villainous brother, Crustybeard.
Performance times are Thursday, June 21, at 10 a.m. and 2 p.m.; Friday, June 22, at 10 a.m. and 2 p.m.; and Saturday, June 23, at 10 a.m. This production of "The Adventures of Littlebeard" is sponsored by The Golden Grotto.
"The Adventures of Littlebeard" will be produced by A-State Theatre students under the direction of Tim Bohn, department chair and associate professor of theatre.
The performers include Katelyn Stanton from Trumann as Danny, David Norris from Batesville Southside as Littlebeard, Lauren Wilcox from Jonesboro as Crustybeard, and Kassidy Ratz from Beebe as Mother, Mommybeard, Stinkbill, Tiger and Spider Queen.
Costume and makeup will be under the supervision of Claire Abernathy, associate professor of theatre and technical direction will be supervised by Jeff McLaughlin, assistant professor of theatre.
All performances will be held at the Fowler Center, 201 Olympic Dr. Parking is available on the north side of the Fowler Center.
All seating is reserved. Tickets should be purchased in advance at the Central Box Office in the First National Bank Arena for $5, by calling 972-ASU1, or online at tickets.AState.edu. Tickets may also be purchased at the door (if available) on the day of the performance for $7 each. Reservations are highly recommended.
# # #