Study Confirms Feasibility of Medical School at A‑State, Details Regional Economic Impact
02/04/2014
JONESBORO – A feasibility study by nationally renowned Tripp Umbach concludes an osteopathic medical school at Arkansas State University would help meet the demand for more primary care physicians in the Delta and have an initial $70 million economic impact on Northeast Arkansas.
Arkansas State, with support from the Delta Regional Authority, contracted with Tripp Umbach in September to analyze the feasibility of developing a school for osteopathic physicians (D.O.s). Tripp Umbach is a nationally recognized research firm that has completed studies for more than 50 leading academic medical centers and their hospitals.
"Medical experts agree that the way to adequately address the physician shortage in our country is to create new medical schools and closely align graduate medical education," said Paul Umbach, founder and president of the Pittsburgh-based firm. "Our research shows that because of its mission, history, location and existing academic programs, Arkansas State is well-positioned to collaborate with healthcare partners across the state to help fulfill these needs. These efforts would make a significant social and economic impact in Arkansas and the Delta."
Key findings of the study include:


There is a current shortage of physicians in Northeast Arkansas and the Delta that will worsen as more than a quarter of Arkansas' physicians retire within the next five years and the state's overall population ages.


Additional doctors will be needed in Northeast Arkansas and the Delta as more individuals have access to the healthcare system under the Patient Protection and Affordable Care Act and seek preventative care.


Unlike other states, medical education opportunities are limited in Arkansas with only one medical school, and educating students locally is a critical piece to keeping physicians in the region long-term.


The medical school will be a major driver of the regional economy, creating thousands of jobs and hundreds of millions in annual net impact to the region. The direct and indirect impact during the two-year startup period is expected to total $69.9 million, provide 317 jobs and add $2.1 million in taxes to local communities. The regional economic impact is expected to grow to $88 million annually.


There is a need to expand graduate medical education and residency training, so Arkansas State must work with state universities, hospitals, health centers, government entities and businesses to add residency positions statewide.
"Our analysis of hospitals and clinics in the Jonesboro area indicates that a significant amount of clinical activity is present to support the education of up to 120 medical students per class," Umbach said. "About 76 percent of the residency positions are housed in Little Rock with only 24 percent of the state's total population. The residency position distribution is skewed."
The school's goal should be retaining 60 percent of all D.O. graduates in the Northeast Arkansas region, Umbach said. If there were 100 medical school students in each class, the D.O. school would anticipate 60 new physicians in the region annually beginning eight years after it opens. The majority would be primary care physicians.
"The addition of a new medical school would be a much needed investment into the health, welfare, and economy of Northeast Arkansas and the greater Delta region," stated Chris Masingill, federal co-chairman of the Delta Regional Authority. "We have a dire need for more physicians in the Delta region, as currently 230 of counties and parishes in the Delta are considered to be health professional shortage areas. The DRA is proud to be a partner in this project that will help to address our region's need for more physicians and increase access to quality health care for families in our rural communities."
A-State Chancellor Tim Hudson said the study shows a medical school would be transformative not only to the university, but also to the region and state.
"While the main benefit is to educate much-needed primary care physicians and improve the health and well-being of Arkansans, the D.O. school would also strengthen Jonesboro and our neighboring communities economically and accelerate expansion of an innovation economy," Hudson said. "Tripp Umbach's blueprint presents opportunities and challenges for Arkansas State and its partners. We're committed to moving forward with the process."
A-State Vice Chancellor for University Advancement Jason Penry said the university would continue to reach out to healthcare, education and government leaders in the state and share findings of the feasibility study. Negotiations remain under way with the New York Institute of Technology College of Osteopathic Medicine under a non-binding memorandum of understanding for the development of a branch school on the Jonesboro campus.
Arkansas State's planning committee for the D.O. project includes Hudson and Penry representing the university; Mayor Harold Perrin of Jonesboro; Mark Young, CEO of the Jonesboro Regional Chamber of Commerce; Chris Barber, CEO of St. Bernards Healthcare; Darrell King, CEO of NEA Baptist Clinic and executive director of the Arkansas Division at Baptist Medical Group; and Dr. Shane Speights, a practicing osteopathic family physician who is vice president of medical affairs at St. Bernards Medical Center.
Hudson said a recommendation on how to implement the study's findings will be made to ASU System President Chuck Welch, and a proposal is expected to be on the ASU Board of Trustees agenda for its Feb. 28 meeting.
# # #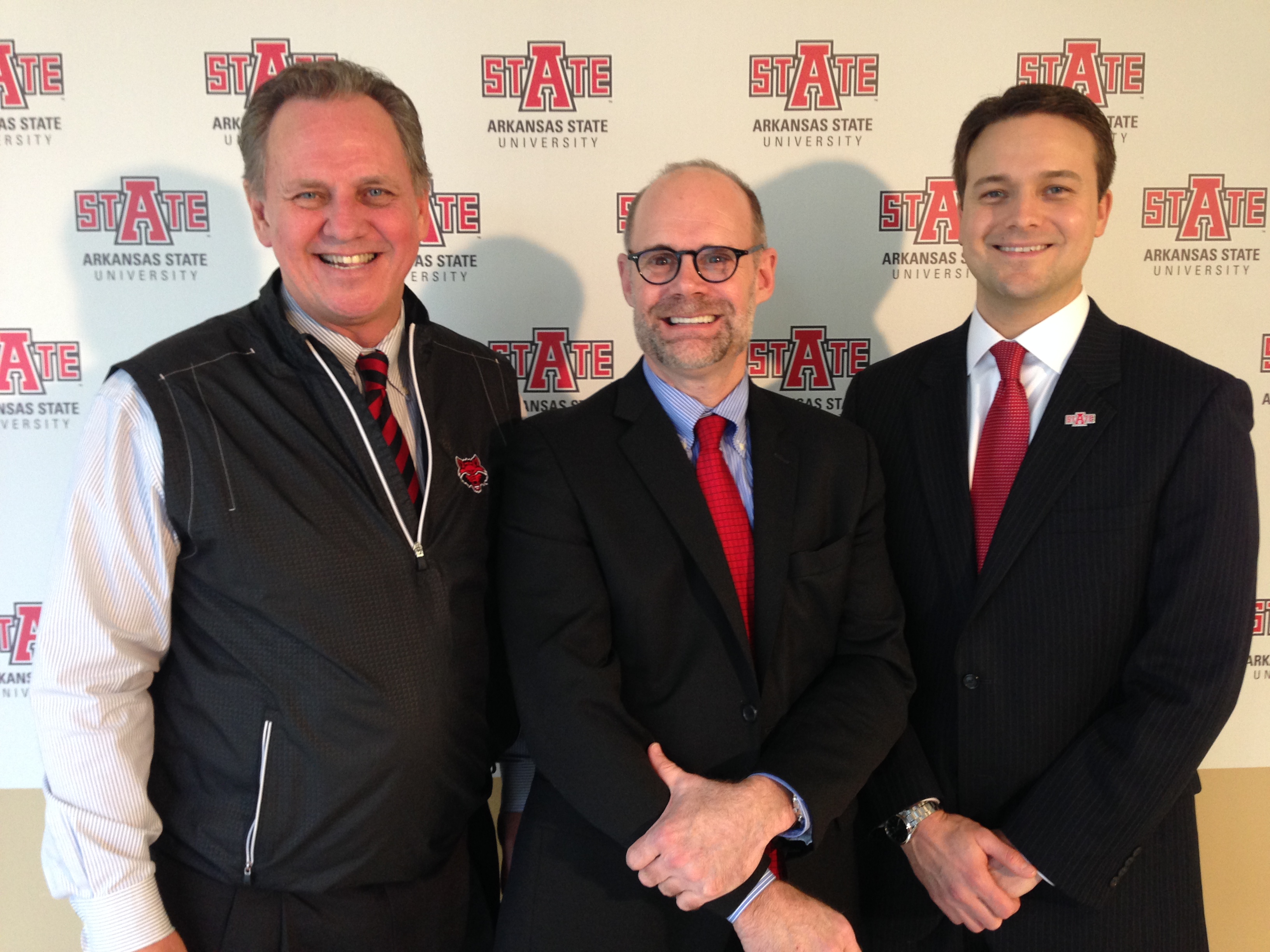 From left: Dr. Tim Hudson, Paul Umbach and Dr. Jason Penry
PRESS CONFERENCE SPEAKERS
Dr. Tim Hudson, Chancellor of Arkansas State University.
Paul Umbach, president of Tripp Umbach, the firm that conducted the feasibility study. Tripp Umbach, based in Pittsburgh, is one of the leading national firms in healthcare and economic development consulting.
Dr. Jason Penry, Vice Chancellor for University Advancement. He is the university's project leader for the osteopathic medical school.
# # #