Students Excel in Challenger Sales Institute Competition
03/17/2020
JONESBORO – A team of students and R.M. 'Bob' Wood Sales Leadership Center director Dr. Katie Hill from Arkansas State University's Neil Griffin College of Business recently grabbed several top awards at the regional team Challenger Sales Institute Competition in Oklahoma City.
A-State's representatives won first place in the case competition and finished second in role play, while Hill, assistant professor of marketing, was named the team challenge reserve champion.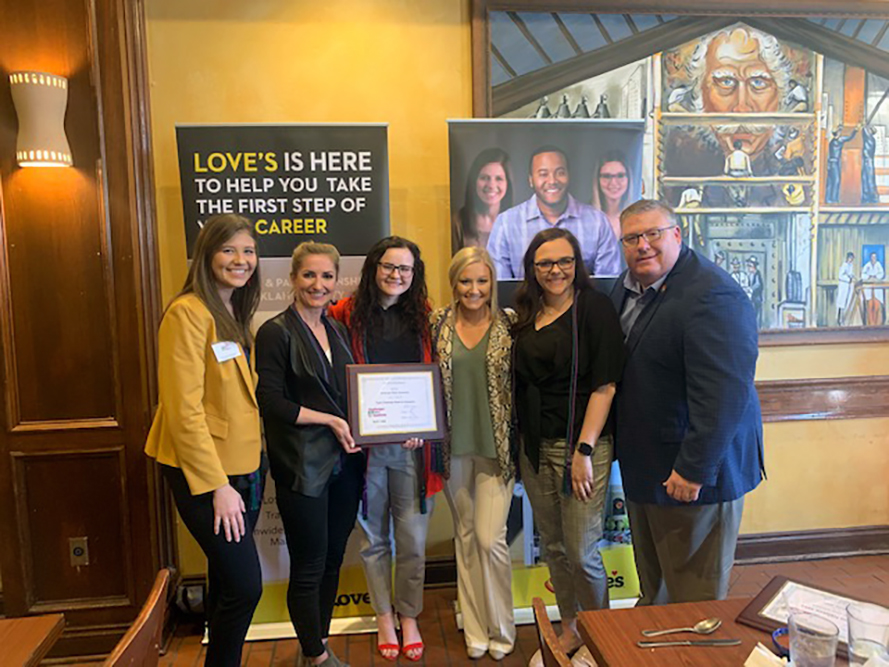 (From left) Hannah Dunton, Dr. Katie Hill, Shawna Martin, Taylor Fortenberry, Shelby Thompson, Todd Wilson (senior manager of fleet sales at Love's Travel Stops.)
"The sales leadership students of the R.M. "Bob" Wood Sales Leadership Center competed among the top sales students in the region and had the opportunity to network with top sales executives from across the region as well," stated Hill. "They showed amazing poise, and competed with extreme professionalism during the entire event and represented Arkansas State University and the Neil Griffin College of Business very well. To bring home first and second place in case and role play, respectively, in their first time to compete regionally is an amazing accomplishment."
Members of the A-State team included Hannah Dunton of Jonesboro, Taylor Fortenberry of Stuttgart, Shawna Martin of Gassville and Shelby Thompson of Cabot.
The group was part of 71 students from 13 universities, including Texas A&M, Missouri, Oklahoma State, Kansas, Kansas State, Nebraska, Georgia Southern, Georgia Gwinnett College, Texas-Arlington, Arkansas-Little Rock, Southeast Missouri State and Central Oklahoma, competing in the sales contest.
Dunton, Martin and Thompson participated in the role play portion along with 33 other students. Dunton and Thompson proceeded to the semifinals, and Dunton advanced to the final round where she finished second place overall.
Arkansas State's team for sales management ethical case competition was composed of Dunton, Shawna and Fortenberry. They advanced to the final round and captured the win.
Challenger Sales Institute is devoted to providing education, training and development opportunities to sales students and business professionals. Founded in 2018 by three marketing professors, CSI provides four main functions including:
Competitions that allow students to practice their selling skills with industry buyers and judges

,

Career fairs to help employers efficiently recruit qualified students for entry level sales jobs,

Corporate sales training, and

Permanent placement for students entering the sales industry
CSI funnels 100 percent of company profits into student scholarships and competition awards. ​