Students Elect Members of 2015 Homecoming Court
09/29/2015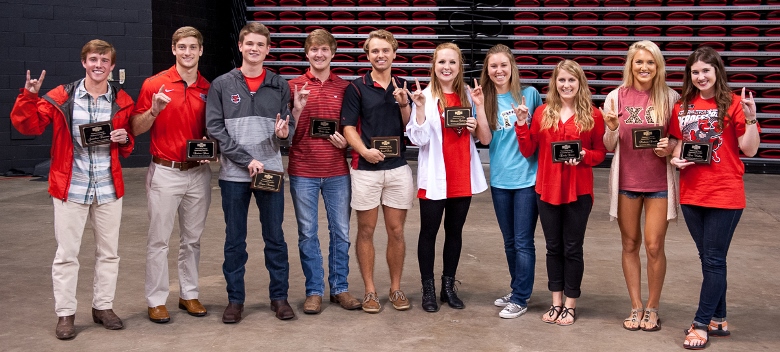 Homecoming Court members are (from left) Jonathan Freeman, Drew Short, Logan Mustain, Carter Lee, Jared Dietz, Rebecca Galloway, Kaily Nix, Emily Peters, Madison Brooks and Erin Wadley.


JONESBORO – Students at Arkansas State University elected 10 classmates for the 2015 Homecoming Court. Members of the court were introduced at the Homecoming Week step show Monday night.
Voting for Queen and King will be Thursday, with selections to be announced during the Court presentation Saturday at 5:30 p.m., prior to the Homecoming game kickoff.
Members of the Homecoming Court, with hometown, sponsor, classification, major and parents are:
Madison Brooks of Benton, sponsored by Pi Kappa Alpha fraternity, junior, psychology and counseling major, Greg and Tamara Brooks.


Rebecca Galloway of Stuttgart, sponsored by Kappa Sigma fraternity, senior, public relations/advertising major, Neal and Donna Galloway.


Kaily Nix of Jonesboro, sponsored by Alpha Gamma Delta sorority, senior, nutritional science, Robin and Libby Nix.


Emily Peters of Marion, sponsored by the Honors College Association, senior, interdisciplinary studies, Homer and Debbie Peters.


Erin Wadley of Sherwood, sponsored by Chi Omega sorority, senior, political science major, Carol Wadley.


Jared Dietz of Searcy, sponsored by Lambda Chi Alpha fraternity, junior, biology/chemistry major, Patrick Dietz and Shelly Dietz.


Jonathan Freeman of Paragould, sponsored by Zeta Tau Alpha, senior, strategic communication major, Breck and Jackie Freeman.


Carter Lee of Sherwood, sponsored by Alpha Gamma Delta sorority, senior, biology (pre-professional) major, Wayne Lee and Paula Lee.


Logan Mustain of Benton, sponsored by Alpha Omicron Pi sorority, senior public relations major, Kevin and Raye Mustain.


Andrew Short of Doniphan, Mo., sponsored by Pi Kappa Alpha fraternity, senior, exercise science major, Daniel Short and Taleana Short.
# # #