Student Wins Phi Beta Lambda National Title at Convention
07/02/2018
JONESBORO – Bryston Hickman of Mountain Home became Arkansas State University's sixth national Phi Beta Lambda champion, and 15 additional students placed in the PBL's 2018 national conference and competition last week in Baltimore, Md.
Hickman, a senior psychology major, won the award in "Organizational Behavior and Leadership." He also won that category during competition at the state leadership conference held in April at Little Rock.
A total of 29 A-State student members competed in Baltimore and brought home 19 awards. They were accompanied by three advisers — Dr. Philip Tew, associate professor of finance in the Neil Griffin College of Business and PBL adviser for the state of Arkansas; Kerry Tew, first-year student success coordinator; and Dr. Patricia Robertson, chair, economics and finance, professor of business law and faculty coordinator for the Women's Business Leadership Center.
"The advisers are extremely proud of these great students," stated Dr. Tew. "They have led A-State PBL to heights that 10 years ago, when we re-started the chapter, never thought were possible. To bring home 19 national awards, including the chapter's sixth PBL national champion, is an incredible accomplishment for these students."
A-State finishers include:
First Place— Organizational Behavior and Leadership: Bryston Hickman; largest chapter in the country: Arkansas State University.
Second Place— Website Design: Bryston Hickman and Sam Reagan, both of Mountain Home; Sports Management and Marketing: Grant Long of Batesville; Programming Concepts: Sam Reagan; Justice Administration: Grant Long; Accounting Principles: Ben Tinsley of Jonesboro.
Third Place— Business Communications: Kourtney Chadwell of Piggott.
Fifth Place— Microeconomics: Tristan Sweatt of Floral; Macroeconomics: Anthony Adkins of Jonesboro.
Sixth Place— Statistical Analysis: Tristan Sweatt; Business Sustainability: Rachel Washam of Jonesboro.
Seventh Place— Management Analysis: Zoe Parsons and Jordan Womack, both of Mountain Home; Contemporary Sports Issues: Alex Young of Jonesboro; Business Presentation: Alex Young; Accounting for Professionals: Dylan Smith of Walnut Ridge.
Eighth Place— Marketing Analysis: Zoe Parsons, Jordan Womack; Economic Analysis: Ahad Sanjrani of Dallas, Texas, Jared Barham of Paragould.
Ninth Place— Administrative Technologies: Kyler Brooks of Bald Knob.
Phi Beta Lambda is the college division of Future Business Leaders of America (FBLA) and provides help and preparation to members for business-related careers. One of the most active branches of the national organization, Arkansas State consistently wins numerous awards each year, including 73 awards at the state competition in April.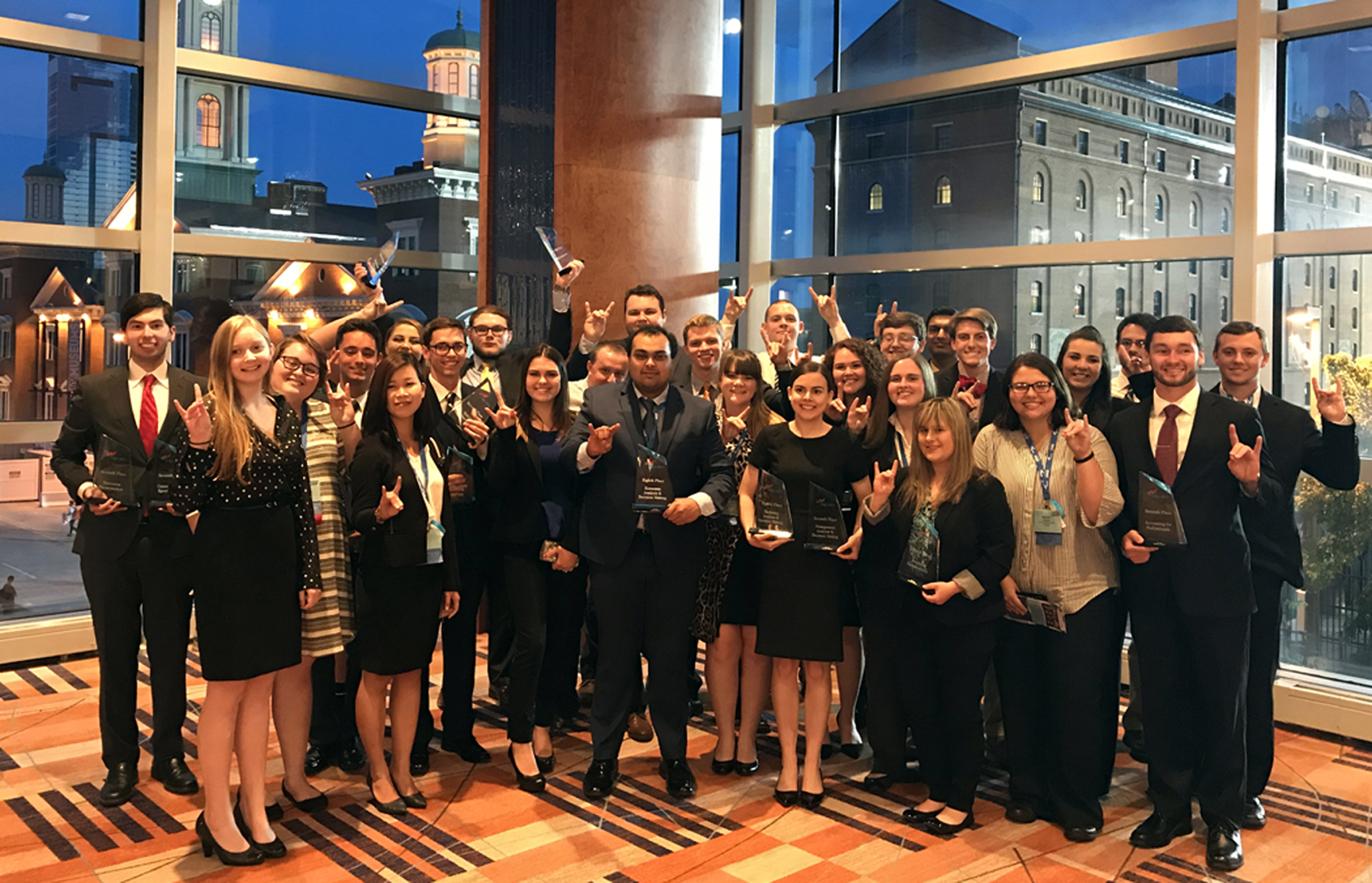 Phi Beta Lambda representatives at national convention in Baltimore