STAR House Opens With Ribbon Cutting Ceremony
02/19/2018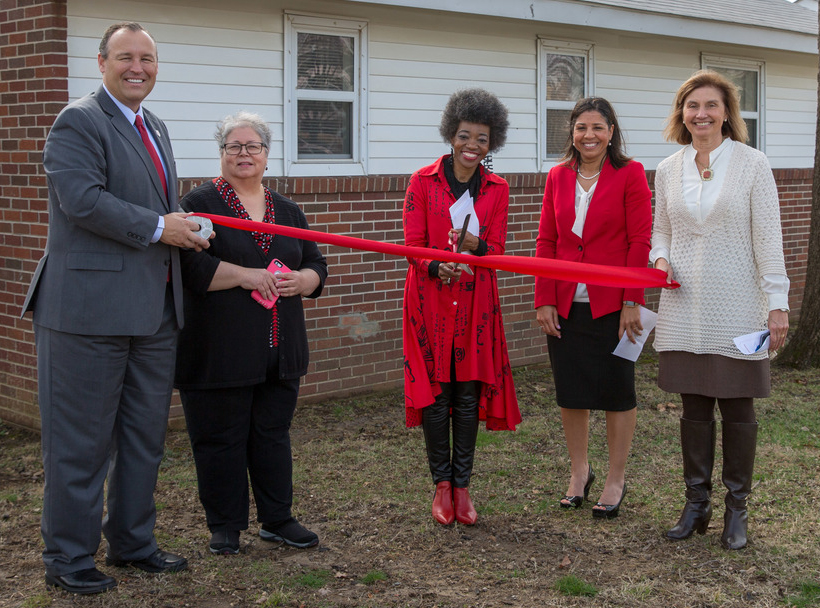 Co-Chair of the Bachelor of Social Work Program and Associate Professor Dr. Patricia Guy-Walls (middle) prepares to cut the ribbon to officially open the STAR House. (From left) Chancellor Kelly Damphousse, Title IV-E Academic Partnership in Public Child Welfare Program Director Karen Fullen, Dr. Guy-Walls, Assistant Professor Dr. Evelyn Taylor and Dean of the College of Nursing and Health Professions Dr. Susan Hanrahan.
JONESBORO – The STAR (Simulation Training and Research) House at Arkansas State University officially opened Monday afternoon with a special ribbon cutting ceremony at its location on 2511 Quapaw Street on campus. The College of Nursing and Health Professions and the Department of Social Work sponsored the event.
The STAR House is a new and innovative approach to educating students, faculty and community providers in a collaborative environment. Due to the fast pace and high complexity of problems that healthcare providers and other professionals encounter daily in rural communities, workers and students may often feel challenged and unprepared to practice in the professional environment.
Simulation training will provide hands-on learning scenarios resembling real life situations that can help students gain competence and confidence.
Dr. Patricia Walls, co-chair and associate professor of social work, explained the STAR House will allow for the creation of realistic experiences, as it can be set up to resemble the unit of choice. The facility will utilize approaches that correspond with the way most adults learn — inductively, from specific to general, and through practice and feedback.
In this environment, many types of students from across campus, including social work students, nursing and health profession students, child advocacy and other programs will have opportunity to utilize the house.