Staff Distinguished Performance Awards for 2019
05/15/2019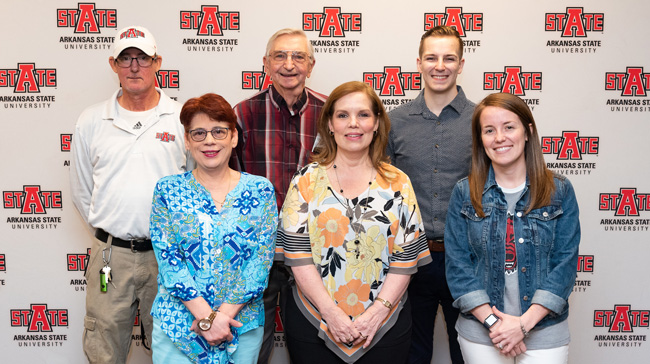 Distinguished Performance Award recipients included (front, from left) Robyn Klerk, Vickie Gilmer, Katey Provence; (back) Chad Woodard, Larry Vinson and Randall Parker Jones.
JONESBORO – The 26th annual Distinguished Performance Awards were presented to six staff members at Arkansas State University.
The annual recognition ceremony for non-faculty employees at Arkansas State University was Tuesday at the Carl R. Reng Student Union.
The Distinguished Performance Award recipients for 2018-19 are:
Team Player – Vickie Gilmer, Department of Political Science


Outstanding Part-Time -- Randall Parker Jones, Information Technology Services


Rookie of the Year – Robyn Klerk, Department of Psychology and Counseling


Enhancing the Student Experience – Katey Provence, Leadership Center


STAR (Service, Teamwork, Attitude, Reliability) – Larry Vinson, Department of Health, Physical Education and Sport Sciences


Unsung Hero – Chad Woodard, Facilities Management
The award nominees are individuals who exemplify professionalism and dedication to excellence in service, and perform above the standard to improve programs at A-State.
Rob Gordon, outgoing Staff Senate president, and Rebecca Oliver, director of the Honors College, served as hosts for the program, which also included recognition of retiring staff members and those achieving service milestones of 10, 20, 30 and 40 years.
The Distinguished Performance Awards program was initiated in 1994 to recognize outstanding job performance and long-time service by the university's non-faculty employees, both classified and non-classified.
# # #