Spring Commencement Ceremonies See 1,800 Graduate
05/09/2015
JONESBORO – Chris Masingill, federal co-chairman of the Delta Regional Authority, today commended members of Arkansas State University's spring graduating class for overcoming their challenges of life and completing a university education.
"Failing is a part of learning to succeed. But to rise above the failures takes grit," Masingill, the featured guest speaker, told the graduating class during morning and afternoon ceremonies. "What exactly is grit? Grit is being able to overcome your failures rather than having your failures overcome you. Grit is seeking growth and being resourceful, innovative, and tough."
Masingill has visited A-State several times in recent weeks because of the close working relationship the university has developed with the Delta Regional Authority. One of the major initiatives is creating an eight-state Delta Research Consortium.
"All of you are here today because you and your family have grit," the chairman continued. "Getting here wasn't easy. But you remained committed to investing in yourself – and I guarantee it's the best investment you'll ever make. You have the responsibility to let your personal accomplishments ripple forth in everything you do. Your accomplishment today will mean great things for the Delta."
While at the Delta Regional Authority, Masingill has placed a strong emphasis on supporting small businesses and entrepreneurs, as well as investing in workforce development and training efforts, recognizing these efforts as the greatest opportunities for the Delta region's economy.
Dr. Tim Hudson, chancellor at Arkansas State, presented diplomas to the graduating students. Approximately 1,800 students were candidates for degrees at the graduate and undergraduate levels.
Japhanie Gray of Osceola, a Distinguished Service Award recipient, gave an inspirational address to her fellow students at the 10 a.m. ceremony, which included graduates of programs in Education and Behavioral Science, Fine Arts, Humanities and Social Sciences, Media and Communication, and University College. Gray received a Bachelor of Science degree in multimedia journalism.
Earl Morris of Jacksonville, the 2015 R.E. Lee Wilson Award winner, challenged graduating students in the afternoon ceremony, which included graduates in Agriculture and Technology, Business, Engineering, Nursing and Health Professions, and Sciences and Mathematics. Morris received a Bachelor of Arts degree in chemistry with an emphasis in pre-pharmacy.
Masingill, whose family is from Arkansas, became the federal co-chairman of the DRA in 2010. Established by Congress to enhance economic development and improve the quality of life for residents of the eight-state Delta region, the Delta Regional Authority utilizes investments in public infrastructure, workforce development, small business and entrepreneurship development, and health access to address some of the region's most pressing challenges.
"Chairman Masingill's message of partnering public and private leadership to the benefit of our region is important for our students' futures," Hudson said when he announced the selection of Masingill to address the spring class. "As a university, we are working to create opportunities to lift up the Delta, and we take seriously our historic role as the leading institution of higher education within our part of the Mid-South."
In his nearly five years with the Delta Regional Authority, Masingill has worked with the governors of the eight Delta states to leverage $44 million in DRA investments into nearly $1 billion in private and other public-sector investment into Delta communities. Overall, DRA investments are helping to create and retain 42,000 jobs and train 13,000 workers.
Previously he served as director of intergovernmental affairs and as chief economic development policy advisor and chief economic development liaison to state agencies during the administration of former Gov. Mike Beebe.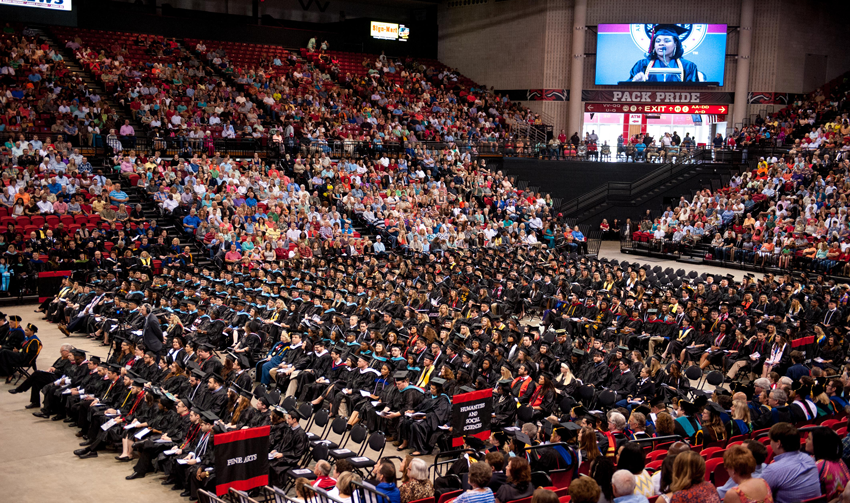 Spring Commencement Ceremony, Arkansas State University