SPOCS Team Ready for Launch of ISS-Bound SpaceX with Experiment Aboard
07/11/2022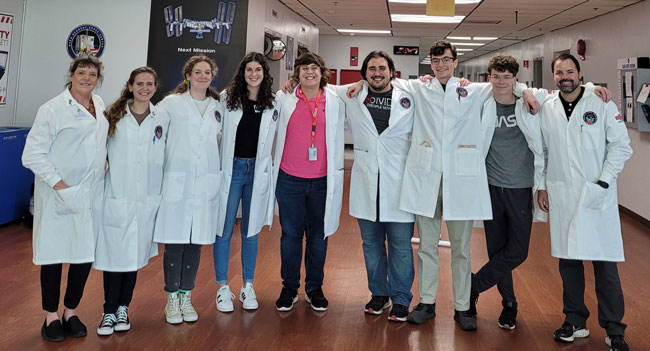 A-State's SPOCS team at the International Space Station Processing Facility, Kennedy Space Center. From left, Maureen Dolan, Claire Greene, Kate Willis, Hannah Seats, Mason Rhodes, Landon Perdue, Benjamin Whitfield, Jacob Oster and Shea Harris.
JONESBORO – When a SpaceX rocket lifts off Thursday evening at NASA's Kennedy Space Center, seven Arkansas State University students will be there, anxiously observing as their research experiment heads to the International Space Station (ISS). The launch is scheduled for 7:44 p.m. Central time.
In SpaceX's 25th cargo resupply mission (CRS-25), the Dragon capsule will include supplies to the ISS, along with science projects from A-State and Stanford.
The launch in Florida will culminate the students' work that began in December 2020 after their proposal to NASA's Student Payload Opportunity with Citizen Science (SPOCS) program was selected. The biology and engineering majors began their planning toward submitting their proposal for the competitive program several weeks prior to their presentation.
This interdisciplinary SPOCS team includes seven members: Benjamin Whitfield of Little Rock, an electrical engineering major and team leader; Katherine Willis of Blue Springs, Mo., Claire Greene of Conway and Hannah Seats of Brookland, who are biological sciences majors; and Landon Perdue of Brookland, Mason Rhodes of Benton, and Jacob Oster of Bay, who are mechanical engineering majors.
The launch, along with a live broadcast interview featuring the SPOCS team, will air live on NASA TV and the NASA website. Whitfield and Greene will be the two A-State students doing a live interview during the broadcast.
Titled "Microgravity Environment Impact on Plastic Biodegradation by Galleria mellonella," their proposal is described as an experiment to discover the ability of waxworms to degrade plastics in space. The ISS experiment could help provide answers for a more sustainable environment on earth and future, long-term space travel.
Though members of the team are involved in various internships and summer jobs, all are able to attend the launch. The biology crew is driving the waxworms to the space center while the engineering students will fly in and meet up with the others. They will be working in the labs at Kennedy up until handoff of their experiment.
"They all have multitasked on this project and all team members have been involved in most all aspects," explained Dr. Maureen Dolan, associate professor of molecular biology. "Each member took lead on various aspects of the project, from designing and conducting waxworm preliminary experiments, to the experimental prototyping and build of the housing unit, leading curriculum development for citizen science and outreach activities, to social media management."
Their experiment was initially meant to go last December, but the team opted to wait until CRS-25 to give adequate time to optimize the experimental design, then perform pre-flight testing. Between NASA's selection of A-State's project and the launch this week, the project evolved significantly, providing additional perspective on the educational aspects of the experience.
"This project taught the students how science research is a dynamic process," Dolan continued. "As the students got into the design of the unit, it became clear that the number of replicates they could carry out in this small nanomodule (only 10 by 10 by 15-centimeter box) was limited, compared to what would have been possible in an earth-based experiment."
A-State's (SPOCS) project was selected by NASA's Office of STEM Engagement as one of five to be carried out in 2022. The team was among five selected to receive $20,000 NASA grants, with the other winning university teams coming from Columbia, Stanford, Idaho, and New Hampshire at Manchester.
Throughout the project development, the SPOCS team spent lots of time adjusting to make the experiment fit within NASA's required size, time and budget constraints.
Shea Harris, Arkansas Biosciences Institute outreach coordinator and co-adviser to the team, explained the experiment will be returned to Earth after a month in space. The SPOCS team will analyze the results and draw their conclusions, a process that should take another month.
The team faced challenges at the end, passing some of the NASA-required electrical and safety checks for the unit that houses the experiment, Dolan added.
"Also, purchasing computer components for the experiment proved difficult due to supply chain issues. Fortunately, both the A-State community and our NASA mentors who stayed in contact with the team were a lifesaver, and through their connections got us a computer board."
Dolan emphasized the dedication and long hours invested by the SPOCS students, and expressed appreciation for guidance from NASA and Nanoracks representatives and A-State personnel, making it possible for the team to send an operational unit to the International Space Station.
"The support from our community, including too many at A-State faculty and staff to thank by name, is what has made this project so much fun for our team, for our Citizen Scientists at Nettleton STEAM and Blessed Sacrament Schools in Jonesboro, and for everyone who has a love for space."