Sonny Burgess, Pacers To Play At KASU Bluesday Tuesday
03/20/2014
JONESBORO, Ark. — Sonny Burgess and the Legendary Pacers will return to the KASU-FM Bluesday Tuesday lineup, Tuesday, April 8, in the town where they began their careers — Newport. The music begins at 7 p.m. in the Newport Country Club, 703 Walker Drive. Admission is free. The event was originally scheduled in December 2013, but was postponed due to winter weather conditions.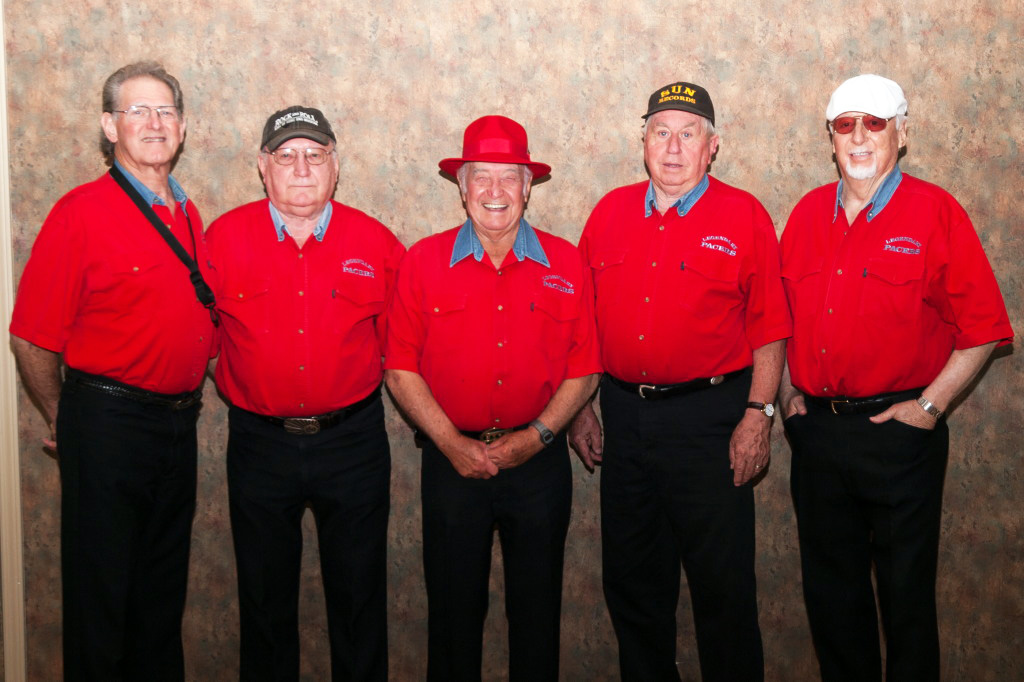 (Left to right) Jim Aldridge, Fred Douglass, Kern Kennedy, Bobby Crafford and Sonny Burgess
Newport native and lifetime resident Sonny Burgess is a member of the Rock and Roll Hall of Fame in Europe, the Rockabilly Hall of Fame in the U.S., and the Newport High School Alumni Hall of Fame. He also holds an honorary doctorate from Arkansas State University. The band recorded on Sam Phillips' Sun label in Memphis in the 1950s.
Burgess and members of the Pacers travel to Europe at least once a year and have entertained audiences in Spain, Sweden and England. The band performs at blues, folk and rockabilly festivals all over the United States.
Burgess, providing lead guitar and vocals, joins four band members who live in central Arkansas. Each has a long career in Arkansas music.
Keyboard player Kern Kennedy played upright piano in the first band that Burgess formed in 1950. The Tuckerman native, who now lives in the Cabot area, can play jazz, western swing and country standards in addition to rockabilly. Kennedy once turned down an offer to play in Elvis Presley's band because he thought Sonny Burgess had more charisma. Kennedy told the man who would become known as the King of Rock and Roll, "I'm already making $45 a week, why would I want to play with you?"
Drummer and vocalist Bobby Crafford grew up in Cotton Plant, once a thriving Arkansas Delta town, where well-known musicians played in nightclubs. Crafford has been playing in rock and roll bands since the 1950s and currently lives in Maumelle. In a popular segment of the Pacers' show, Crafford plays the drums while blindfolded.
Jim Aldridge, the Pacers' versatile vocalist, is known for singing the songs of Roy Orbison, Conway Twitty, Elvis Presley and other early rock stars and providing instrumental support on saxophone and harmonica. The Conway resident played regularly in house bands at some of Little Rock's top clubs and hotel lounges from the 1950s to the 1980s.
Fred Douglass, who grew up in Walnut Ridge, played guitar in several early rock and roll era bands. Like several northeast Arkansas musicians, Douglass performed on KAIT-TV's "Hillbilly Hootenanny" program hosted by the Rhodes Family band in the mid 1960s. Douglass, who lives near Heber Springs, is the bass guitarist for the Pacers.
KASU Bluesday Tuesday concerts are presented on the second Tuesday night of each month at the Newport Country Club ballroom. Sponsors for Bluesday Tuesday include Arkansas State University-Newport, C-and-C Distributors, and Harris Ford.
Upcoming Bluesday Tuesday Concerts will feature the Rhodes Show (May 13), Jeannie and the Guys (June 10), The Jokers (July 8), and the Snap Crow Legs (August 12). KASU-FM is the 100,000-watt broadcasting service of Arkansas State University.