Soil & Water Education Conference to Showcase Best Practices, New Technologies
01/20/2023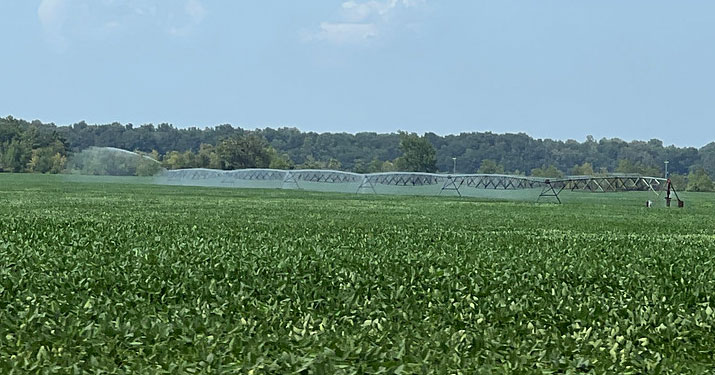 Center pivot irrigation system
JONESBORO — The Arkansas Soil and Water Education Conference has been educating Arkansas farmers and other agriculture professionals for a quarter of a century on how to use new technology and practices to improve irrigation efficiency.
That precedent continues with the 25th annual Arkansas Soil and Water Education Conference from 8 a.m.- 4 p.m. Wednesday, Jan. 25, in the Red Wolf Convention Center at Embassy Suites, 223 Red Wolf Blvd. A virtual option also will be available. Online registration is available at arkswec.com. The cost is $50.
"The Arkansas Soil and Water Educational Conference has always addressed relevant conservation issues facing agriculture," said Mike Hamilton, extension irrigation instructor for the University of Arkansas System Division of Agriculture and member of the conference steering committee. "The 25th Arkansas Soil and Water Education Conference and Irrigation Expo will highlight irrigation water management strategies, irrigation technologies, and potential funding opportunities for farmers and consultants."
The conference is designed for agriculture and natural resource management professionals, university researchers and students. Certified crop advisers can receive 5.5 continuing education units through the conference.
"Attendees have heard from different speakers over the past 25 years of the conference, focusing on soil and water conservation efforts," said Jan Yingling, White County extension agent for the Division of Agriculture and a member of the conference steering committee. "This year's line-up of presenters and panelists will showcase ongoing conservation efforts and upcoming conservation opportunities."  
Access to adequate water is crucial for growing crops profitably and sustaining agricultural production in Arkansas. The 2022 drought has underscored the need to conserve and protect water supplies by lowering water usage and decreasing energy usage.
Arkansas ranks third in the nation for the area of irrigated land. It ranks second in the volume of water pumped for irrigation. About 80 percent of the Natural State's irrigation demand comes from groundwater provided by the Lower Mississippi River Basin, of which only about 48 percent of the annual withdrawal is sustainable.  
Researchers and educators with the Division of Agriculture, Arkansas State University, the Natural Resource Conservation Service and USDA Agricultural Research Service are making efforts on multiple fronts to help users make irrigation more efficient. This includes research into new production techniques and irrigation technologies, promoting use of soil moisture sensors, cover crop growth and incentive programs such as Most Crop per Drop, which encourages producers to use these new techniques.
Winners of the Most Crop Per Drop contest will be announced at the conference, and the Conservationist of the Year Award will be presented.
Chris Colclasure, director, Arkansas Department of Agriculture, Natural Resources Division, will be the luncheon speaker.
Those associated with Arkansas State University who are involved in the conference include welcome remarks from Michele Reba – USDA-ARS research hydrologist and acting research leader at the Delta Water Management Research Unit; remarks by Dr. Mickey LaTour, dean, College of Agriculture; and poster contest, Dr. Jennifer Bouldin, interim dean, College of Sciences & Mathematics.
More details are available online through the University of Arkansas Division of Agriculture.


~ Courtesy University of Arkansas Division of Agriculture