Softball to Open Regional Tournament Play Against Kansas State
04/22/2019
JONESBORO – Arkansas State University's softball team is taking its seventh consecutive Mid-America East Conference title on the road to play in the National Club Softball Association (NCSA) Mid-America Regional Tournament, Saturday and Sunday, April 27-28, in Olathe, Kan.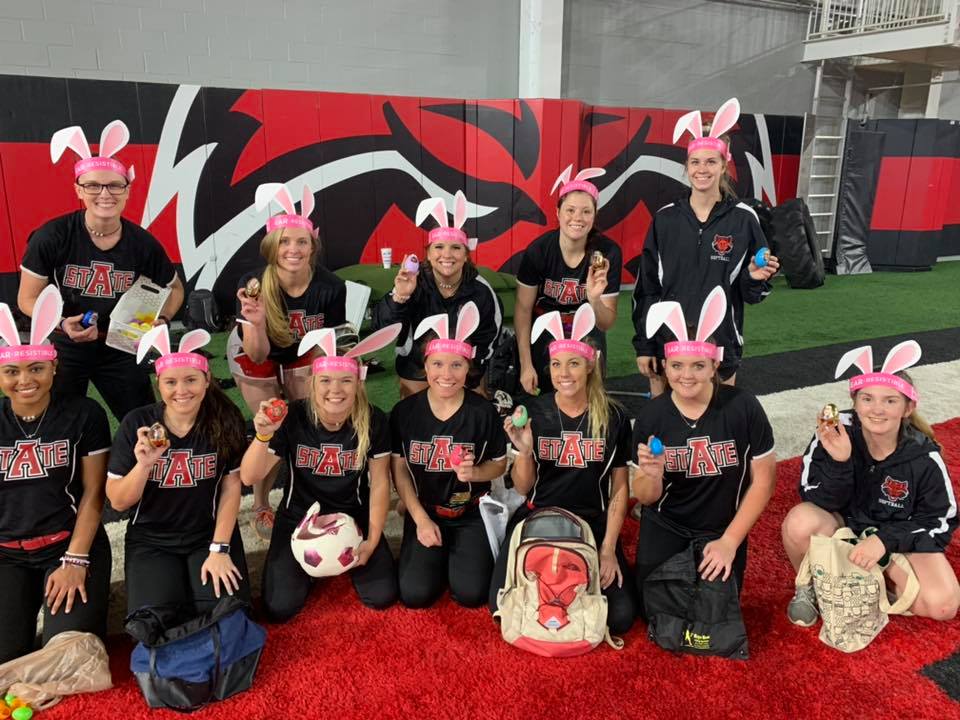 Softball players on Easter — photo from softball Facebook


The Mid-America east league's top-seeded Red Wolves will play Kansas State Saturday at 10 a.m. in the opening round at the Blue Mountain Complex. A-State is 17-3 overall and 13-2 in league play. A-State won the division after sweeping Southern Illinois University-Carbondale in three April 14 — 25-1, 20-1 and 7-0. Kansas State, the Mid-America Central champion, is 10-2 in conference play and overall.
Shortstop-third baseman Breanna Shaffer of Lake Cormorant, Miss., was named NCSA player of the week after going to the plate against SIUC eight times, walking three times and getting four hits with six runs batted in and two stolen bases. She was perfect in the field with zero errors and opened up the first game, scoring three with a bases-clearing double.
"Our team is a little different this year than in the past," said Keith Hinson, head coach. "We depend on hitting the ball hard and often scoring more runs than we have in the past. We have outscored our opponents 167 to 40 this year in conference play."
A-State is led by three seniors, third baseman Rachel Hinson, catcher Lydia Mitchell and first baseman Rebecca Treat. Hinson, a senior from Vilonia, has seen action on third base during her four-year career at Arkansas State. She is a two-time, first-team All-America selection and leads the country in batting average with .762 in conference play and an on-base percentage of .811.
Mitchell, of London, Ark., transferred to A-State and is completing a two-year career. She is batting .517 in the Mid-America East Conference. She and Hinson share the top of the home run chart with four apiece in the league.
Treat, who hails from Mulberry, also transferred to Arkansas State and brought in a serious work attitude when it comes to the game. She is hitting over .400 in conference play.
"These three are supported by a slew of sophomores and freshmen," continued Hinson. "We also have Hannah Craig who is a freshman from Trumann who has stepped up and commanded the mound in conference play, giving up only 15 runs all year."
Hinson also noted two other pitchers on the team who are strong contributors, Courtney Foreman, a sophomore from Crossett, and Taylor Tiffany, a junior from Portageville, Mo. Tiffany leads the division with 22 strikeouts.
The NCSA has eight regional playoff tournaments this season. The eight regions are the Great Lakes, Great American, Mid-America, Mid Atlantic, North Atlantic, New England, Pacific and the South Atlantic. There are four teams that make up each regional tournament. With each region being split into three conferences, each conference winner gets an automatic bid and the final team is an at-large selection.
The four teams that compete in each regional will play in a double elimination tournament with the winner being crowned the regional champion. Each regional champion and runner-up will move onto the NCSA World Series, and these 16 teams will face off against each other to compete for the national championship, Thursday through Sunday, May 16-19, in Columbus, Ga.
In addition to Arkansas State emerging as the Mid-America East champion, the other three Mid-America title winners are Kansas City (Central champion), U.S. Air Force Academy (West champion) and Iowa State (at-large bid).