Softball Eliminated from NCSA World Series with Loss to Navy
05/19/2019
COLUMBUS, Ga. — Arkansas State University's softball season came to an end after falling 11-2 to the U.S. Naval Academy during the elimination game at the National Club Softball Association (NCSA) World Series here Saturday night.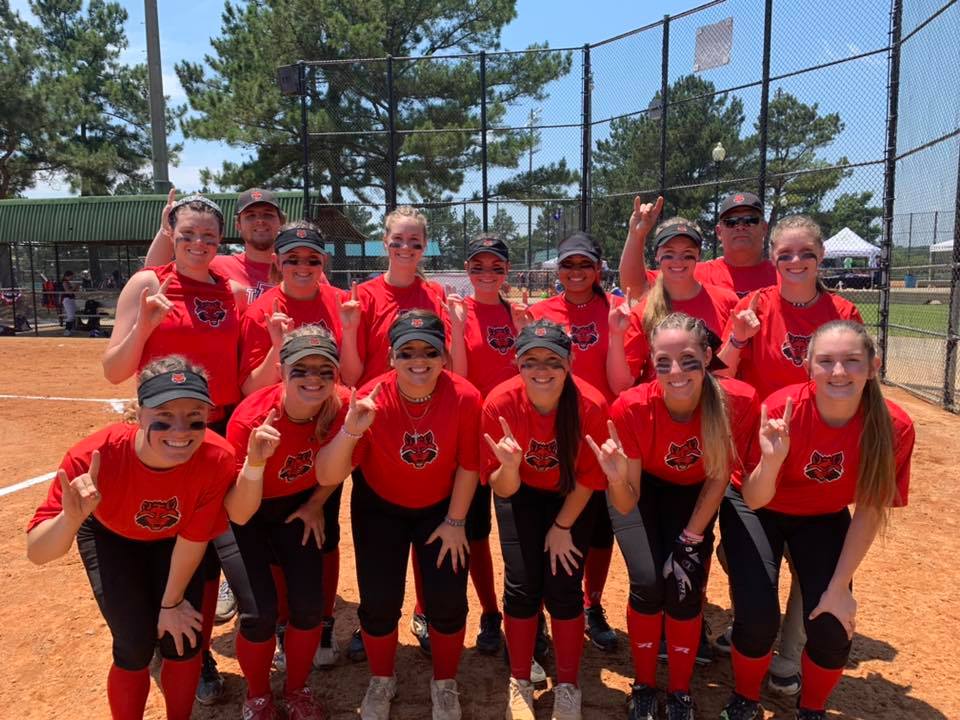 2018-19 Arkansas State University Club Softball Team
After going undefeated in pool play (3-0), the Red Wolves dropped a close 4-2 decision to Ohio State Saturday morning and then moved to the losers' bracket where they defeated Northwestern University, 7-4, for the second time in the tournament. The loss to Navy in the late game sealed A-State's fate.
"Despite two runs driven in by Rachel Hinson and Lydia Mitchell, it just wasn't enough to keep the softball season from advancing further in the World Series," said Keith Hinson, A-State's head coach. "But, this team has had a great season."
Hinson, a four-year player from Vilonia, finished the day with a .667 batting average and a slugging percentage of 1.000. Outfielder Keely Curtis, a sophomore from Harrisburg, had two singles while at the plate. Hinson, junior Tiffany Taylor of Portageville, Mo., and sophomore Ashley Scott of Mayflower each had a double earned.
Navy couldn't give sophomore Breanna Shaffer of Lake Cormorant, Miss., anything to drive, walking her every plate appearance for a total of three.
Pitcher Courtney Foreman of Crossett started on the mound for Arkansas State, facing six batters. Taylor later came in to throw the remainder of the game to face 29 batters and striking out 10.
Throughout the entire season, A-State totaled 210 runs scored and a team batting average of .403. Red Wolf pitchers combined for 86 runs allowed out of 619 batters faced in 128 innings. Hinson, the third baseman led the team with a batting average of .753, while Taylor finished with a record of 7-0 on the mound and an earned run average of 1.06. Hannah Craig, a freshman from Trumann, had a 7-2 record with an ERA of 3.94. She pitched 58.20 innings.
A-State loses three seniors from its squad, including Hinson, Mitchell and Rebecca Treat of Mulberry. The team finished with an overall record of 24-7.
The club team has competed in its seventh consecutive NCSA World Series and was crowned the national champion in 2017. The Red Wolves lost to Navy a year ago in the title matchup to finish as the runner-up. The team also won the Mid-America Regional Championship in 2018 and the Mid-America East Conference Championship in 2018 and 2019.