Shawn Camp, Bill Miller to Open Johnny Cash Heritage Festival Concert
09/26/2018
JONESBORO – Grammy award-winning artists Shawn Camp and Bill Miller will open the entertainment lineup for the Saturday, Oct. 20, field concert during the 2018 Johnny Cash Heritage Festival. Their performances will be in the field adjacent to Johnny Cash Boyhood Home in Dyess.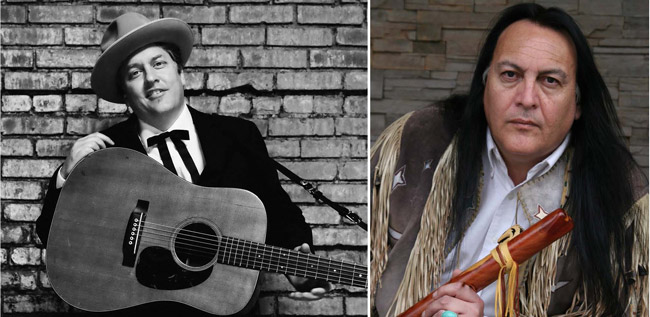 Shawn Camp (left) and Bill Miller will open the Johnny Cash Heritage Festival concert.
Shawn Camp, onstage from noon until 12:45 p.m., is a native of Perryville, Arkansas, where he began playing guitar at age five. At 20, he moved to Nashville to become a professional musician.
As a songwriter, Camp has provided material for a range of artists, with hits such as "Two Pina Coladas" (Garth Brooks), "Nobody But Me" (Blake Shelton), "Would You Go With Me" (Josh Turner) and "River Of Love" (George Strait). Camp co-produced a compilation album, Guy Clark: This One's For Him, which was No. 1 on the Americana Charts for several weeks and voted Americana Album of The Year in 2012.
This tribute album for his friend and hero also was Grammy-nominated for Folk Album of the Year. It is a virtual who's who of Americana/Texas/Country music, including 33 artists such as Willie Nelson, Kris Kristofferson, Emmylou Harris, Rodney Crowell, Verlon Thompson, Ramblin' Jack Elliot, Shawn Colvin, Lyle Lovett, Rosanne Cash, Steve Earle, Joe Ely and Ray Wylie Hubbard.
Camp won a Grammy as co-producer for Best Folk Album of the Year in 2013, for Clark's My Favorite Picture of You. He is winner of the Broadcast Music, Inc., Songwriting Award with Billy Currington's hit single, "Love Done Gone."
Camp also is lead singer for The Earls of Leicester, an all-acoustic band that consists of legendary Bluegrass musicians who perform and record the music of Flatt and Scruggs and the Foggy Mountain Boys. The Earls of Leicester won the Grammy for Best Bluegrass Album in 2015 and made a huge sweep at The International Bluegrass Music Association's IBMA Awards Show, winning Entertainer of the Year, Album of the Year, Instrumental Group of the Year, and Gospel Recorded Performance of the Year, with Camp taking Male Vocalist of the Year in 2016 and 2017.
Along with being a hit writer, he is a gifted multi-instrumentalist who's played as a touring/recording musician with everyone from Jerry Reed, Trisha Yearwood, Shelby Lynn and Alan Jackson to the Osborne Brothers, Guy Clark and John Prine.
One of Camp's songs, "The Blues Have Blown Away," was featured on the television show Nashvilleand later released on iTunes and YouTube.
Three-time Grammy Award-winner Bill Miller, who performed at the sold-out first Johnny Cash Music Festival in 2011, will follow Camp on stage from 1:05 to 1:35 p.m. Miller is a Native American recording artist, performer, songwriter, activist, painter and world-class native flute player. He has produced more than a dozen albums and has received numerous Native American Music Awards & Association (NAMA) awards, including "Lifetime Achievement."
Miller has led Wisconsin's La Crosse Symphony Orchestra and was recently featured on the history-making album release, Look Again To The Wind: Johnny Cash's Bitter Tears Revisited, on which he performed the title track. He is currently touring in an all acoustic configuration with Native American master percussionist Ken Lingad (Isleta).
A Mohican Indian, Miller was born on a reservation in Wisconsin and bought his first guitar at age 12. He played in a rock and roll band for several years, then bought an acoustic guitar and began playing bluegrass and folk music. While an art student at the University of Wisconsin-LaCrosse, he moved to Nashville to pursue career as a singer and songwriter.
In 1995, Miller's native flute playing was featured on the Vanessa Williams, "Colors of the Wind," the theme song on the soundtrack of Disney's Pocahontasfilm, winning a Grammy Award and both the Academy Award and Golden Globe Award for Best Original Song.
In 2016 heheadlined the Rock and Roll Hall of Fame tribute to Johnny Cash, along with Cash's son John Carter Cash. Along with his versatility as a musical artist, Miller is recognized and admired for his work in painting and drawing in the Native American arts, with some of his paintings at the Smithsonian Museum.
Ghost Dance brought Miller some long-deserved recognition at the 2000 Native American Music Awards, earning five "Nammys" that night, including Artist of the Year, Album of the Year, Songwriter of the Year and Song of the Year.
Camp and Miller are opening for The Johnny Cash Show, which will be from 2:15 to 5 p.m. This once-in-a lifetime 50thanniversary performance will pay tribute to tours that began in 1968 and led the following year to a television show that brought Cash into millions of households. Hosted by John Carter Cash, featured performers include Jamey Johnson and Alison Krauss, with Ana Cristina Cash, Suzanne Cox, Heather Berry Mabe, Ira Dean and others.
The Saturday field performances are the finale of the three-day festival, Oct. 18-20, that will feature educational and public presentations, arts and crafts, food, movie and regional music concerts Thursday and Friday in the Dyess Colony Circle. The academic theme for the festival is "The Ties That Bind."
Tickets for the field concert are on sale at the Arkansas State University Box Office, First National Bank Arena (lower red entrance), 217 Olympic Drive. To purchase online, visit the festival website, JohnnyCashHeritageFestival.com, and click on "Buy Tickets," or contact the box office at (870) 972-2781 or (800) 745-3000. With the exception of the field concert, all other festival events are free.
The festival is coordinated through Arkansas State University Heritage Sites and licensed through the John R. Cash Revocable Trust.