Scott Gordon to Become Dean of Nursing and Health Professions at Arkansas State
05/20/2021
JONESBORO – Dr. Scott Gordon will become the next dean of the College of Nursing and Health Professions at Arkansas State University, Chancellor Kelly Damphousse announced this week.
The associate dean and former interim dean of the Wellstar College of Health and Human Services (WCHHS) at Kennesaw State University in Georgia, Gordon was recommended to the chancellor by A-State's search committee and Provost Alan Utter.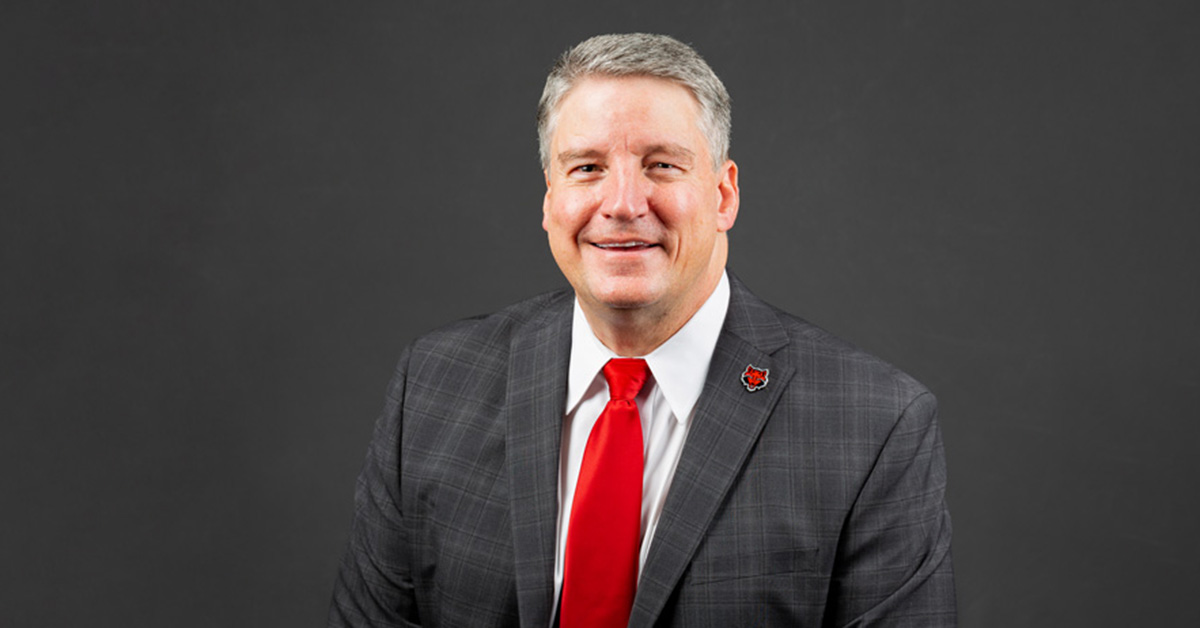 Dr. Scott Gordon
"Dr. Gordon brings a wide background of academic research and leadership to Arkansas State, and his experience at Kennesaw State in the leadership of a college structured very similarly to ours is a great strength," Damphousse said. "The College of Nursing and Health Professions is one of our largest colleges, and it has a huge impact on our health care community and local economy."
"I am thrilled and highly honored to join the exceptional culture of Arkansas State University and the College of Nursing and Health Professions," Gordon said. "Dean Hanrahan built CNHP into the robust college that exists today, and her outstanding legacy serves as a springboard to propel the college into an exciting future. In a time when health care is increasingly vital yet understaffed, I will work passionately alongside CNHP's dedicated faculty, staff and students to further the college's mission of addressing the health care education, research and outreach needs of Northeast Arkansas and beyond."
Gordon succeeds Dr. Susan Hanrahan, who is retiring after 26 years at A-State this June, as the dean of CNHP. Pending board approval at the next ASU System Board of Trustees meeting on June 3, Gordon will begin on August 1.
"Dr. Gordon joins us after over 20 years of extensive experience as both a scientist and health science administrator at various universities," Provost Utter said. "His philosophy, centered on the primary prevention of disease, wellness and integrative health care, is a perfect fit for our students and faculty in the College of Nursing and Health Professions. We are excited to have Dr. Gordon join the academic affairs leadership team here at Arkansas State University."
A graduate of Bowdoin College in Brunswick, Maine, Gordon completed his master's and doctorate at Penn State University. He also has post-doctoral work in physiology and molecular biology at the University of Texas Medical School at Houston, and at the University of Missouri.
He joined Kennesaw State in 2017 as associate dean, and soon also became the interim executive director of the Academy for Inclusive Learning and Social Growth in the Wellstar College from February to August 2018. He was asked to step in as interim dean of the college of 5,000 students at KSU in May 2020 until March 2021. Along with being part of teams that secured more than $12 million in gift commitments, he started a WCHHS Diversity, Equity, and Inclusion initiative, hired several key administrators, and oversaw the addition of 13 new faculty lines. He also formed a new WCHHS Student Advisory Board, initiated new annual WCHHS faculty and staff awards, and helped usher in a new B.S. degree in integrated health science and a new minor in nutrition.
During his time as associate dean and interim dean, WCHHS had a three-fold increase in external grant submissions and faculty successfully added $1.5 million in grant funding in the last two years, with an additional $1.8 million pending, from the National Institutes of Health and other external funders. His associate dean duties include director of research for the college, director of continuing education, distance learning coordinator, director of facilities, and director of course scheduling.
"When we compare Dr. Gordon's experience and strengths, his background and abilities to administer a college with a wide range of health care areas map very closely to our college," Utter said. "His ability to communicate across diverse groups and the way he conveyed his vision for Arkansas State were important reasons the committee noted in their selection."
Prior to Kennesaw State, Gordon was department chair and full professor of kinesiology at the University of North Carolina at Charlotte from 2012 to 2017. His five years with UNC Charlotte were marked by distinct growth, managing a 70% increase in students in kinesiology, growing from 785 to 1,332, and working to significantly increase department resources, summer courses, and graduate assistant slots to fuel research and outreach work. He managed the addition of two new master's programs, and facilitated a dramatic increase in faculty publications, presentations and external grant submissions.
He also developed a continuing initiative, fully funded by external partnerships, to deliver free health risk assessments and physical activity programs in underserved greater Charlotte communities, and integrated teaching, student cultural competency training, and research into its outreach mission to improve health in at-risk populations. He began his academic career as an assistant professor at East Carolina University where he achieved tenure and became the chair of numerous committees and subcommittees, including chair of the Faculty Senate Educational Policies and Planning Committee.
Along with his lengthy academic career, Gordon is a U. S. Army veteran who served at the U.S. Army Research Institute of Environmental Medicine during his active duty years, then served as a medic in the Pennsylvania Army National Guard for five years. Among his research appointments were three years as a National Institute on Aging predoctoral fellow with the Gerontology Center/Center for Sports Medicine at Penn State, two years as a NASA postdoctoral research associate in space biology at the University of Texas Medical School at Houston, and a NIH postdoctoral fellow in the Department of Veterinary Biomedical Sciences at the University of Missouri. Gordon also was a member of life sciences laboratory ground support teams for two NASA shuttle missions, STS-57 with Endeavour and STA-62 with Columbia.
Gordon is a Fellow of the American College of Sports Medicine, and his research examines the mechanisms by which exercise and nutritional interventions can delay or prevent skeletal muscle loss with age. To date, he has 71 peer-reviewed publications, over 165 presentations, and 30 externally and internally funded grants/contracts. Gordon has mentored over 75 graduate and undergraduate research projects, and has served as a reviewer for 39 scientific journals and over 40 grant study sections, including NIH and NASA.
# # #