Rugby To Host Navy In Semifinal Matchup
04/20/2017
JONESBORO – Arkansas State University's rugby team takes one more step in its quest for a third national championship when the Red Wolves host the U.S. Naval Academy, Saturday, April 22, in a semifinal match of the Penn Mutual Collegiate Rugby Championship. Game time is 1 p.m. at Curt Huckaby Field, 501 Red Wolf Trail. Admission is free.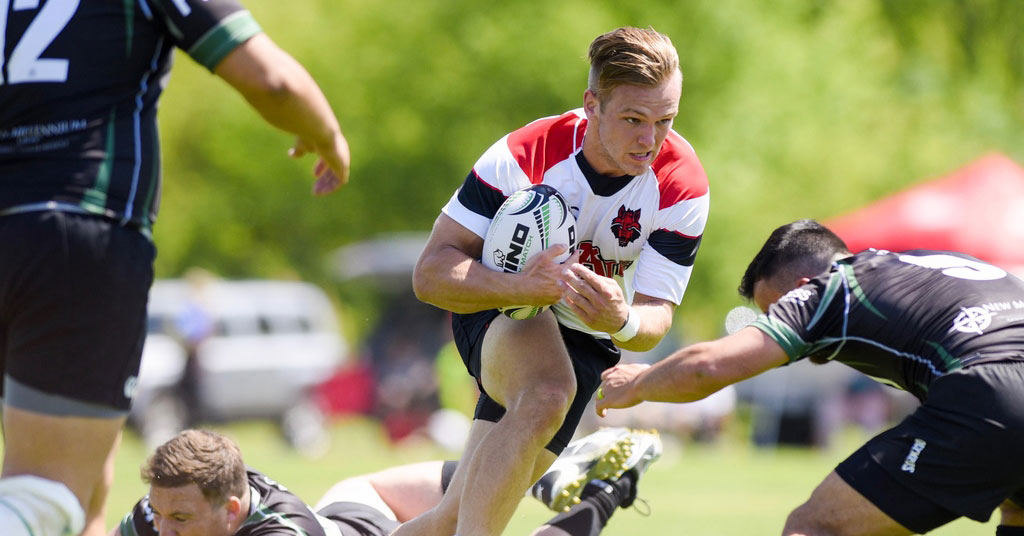 "We are excited to have a home semifinal," said Shaun Potgieter, second-year head coach at A-State. "It's the first-ever semifinal match to be played in Jonesboro. On top of that, we are honored to host Navy. The players know that it is do-or-die at playoff time and want to move on to the final for the first time since spring 2012."
Arkansas State won back-to-back 7s national championships in 2012 and 2013. Potgieter's team advanced this season after knocking off Oklahoma, 69-7, on the road in the first round and Utah Valley, 39-12, in the quarterfinals last weekend at home. The Red Wolves defeated Navy in the quarterfinals last year, 31-24, in Annapolis.
"I can describe Navy with one word—disciplined," pointed out Potgieter. "They will hold onto the ball longer than any team. They will make their tackles and will not stop playing hard until the final whistle has blown. They proved it against Central Washington by winning in overtime.
"Our team is quite different from when we played them a year ago. We had multiple seniors in the squad last year. This year, we only have four."
Those four include team captain Blace Walser of Tulsa, Okla., Sione Fangaiuiha of Canberra, Australia, Kuda Makuvire of Harare, Zimbabwe, and Terrence Kennell of Anchorage, Alaska.
"The seniors are lucky enough to get another home game," Potgieter continued. "This is definitely their last one so they are going to leave it all on the pitch. I am planning to have all the seniors on the pitch for the final whistle no matter the result of the game."
Potgieter, a five-time All-America selection as a player for A-State, was quick to praise several players for the Red Wolves.

"Blace Walser has been playing great and his leadership on the field has been terrific after returning from a four-week injury. Our front row—Brandon van Niekerk, George Sharpe and Tanner Pope—had an outstanding game last weekend. They dominated the scrums that led to our first try of the game, a penalty try. Our lineouts were the best they have been all season because the lifting by Brandon and Tanner was great and the throwing was on target by George."
Potgieter and the team are looking for plenty of crowd support when the Red Wolves take the field against the Midshipmen. The U.S. Naval Academy earned its spot in the semifinal after winning 27-24 in overtime over Central Washington last Saturday.
"The crowd is so important to the energy and motivation of the players," he said. "We have played a lot of games this season so the players are not 100 percent healthy, as no rugby player would be. The more support the crowd shows, the harder the players will push through the soreness and fatigue as the game goes on."