Rugby Seeks Third 7s National Championship
06/02/2016
JONESBORO — Arkansas State University's rugby team will make a run toward a third national championship as the Red Wolves compete in 7s rugby play in the Penn Mutual Collegiate Rugby Championship, Saturday and Sunday, June 4-5, in Talen Energy Stadium, Philadelphia, Pa. A tournament victory would give the Red Wolves their third 7s title after winning in 2012 and 2013.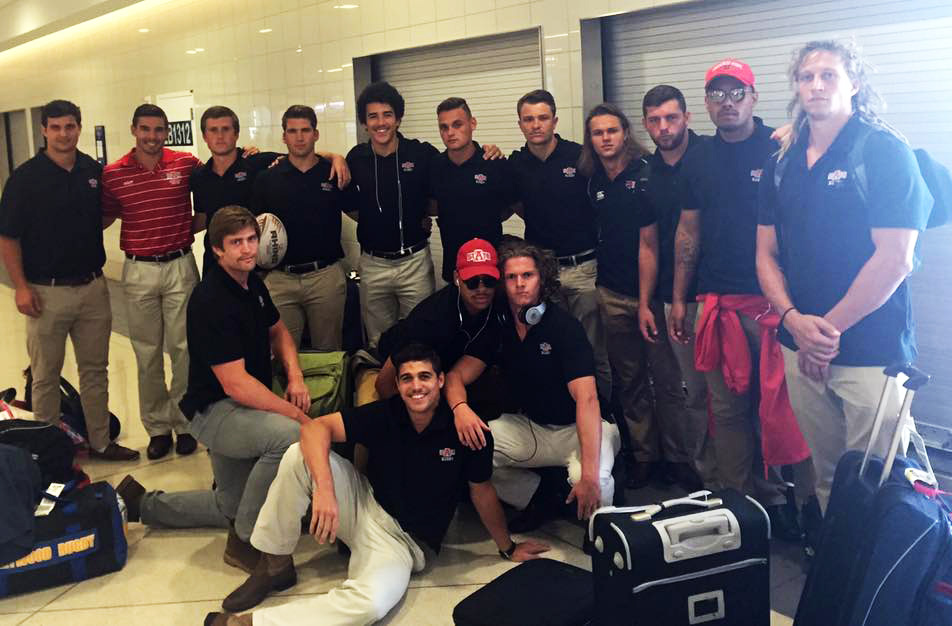 A-State's rugby team arrived in Philadelphia Tuesday for the Penn Mutual Collegiate Rugby Championship. The Red Wolves face Maryland Saturday morning.
"Everything is going great," said first-year head coach Shaun Potgieter, whose team arrived in Philadelphia earlier in the week. "We were able to have a good practice at home Monday afternoon and jumped on a plane early Tuesday morning. All preparations have gone smoothly up to this point.
"The team's attitude is as positive as I have ever seen in a team. The players have been enjoying themselves, but have kept their eyes on the prize and have been training accordingly."
Arkansas State is one of 24 teams to make the 7s tournament field and is in Pool A with California, Maryland and Tennessee. The Red Wolves will open tournament play with Maryland, Saturday, June 4, at 9 a.m. CST, followed by Tennessee at 11 a.m., then defending champion California at 3:49 p.m.
"I believe this year's competition is the strongest yet," continued Potgieter. "We are excited to have the opportunity to play on the big stage and look forward to the challenges ahead. That's why we play the sport. And, we have everyone healthy and ready to take the field on Saturday for the first match against Maryland."
A-State is coming off play in the Penn Mutual Varsity Cup 15s championship in late April, losing, 68-20, to top-ranked Brigham Young in the semifinals. But, Potgieter does not see the month's layoff as a problem.
"It is definitely a great help to have had a month to prepare for the CRC after the 15s season," he added. "The transition from 15s to 7s takes a lot adjustment to one's game style and repetition. The game of 7s is a totally different game when it comes to fitness and ball skills. I believe that we are as prepared as we can be up until this point."
In addition to A-State and the Pool A opponents, other programs participating in the tournament include Arizona, Army, Boston College, Clemson, Dartmouth, Drexel, Indiana, Kutztown, Life, Michigan, Navy, Notre Dame, Penn State, St. Joseph's, South Carolina, Temple, UCLA, Utah, Virginia Tech and Wisconsin.
The tournament will air on NBC, NBC Sportsnet, NBC Universal, NBC 10 (local), Comcast Sportsnet (local and regional) and CSN Philadelphia. Single day reserved seat tickets are $73 and $99 for a weekend pass. Field level general admission tickets are $49 for a day and $64 for the two days. They can be purchased online at http://www.usasevenscrc.com/crc-tickets/.