Rugby Hands LSU 45-5 Defeat
10/07/2016
JONESBORO — Six different players scored off tries to lead Arkansas State University past LSU, 45-5, Friday afternoon in college rugby at the Curt Huckaby Field. The victory ups A-State's record to 3-0.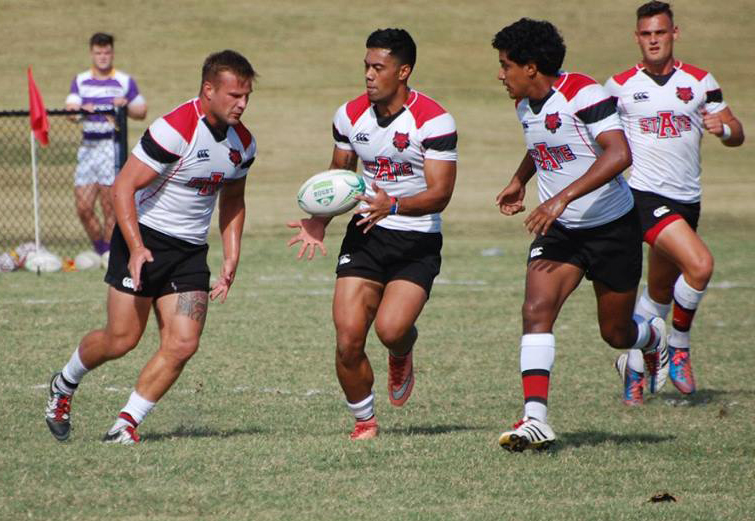 Arkansas State rugby team defeats LSU, 45-5, Friday afternoon at Curt Huckaby Field — Photo by Richard Carvell
"LSU came out fighting from the start," said Shaun Potgieter, A-State head coach. "Our team is improving. We continue to make the same mistakes, just less of them every game. We show glimpses of beautiful rugby with some spectacular tries after multiple phases of play. We just need to mature more as a team."
Tanner Pope of Katy, Texas, got on the board first when he dragged two LSU players across the line to pick up five points with 20 minutes remaining in the first period. He was joined five minutes later when Sione Fangaiuiha of Canberra, Australia, scored the try to add to the score, 12-0.
Sophomore Zach Young of Gold Coast, Australia, scored from the corner and Preston Weigel of Houston, Texas, added another score with two minutes remaining for the Red Wolves to build a solid 24-0 halftime lead.
A-State came out early in the second half behind junior Nick Abreus' successful try and conversion to lift the score to 31-0. It was the first scoring effort of Abreus' two tries. The Houston, Texas native also got in on his second try of the game with two minutes remaining in the game.
In addition, Pedro Alvarez had a successful try under the sticks with 15 minutes left to up the score to 38-0 for A-State. LSU managed its only score with eight minutes left to avoid the shutout.
A-State's junior varsity squad defeated LSU, 56-0, in the late match.
The Red Wolves will host an alumni game, Saturday, Oct. 15, for Homecoming weekend. Play begins at 1 p.m. at the Curt Huckaby Field.