Rugby Hands Indiana 46-23 Loss
02/25/2017
JONESBORO — Arkansas State University's rugby team put on a high octane show and handed Indiana University a 46-23 loss Saturday afternoon at Curt Huckaby Field.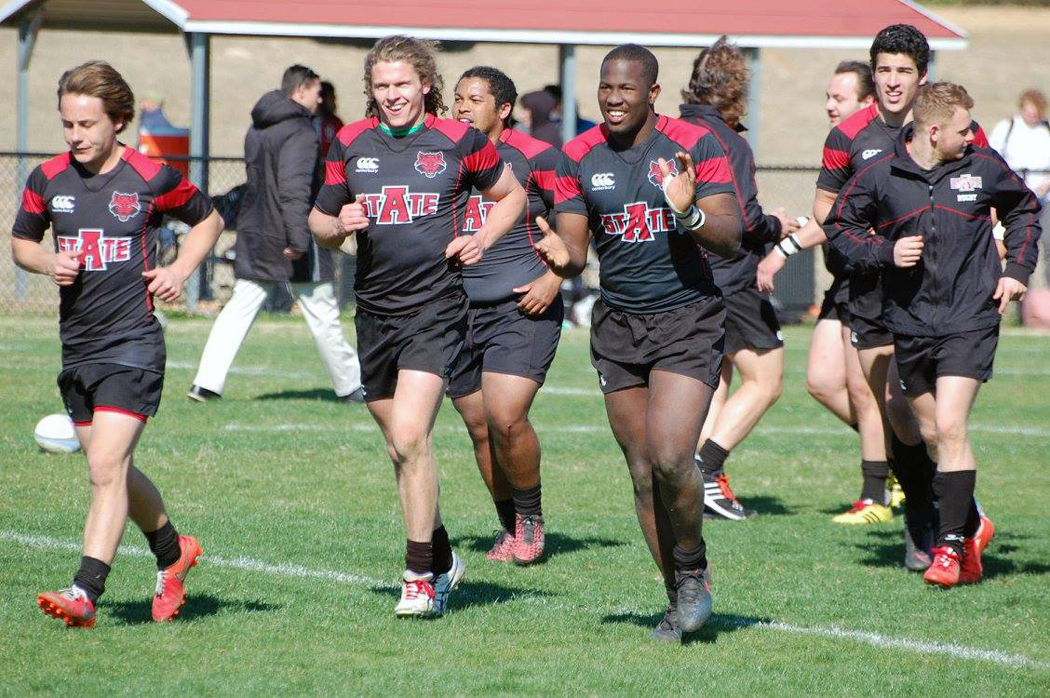 Photo by Richard Carvell


The two teams traded scores throughout the match until Zach Young put two successful tries together in the second half to lift Red Wolves to a 34-18 lead with 10 minutes remaining in the game.

"We brought the energy for the first time all year," said Head Coach Shaun Potgieter. "We had a good week of focused high intensity training leading into the game. We were physical and direct today."

Indiana attacked first with the successful try, answered with a try by A-State's Tanner Pope. Ridley Cunningham's conversion evened the score to a 7-all tie.

The two teams alternated scoring opportunities with Arkansas State's Calvin Gentry scoring the try just prior to the end of the first period to give the Red Wolves a narrow 17-15 edge.

Neil Maestri continued the scoring by A-State with 25 minutes remaining in the game when he utilized his speed to build the lead to 22-15. The Hoosiers added another penalty kick to pull to within four points, 28-18, before Young began to lead the onslaught.

After Young's two-score run, Garrett Soileau added another score to help solidify Arkansas State's lead to 39-18, and Preston Weigel cemented the Red Wolf victory with a try and Brock Roper's conversion with two minutes left on the clock to seal the win.

"We still have errors to correct but took a step in the right direction," continued Potgieter. "Indiana is a well-coached team with strong athletes. It was a good upset win for the club going forward."

The Red Wolves junior varsity squad also captured a 48-10 victory over Indiana in the early match.

A-State will host Lindenwood University, Sunday, March 5, at 2 p.m.