Rugby Field Named After A-State Sport Founder Curt Huckaby
05/13/2016
JONESBORO — In honor and deep appreciation of the man who voluntarily founded the men's rugby program at Arkansas State University and propelled it into national and international prominence, the home field now bears the name of former head coach and collegiate rugby legend Curt Huckaby.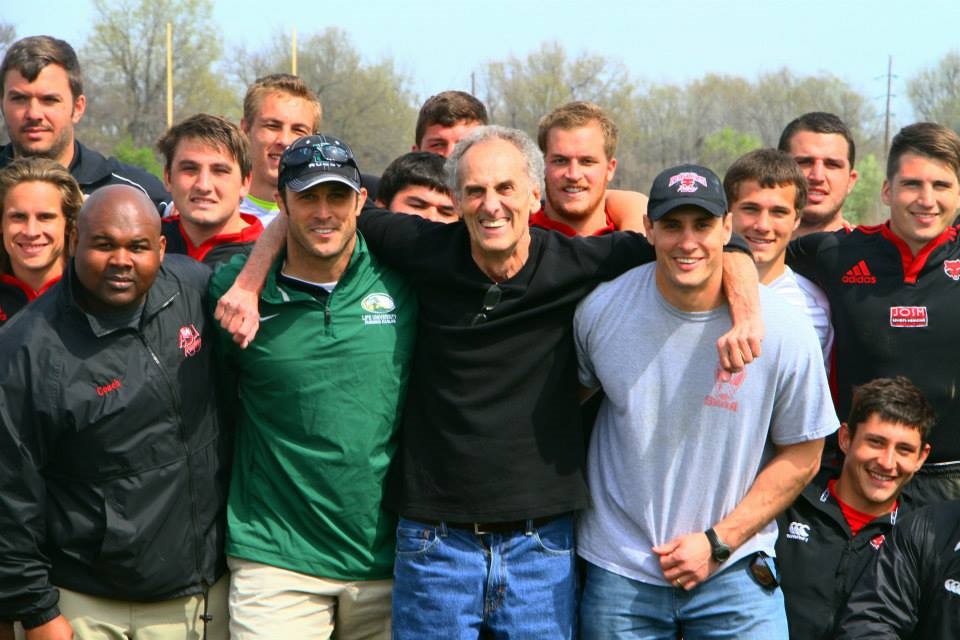 Curt Huckaby (center) is flanked by son Matt (right) and former Life University head rugby coach Don Payne (left) and A-State rugby players.
The A-State Board of Trustees approved the name Curt Huckaby Field during the board meeting today at ASU Mid-South in West Memphis. Board members signed a resolution recognizing significant contributions by Huckaby to Arkansas State.
"Curt Huckaby is a legend in collegiate rugby for his contributions to the sport," said Dr. Tim Hudson, chancellor at Arkansas State. "His work promoting and guiding the Arkansas State Rugby Club is well-known in our community, but he also served as an ambassador for the sport across the Mid-South and a member of USA Rugby committees. It is only fitting that we recognize his contributions to both A-State and collegiate rugby by naming our field in his honor."
Huckaby, a prominent attorney and Craighead County District Court judge, dedicated 14 years as the volunteer head coach for the men's program, tirelessly recruiting students from the U.S. and from around the world. In addition, he served many years as head coach of the Mid-South rugby team and assistant and head coach of the South Collegiate All-Star team. He also was a member of the USA Rugby Eligibility Committee and the College all-American selection committee.
After stepping down as A-State's head coach in 2010, he continued to help the program in recruiting, player development, marketing, donor development, fundraising and program advancement.
"We cannot think or speak of the A-State Red Wolves Rugby Club without acknowledging Curt Huckaby as its founding father, its greatest supporter, promoter, and fan," added Dr. Rick Stripling, vice chancellor for Student Affairs. "He has been its leader in both mind and spirit since establishing the club many years ago. His dedication to the sport and those who pursue it has never wavered."
He left with a record of 183-44-1, which includes a Division II record of 156-41 and a Division 1 mark of 27-3-1. His team successes include a Division II plate national championship in 2000, runner-up finishes in the Division II national championship in 2001, 2004 and 2006, Elite Eight finalist every season except one (2005) in the National Division II Championship. His teams were perennially ranked in the Top 25 collegiate teams across the nation. ‰лЌ
After a move to Division 1, A-State won the South Collegiate Championships two years in a row, finishing 11th in the nation in 2008 and fourth in 2009. The Red Wolves' only losses were to a pair of nationally ranked squads—San Diego State in 2008 and to Louisiana State in the fall of 2009—and to eventual national champion Brigham Young in the Elite Eight that spring.
Under Huckaby's tutelage, 16 Red Wolf players, including Curt's two sons Matt and Curtis, earned all-American honors in both 15s and 7s competition.
Arkansas State's rugby program is classified as a club sport as the National Collegiate Athletic Association (NCAA) does not sponsor men's rugby as an intercollegiate sport.
In 2014, former Life University Head Coach Don Payne approached Huckaby's son Matt (who succeeded his dad as head coach at A-State) about developing a travelling trophy to honor the senior Huckaby that is awarded each year to the winner of the Arkansas State-Life matchup. Even though the two programs make up one of the fiercest rivalries in collegiate rugby, coaches and players are close friends off the field.
At the time, Payne remarked, "For the last five years, I've met Curt pre-match and post-match at the very same corner of the pitch in Jonesboro, through victories and losses. It's a ritual I looked forward to as much as going home and hugging a parent or sibling when you first see them over the holidays. It's a love and respect for someone that has had such a profound impact on my life and, more importantly, the student-athletes he has worked with and that have benefited from Arkansas State rugby."
The trophy inscription reads, "Curt Huckaby Cup — Make a difference every day for as long as you can."